Bill Staines Soars in New Album, 'Beneath Some Lucky Star'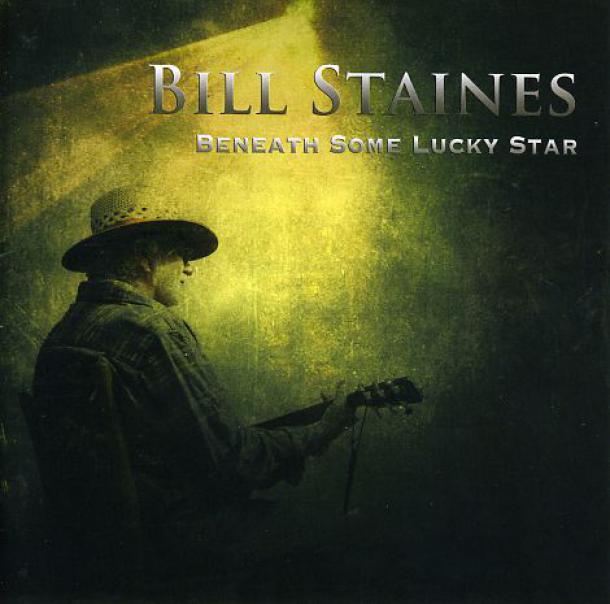 The only time I ever saw Bill Staines live was several years ago in East Grand Forks, MN. I was eager for him to sing his (for me) signature song, "Roseville Fair." It was a song my husband at the time had made into his own, creating a tender arrangement of this most romantic song of lasting love. I had never heard the original recording.
I was struck by the fact that Bill Staines was left-handed. I asked my ex whether he'd learned his version from guitar charts or sheet music. He said that he had no clue what chords to use so created an arrangement by ear, introducing his own phrasing.
"Roseville Fair" was the last song Bill Staines played that evening. And, to be honest, I was left deflated. He ran through it as if he were bored with the song and his arrangement was thin. I marveled at what my ex had done with the bones of a simple song. He'd put heart into it.
To be fair, Bill Staines may have been burned out by that song that had gained some popularity and it could have been the end of a long tour.
So when Staines' new album found its way into my hands, I wondered what he would put together today in 2012. I was very impressed. Beneath Some Lucky Star is a thoughtful album, rooted in the seascape of his beloved New Hampshire and Massachusetts. It also reflects a long career of singing and songmaking and the weariness of the road.
Of the twelve songs selected for this album, only two were not written by Bill Staines, and those two are unique. "Lightship" by Mason Daring is very much in keeping with the tone of this CD. It uplifts the spirit of seafarers and wanderers of long ago and today who look for a safe harbor. Staines feels this song. It's echoed in his new tune, "Along the Road," about his relationship with his guitar as a companion touring.
The other non-Staines tune is "The French Girl," a song by Ian Tyson and Sylvia Fricker. It's a bittersweet song about a brief meeting that impacted a man's life. Perhaps Staines is commenting on all those who've touched his life, however briefly.
The ten Bill Staines originals are quiet tunes. My favorite of the lot is "Ceremony," a song about a gathering (A wedding? A graduation? A christening?) where parents (or someone as close as parents) look down on the gathering. It's a song that moved me to tears. This is the Bill Staines I expected to hear long ago.
I was also moved by "If I Come to Need an Angel." It's the closest to a religious song I've ever heard Staine's write, even though he ends the album with a holiday tune, "A Christmas Lullaby," about Jesus' birth, which he wrote in 1991. Perhaps it's because I'm older and looking at what lies ahead (hopefully a couple more decades away), but If I Come to Need an Angel" is a tender tune about the end of that long road we call life.
He echoes that theme in "Symphony of Gold," though he refers to sunrise and not sunset. Still, he's speaking of a place far away where there is no sorrow or boredom. It could also refer to youth and traveling to see the world, but still the person comes to the end of the day where there is that "symphony of gold."
Staines also resurrects another old tune, "Lord Franklin," that he arranged and sung years ago. It is typical of the folk ballads sung half a century ago when he began his career.
The other songs in the album are of equal spirit and quality---and, most all, they all have heart! Staines not only plays guitar and sings but also adds piano and keys to the mix. He's backed by Brian Wood (guitar), Mike Walsh (bass), Larry Luddecke (piano, organ), and Stingy Label (congas). But the real color comes from Oisin McCauley's violins and John Curtis subtle addition of eclectric guitar, classical guitar, and, most especially, his sweet mandolin.
Bill Staines' Beneath Some Lucky Star is an exceptional album. It is folk music at its finest from a master storyteller and performer.