Blix Street Records To Release "Simply Eva" by Eva Cassidy
Submitted by mike on Fri, 12/10/2010 - 00:09
She left us way too soon, in November of 1996, but Eva Cassidy's voice has continued to resonate with fans around the world since the music she left behind began to be released two years after her passing from melanoma at the age of 33.On January 25, 2011, independent Blix Street Records will release SIMPLY EVA, a collection of 12 acoustic versions of songs with which she has been associated, all previously-unheard guitar and vocal only performances.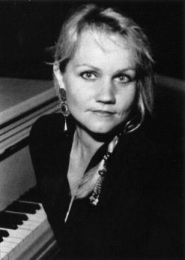 This "Eva only" collection showcases Cassidy's extraordinary voice and superb guitar work as well as her unusual arrangements of sometimes familiar material to create a new and different listening experience for even the most devoted fans of her music. Whether it's her spare interpretation of Christine McVie's "Songbird," (which was the title cut of the initial breakthrough 1998 compilation from the Cassidy canon), the bluesy stylings of "People Get Ready" or the folk versions of "Wayfaring Stranger" and "Wade In The Water," it's Cassidy's voice that is front and center, unadorned. The new version of Paul Simon's "Kathy's Song" is extended to include three additional verses that did not appear on the previously released version.
In addition to including Eva's previously unreleased, re-defining version of "San Francisco Bay Blues," SIMPLY EVA is the first album to include the Blues Alley guitar/vocal performance of "Over The Rainbow" from the Rainbow video that triggered Eva Cassidy's rise to the top of the British Pop Charts in March, 2001. Recorded five years after the 1991 version heard on SONGBIRD (which country superstar Martina McBride recently cited among her favorite recordings on the ABC News Nightline "Playlist" feature, saying "I never get tired of it"), the included fully evolved version literally redefined this all-time number one popular song (according to a BBC radio poll). Other songs include "True Colors," "Who Knows Where the Time Goes," "Time After Time," "Autumn Leaves" and Eva's a cappella performance of "I Know You By Heart."
Blix Street President Bill Straw compiled the selections for SIMPLY EVA after initially searching the archives for a possible holiday track. "In doing so," he writes in the liner notes, "I literally heard Eva for the first time, again. That I was hearing the same songs in a different way actually added to my sense of re-discovery."
A special by-product of his quest was the discovery of a Cassidy rendition of "Silent Night," which has just been made available via iTunes and other digital outlets in time for the holiday season. Recorded in 1988, Eva's performance of the traditional Christmas classic is destined to become a holiday staple for years to come. It will be included on the iTunes digital download version of SIMPLY EVA as a bonus track when the album becomes available.
Born in Washington, DC, Eva Cassidy recorded and performed in the area for several years until her untimely death. She left behind a small, but impeccable body of recordings that have been meticulously curated and compiled by Blix Street Records with the support of her parents, Barbara and Hugh Cassidy.
In April, 1998, Blix Street posthumously released SONGBIRD, a collection chosen primarily from two other Cassidy albums, LIVE AT BLUES ALLEY and EVA BY HEART. It featured Eva's unqualified signature performance of "Over the Rainbow" as well as Sting's "Fields of Gold." Later that same year, Blix Street also released LIVE AT BLUES ALLEY and EVA BY HEART, the first national exposure for both albums, followed in May, 2000 by TIME AFTER TIME, a new compilation selected from her unreleased material.
But it was in 2001 that Eva Cassidy became an "overnight sensation" when the SONGBIRD compilation reached No.1 on the British charts. By the end of that year, the album had been certified triple-platinum in England (for sales of more than 900,000 sold) and gold in the U.S. (more than 500,000 units); the album, now six times platinum in England and platinum in the U.S., eventually hit No. 1 on Billboard's Internet Albums chart and topped the publication's Pop Catalog survey for 32 weeks. IMAGINE also hit No. 1 on the British charts in 2002 and commandeered the top slot on Billboard's Independent Albums chart. AMERICAN TUNE, another No. 1 in England in 2003, ultimately made it to No. 4 on Billboard's Independent Albums chart. WONDERFUL WORLD, a compilation of tracks from all the previous albums other than SONGBIRD, came out in 2004. SOMEWHERE, a collection that included two songs co-written by Cassidy as well as impressive covers, was released in 2008.
SIMPLY EVA now joins this classic catalogue that has already sold more than eight million CDs around the world.