Straddling a fence is a position few if any people like to find themselves in, each foot planted in opposition. Bobby Long has found himself a flourishing home in this middle ground however, a point not of indecision but of movement and change from a solo musician to recording and performing with a full band. Rather than dropping the acoustic, bluesy atmosphere of his nights playing open-mic shows and jumping into an electric, amped-up band, it is betwixt these two sides of the fence that Long has made a new sound for himself. Support from three other musicians gave Long's stage performance more of a polished, finished quality, while pedal steel and acoustic guitars maintained that more rustic, raw feel with a new bit of country flair.
Piano and backing female vocals on Long's newly released album A Winter Tale were absent in live performance alongside various changes in instrumentation, giving a thriving variant character to his Denver show at the Bluebird. Forcefully prevalent in some songs while only ornamentally present in others, the percussion jolted the atmosphere of Long's performance from the feel of an artsy coffee house to a small city venue. Take that as a foundation and build up with an electric base and second guitar alongside Long's own acoustic guitar and vocals, and the music gave a distinguishably glossed-over finish to what Long was before performing solo with no more than his guitar and voice.
Rising up through that polished surface was a strong reminiscence and call back to the gritty, rough blues quality that put Long on the map just two years ago with his unsigned record, Dirty Pond Songs. Long's expressive vocals, while still strong, lost a sense of their power and presence amid the louder, weighted envelope of sound created by the rest of the band. Short but expressive moments that added emotion by way of vocal phrasing were sometimes lost or turned over to the band, such as deep drones from mallets on the drums that substituted in for some of melisma and humming in "The Bounty of Mary Jane." And yet this same quality simultaneously added to this and other tracks, setting up for a dense and much more intense rendition of songs such as "Penance Fire Blues," an already driven, calculous recording of which can also be heard on Dirty Pond Songs.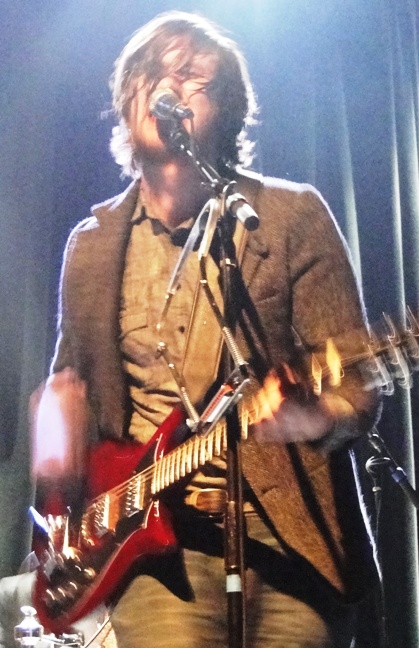 Giving a rebirth to tracks off of both the Dirty Pond Songs and Dangerous Summer Tour albums, Long's set put these songs into a setting that called upon the drone and twang of country blues. With a subtle tin quality of the pedal steel guitar and a rolling drum beat that called to mind the music of Western film scores, "Two Years Old" carried out this idea of a Southern nostalgia to near perfection. A broken string early in the song was the performances only flaw, causing Long to switch from acoustic to electric guitar, giving the song a heavier, static sound rather than the down-home, muddled acoustic sound it started with. Extracting that bluesy, folk sound from Long's solo work and putting it to a steel pedal guitar on songs such as "The Borough Mill," "A Passing Tale" and "Dead and Done," the set further embraced the new electric ambience while evoking Long's older recordings.
Breaking off from this more than any of the songs on the record and in live performance, the heavier guitar riffs and distorted sound of the new album's title track, "A Winter Tale" allowed Long to let loose and work his way around the stage. Extended past the standard two or three minute song mark, the band finished off their set with a fantastic, rousing performance of this track that sent Long and the others into a short jam session packed with a drive, force and density that showed Long to have a sensible grasp on music outside of the blues and folk he gained recognition for.
Though making the transition from performing as a solo musician to fronting a band no doubt put a finishing coat on his still austere, exposed guitar style and vocals, the marks of Long's raw, bluesy, coffee house sound show from below, with one foot firm on those grounds and the other comfortably so among electric guitars and amplifiers.