Electronic music duo BoomBox dropped the bomb dance party on a sold out crowd at the Fox Theater on Friday night. This was one stop in an eight show assault the group led through Colorado this past week. Fans turned out ready to get their groove on, many in their finest disco garb, all surely wearing their dancing shoes.
After a high energy electronic set by Brooklyn based Sub Swara got the audience warmed up, Zion Rock Godchaux and Russ Randolph took to the mic/guitar and DJ stations, respectively, and without a word of banter, launched into a bass heavy rhythm. The crowd responded, transforming into a writhing mass of dancing bodies.
Godchaux, son of Donna Jean and Keith from the Grateful Dead, carries on a bit of the Dead legacy in the form of long, extended jams and a set-list created on the fly based on the reactions and vibes coming off the audience. Beneath a big, furry hat and large sunglasses, the boa-clad guitarist covers both rhythm and lead duties and exerts a delicate finesse on vocals while Randolph handles the bulk the DJ work. Sporting a large top hat like the one worn by the Mad Hatter in Alice in Wonderland, Randolph maintains a calm focus over an arsenal of mixers and machines, listening and manipulating a vast set of controls that are the basis of the BoomBox sound.
It is really quite amazing, the work that these two gentlemen do up on stage. A full band sound emits from the speakers amidst a light show that could throw the right candidate into an epileptic seizure.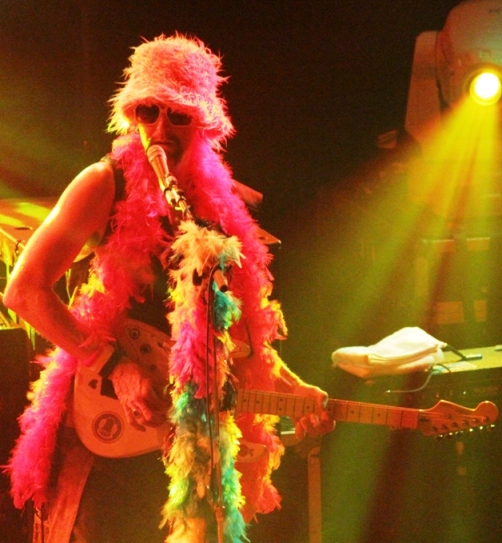 The tunes were a mix from their two albums Visions of Backbeat (2005) and 2010's release Downriverelectric, along with a few numbers perhaps being road tested for an upcoming LP. "Stereo," with its smooth groove and horn samples was surely a crowd favorite. For a performer who claims he doesn't consider himself a guitarist, Godchaux exhibited some impressive solo work on "Kool Aid Smile," and demonstrated a speedy vocal flow on "Showboat."
Midway through the evening Randolph sat down at an electronic drum kit and showcased his abilities in a more traditional percussion jam, with Godchaux joining in on his drum pads. The light, airy keyboard sounds of "Headchange" blanketed the crowd with a calm revitalization late in the evening, and a suped up cover of the Grateful Dead's "Shakedown Street" drew the biggest applause, appeasing BoomBox's Deadhead following and those in attendance perhaps not as familiar with their original material.
Prior to Godchaux's modest farewell to the audience, Randolph manned the keyboard for a cover of the dance classic "I Can't Wait" by Nu Shooz.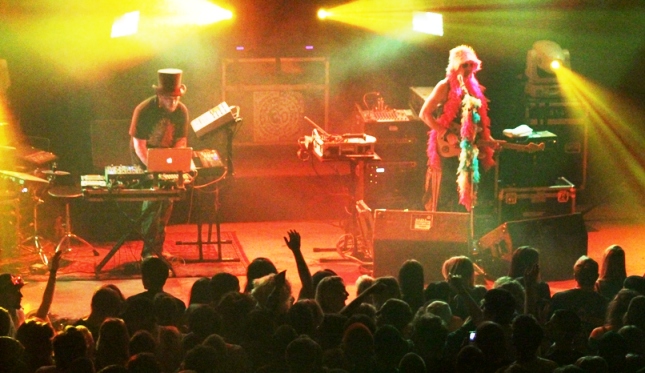 As always, Colorado fans packed the house for their sonic heroes from Muscle Shoals, and the Alabama boys answered with two hour set of non-stop sonic innovation and groove.
Check out more photos from the show -- and don't forget to read Grateful Web interviews with BoomBox.