Boulder's Performing Arts Collective Kan'Nal
Submitted by press on Sat, 03/31/2007 - 02:33
Boulder, CO – An international phenomenon and hometown favorite, Kan'Nal performs the Boulder Theater Friday, April 20 celebrating the release of Live at the Boulder Theater, its first ever Live DVD. In addition to the DVD, the band is also set to release its new studio album entitled A Myth Magik early this June.
A boundless canvas for its musicians, performers and artists, Live at the Boulder Theater is the first release from Kan'Nal to fully capture the entirety of its vigorous and hypnotic multi-sensual performance. The DVD is culled from live footage from last year's extensive global touring giving an understanding as to how Kan'Nal has been winning over audiences all across the western hemisphere.
Reaching out from a core of tribal psychedelia, Kan'Nal mixes the unconventional elements of Spanish gypsy, Bedouin rhythms and indigenous trance creating an enveloping sound.  Beyond the music, the band's live performance features spouting fire and tribal dancing enhanced through a dynamic multimedia presentation that has been winning over critics and fans all over the North American continent.
"Tribal-rock blasts plunge a hand into your chest and grab onto the part of your being that swung from trees a few million years ago. Find another band that does that."
"A spicy, groove-oriented acoustic fusion of Latin and Middle Eastern rhythms that combines elements of spoken word, electronica, new-age and soft metallic drone"
– Westword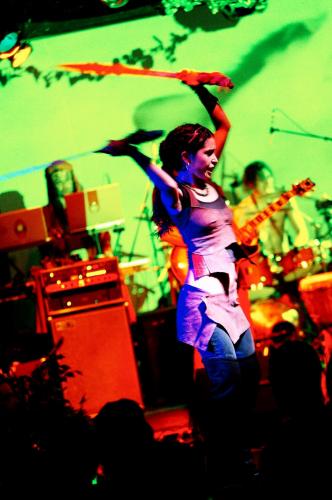 Formed through a natural evolution over the course of six years and thousands of miles traveled, the core members of Kan'Nal's tribe came together quite coincidentally through their individual backpacking trips through Central America. Originating in a small Guatemalan town in 2001, group songwriter Tzol met fellow wandering guitarist Tierro. Cut off from the outside world, Lake Atitlan in Guatemala was the perfect spot to work on what would become Kan'Nal's musical foundation.
Tzol and Tierro returned to the same small Guatemalan town almost a year later to the day and met another pair of musicians, bass player Rodolofo and singer Teresita. Developing the communal sound even further the quartet headed back to the states for a small tour where they rounded off the core of the tribe by adding Rodolfo's friend Gilly from San Antonio on drums and Arron from the Yucatan Peninsula as a didgeridoo player/percussionist.
To this day Kan'Nal has sold over 10,000 CDs and performed over 500 concerts including high profile music festivals across the US including Wakarusa, High Sierra, Earthdance, Burning Man and more. International performance highlights include playing the ancient Mayan city of Tikal in Guatemala, riverside at the jungle palace of Palenque in Mexico and numerous other gigs throughout the core of Central America.
Perform Live DVD Release Party at Boulder Theater Friday, April 20
2032 14th Street | 303-449-9830 | Ages 21+ | 8 PM | $15 | Special Guests TBA
* Every advance ticket purchased through KanNal.org receives one free copy of Live at the Boulder Theater and a free download of A Journey to the Underworld Recorded 10/20/06 In Boulder, CO *