Brandon Adams & Jimmy Dasher Team Up for National Tour
Submitted by mike on Thu, 09/16/2010 - 02:22
Music fans will get a taste of exciting sounds to come on CD when Melodic Undertone recording artists Brandon Adams & The Sad Bastards and Jimmy Dasher hit the cross-country road this fall as a special two-for-one package. Rather than wait for Adams' self-titled album and Dasher's THE WAITING GAME to hit record stores, radio and the Internet in January, this proactive pairing will spark and build a buzz from the grassroots of the live music stage to launch the discs with momentum already behind them.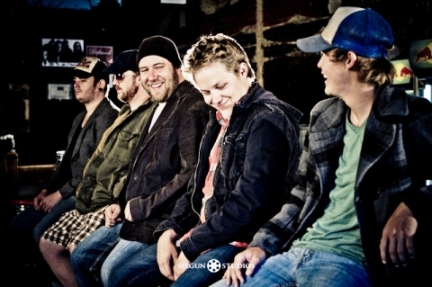 The tour offers a chance for listeners to get acquainted with two seasoned live performers, superior singers and songwriters and budding recording artists sharing the stage at venues across the nation. Adams and Dasher will play shows in the Southwest and through Colorado and Nevada to the Midwest and Southeast, returning to play Texas in November
Brandon Adams & The Sad Bastards are a burgeoning West Texas new country phenomenon already winning a loyal following in dancehalls, honky-tonks and clubs across the region. Putting a modernist spin on firmly rooted Lone Star State style C&W, Adams takes his songwriting cues from acts he grew up on like Ray Price, Johnny Bush and George Strait as well as the progressive rocking Americana of Ryan Adams. Add to that his diverse tastes that enjoy the full stylistic spectrum of today's popular music, and lyrical and singing skills that cut to the bone with both honesty and smarts, Adams and his band make music that goes straight to the hearts of real country fans while charming listeners that enjoy a range of musical flavors.
Jimmy Dasher displays a dazzling diversity that he melds into his own sound on THE WAITING GAME, all of it fired by the skills that won him the Best Guitarist title in his hometown of San Antonio while still in his mid-teens. As a high school student he honed his chops in Austin and San Antonio clubs, and later released two albums and an EP and also did two national tours in the fully independent acoustic duo Window. He also played and recorded with recording artist Levi Smith as he developed his own music, which came to fruition during a solitary stay at an old Texas Panhandle small town farmhouse where he later cut THE WAITING GAME.
Both Adams and Dasher are ready and determined to bring rich musicality, excitement and their engaging new sounds to the stage. "I love playing so much, and will do it anytime, anywhere for anyone who wants to listen," says Adams.
Dasher is equally fired to bring his music to the stages of America's clubs. For as he says, "There's nothing I'd rather do than play live."
Melodic Undertone Production Group is a music production collective and record label made up of highly talented artists and entrepreneurs who produce and engineer, write songs and theatrical scores, generate beats, do live sound engineering and more. They have united their gifts and skills to work on projects that span across and combine country, rock, R&B, hip-hop more. Melodic Undertone's unity of creative, technical and music industry artistry is devoted to doing what they do and love: The Music.
Upcoming Tour Dates Include:
September 21, Low Spirits, Albuquerque
September 23, Rogue Bar, Phoenix
September 24, Hotel Monte Vista, Flagstaff
September 25, Yayo's Tacos, Las Vegas
September 27, The Music Barn, Parowan/Cedar City
September 28, Quixote's True Blue, Denver
September 29, Rock n Soul Café, Boulder
September 30, Rocket Room, Colorado Springs
October 3, Reggie's Music Joint, Chicago (Jimmy Dasher show)
October 4, The Horseshoe, Chicago (Brandon Adams show)
October 5, Doc's Music Hall, Muncie
October 6, Cicero's, St. Louis
October 7, One Eyed Jacks, Fairborn, Ohio
October 9, Old Glory, Canton, Ohio
October 11, Slim's, Raleigh
October 12, The Cave Tavern, Chapel Hill
October 13, Caledonia Lounge, Athens
October 14, Brewster's Pub, Jacksonville
October 15, The Backstage Lounge, Gainesville
October 17, Smith's Olde Bar, Atlanta
October 19, Elliott's Revue, Winston Salem, N.C.
October 20, Canyons of the Blue Ridge, Boone, N.C.
October 21, The Boiler Room, Asheville
October 22, Ultimate Basement, Sunny View, N.C.
October 23, French Quarter Café, Nashville
October 26, P&H Café, Memphis
October 28, Vino's Brew Pub, Little Rock, Ark.
October 30, The Celtic, Pascagoula, Miss.
October 31, St. Roch Tavern, New Orleans
November 4, Poor David's Pub, Dallas
November 5, Woody's Tavern, Fort Worth
November 6, Basil Whippet's, College Station
November 10, Momo's, Austin
November 11, Jack's Patio, San Antonio
November 12, The Blue Light, Lubbock
November 18, Schotzi's, College Station