Brazil Night with GINGA and Bateria Alegria | 12/8/12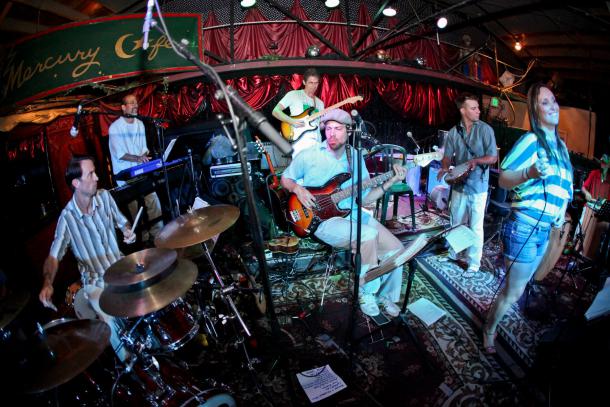 Known for their spectacular First Friday Samba parade on Boulder's 16th Street Mall and residency at Shine Restaurant & Gathering Place, Brazilian powerhouse, GINGA, is ready to take over Denver this winter! The Boulder-based band will bring their talents to Denver's renowned and intimate Mercury Café on Saturday, December 8, 2012 for a night of live music, food and dancing.
For their second to last performance of 2012, GINGA's show on December 8th will kick off with a Samba dance lesson with Paola Osma of Boulder Samba School followed by live music until midnight. Traditional Brazilian food will be served by Little Brazil.
Comprised of a unique blend of six talented Colorado musicians, GINGA plays the traditional sounds of Brazil with a modern energy: samba, pagode, forro, MPB, bossa nova, chorinho and Brazilian jazz. A band steeped in the study and spread of authentic Brazilian music and culture, GINGA has been dazzling audiences with their energy and musicianship for close to a decade. Whether it's the magnetizing pulse of a samba groove, the alluring dancing that accompanies or the sheer joy that is infused at every show, GINGA specializes in bringing people together to have a good time.
If you've ever visited Brazil and experienced the late nights of music, drinking, dancing and merrymaking, then a GINGA show is sure to spark some nostalgia. If not, than GINGA is the perfect introduction to the rich and vibrant world that encompasses Brazilian music and culture.
When:  Saturday, December 8, 2012
Where: Mercury Café, 2199 California Street, Denver, CO 80205
Show details:
Event: 8 p.m. to 12 a.m.
Samba Dance Lesson: 8-8:45 p.m.
Live Music: 9 p.m. to 12 a.m.
Tickets: $10 at the door