THE BRIDGE Announce NYC Residency At Gramercy Theatre
Submitted by mike on Sat, 11/14/2009 - 05:39
The Bridge have announced plans for a four week residency in December at The Gramercy Theatre in New York City where they'll perform every Monday night of the month. The shows will be free and feature different special guests and opening acts at each performance. It's a fitting conclusion to 2009 for the Baltimore-based band, a year in which they toured prolifically throughout the U.S., including festivals like Wakarusa, All Good and Gathering Of The Vibes and support slots with Derek Trucks Band, Little Feat and Umphrey's McGee.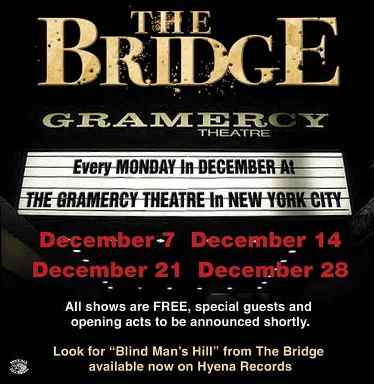 "I'm really looking forward to us having an opportunity to come to NYC and be able to kick back and stretch out for a change. It's usually a hurry up and hit it hard kind of situation there and the energy in that city is always extra intense anyway. So im really excited for us to settle in and let each night take us where it will," states The Bridge's primary songwriter, vocalist and guitarist Cris Jacobs. "We're gonna keep it spontaneous and loose and have some special guests join in on the fun. Previous residencies have always given us some of our most inspirational musical moments and that combined with the extra juice that New York City always has is going to be pretty damn fun."
In a recent Relix Magazine feature, the publication wrote: "Jacobs and Liner sing earnestly about what they consider to be archetypal themes in American music: rambling, lost love, trains and moonshine...the music is a heady amalgamation of influences recalling The Black Crowes, Little Feat and The Neville Brothers." Hittin' The Note explained the band's sound like this: "The Bridge call to mind bayou bluesman Tab Benoit backed by the Radiators during 'Honey Bee,' and bluegrass fertilized with hot sauce on the wild 'Dirtball Blues.' They also play urgent, funky, jazz-fired soul in 'Heavy Water,' and use a Stevie Ray Vaughan-inspired guitar figure to drive the burly blues 'Diggin' In The Cold Ground.' And there's so much more variety, most of it giving off some sort of pungent New Orleans aroma. Singer/guitarist Cris Jacobs and singer/mandolin player Kenny Liner are the two distinct songwriters that afford The Bridge such vast stylistic swings. But they, along with bassist Dave Markowitz, sax man Patrick Rainey, drummer Mike Gambone, and keyboardist Mark Brown, have a surprising cohesiveness born of a desire to make compelling Americana roots-rock in the classic sense."
The Bridge's latest album Blind Man's Hill is available now on Hyena Records.