Thursday was a tough night for a jam band to play a show on the Front Range in Colorado. The String Cheese Incident were playing the first of a three night run at the 1st Bank Center in Broomfield and no doubt sucked up a lot of the potential concert-going hippie crowd.
But a thin audience didn't stop Baltimore's The Bridge from throwing down some quality jams at the intimate Hodi's Half Note in Fort Collins. Members Kenny Liner (mandolin, vocals), Cris Jacobs (guitar, vocals), Dave Markowitz (bass, vocals), Mark Brown (keyboards), Patrick Rainey (saxophone), and Mike Gambone (drums) unleashed some down-home rock and roll on an eager audience.
Jacobs' vocal style is steeped in emotion and has a bit of southern style to it (think Warren Haynes/Allman Brothers). "Sanctuary," the first track on their latest release, National Bohemian (2011), is a shuffling blues number, guitar heavy with jazzy saxophone work compliments of Rainey. Jacobs' virtuosity as a guitarist shined when he brought out the lap steel on a couple of tunes. Liner's percussive beat boxing skills on "Big Wheel" were also a pleasant, unexpected compliment to The Bridge's style.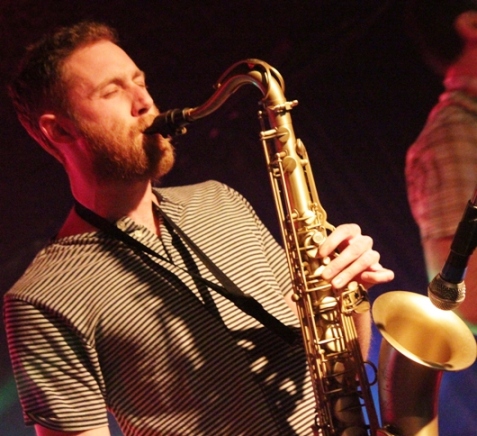 "Moonlight Mission" had Liner on mandolin and vocals weaving a Van Morrison style tale of gun-toting revenge on a cheating spouse's lover. A soulful "Colorado Motel" with downright lovely saxophone grabbed the audience by their hearts and commanded them to the dance floor. Heartfelt lyrics and instrumental innovation (that focused more on quality than quantity) by these gems of jam carried the audience into and beyond the midnight hour.
Don't miss this touring machine as they barrel across the U.S. You will, no doubt, be rewarded with an evening of quality rock and roll tinged with blues, southern harmony, jazz and funky goodness.