The Bridge & Strange Arrangement | 4/30/11 | Review
Submitted by June Reedy on Tue, 05/03/2011 - 21:14
The Bridge, winding down from their April tour, played with Strange Arrangement, building up for their summer tour, at Martyr's in Chicago on 4-30-2011.  Next time Strange Arrangement will play the Chicago crowd it will be at sunny hot Summer Camp Sunday.  On the eve of this May Day, it was that sipping daiquiris, first day of nice weather kind of show.  By the time midnight hit, we were well on our way to wrapping a May pole of musical tastes together.
The Bridge from Baltimore MD had that east coast swagger that brought the raspy soul of the "boss" and Jersey boys down to the southern slam of Georgia, through the Appalachia, and back up to New York.  The call and response of Kenny Liner's mandolin to Patrick Rainey's saxophone grew thicker as their 75 minute set raged on.  By the end, Kenny had broken from behind his instrument and directly onto the microphone, lending his spit to beat boxing vocals that reminded us why we love the Beastie Boys.  "It's our last night out on the road for this run, so we're gonna have some fun" he said.  Goofy and exuberant, they free formed and filled out the set to their committed crowd.  I noticed a fella singing every lyric and wearing an Orioles tee shirt.  Everyone has a home.  This show had the vibe that made everyone feel at home, even if it was far away, even if it was just for tonight, home is where the heart is.
Glad to be hear, Martyr's was not overcrowded but instead just the right atmosphere.  I was approached by Arlene. She recognized me from a show Strange Arrangement had played in my home town.  Arlene is the drummer Steve's mother.  You can feel the adornment when you're dancing next to the guitarist's uncle/brother/cousin/mother.  You are automatically grandfathered into extended family and you're all rooting for your own blood.  It's a feeling of respect and win-win- as opposed to, "that damn band ripped me off again." Not that any of you have experienced that feeling, I'm sure.
Perhaps you might have had that feeling.  In which case, I am going to relate a story I have about my love of music and the personal relationship that has formed over the years of going to live shows.  I have seen Phish many times.  I find that I am drawn to the keys, usually drooling over keys man Phish's Page McConnell.  In the dawn of internet days, I created a post in a Phish chat room that explained to fellow tour kidz how I loved Page so much, I wanted to throw my panties at him.  I loved Page for being so courteous.  He was always the last one off stage, waving and being so gracious with the crowd.  I was just positive that a musical climax for their career would be to let Page cover a Tom Jones song.  If my cohorts and I could shower him with bras and panties he would surely recognize this as a Vegas style crowd plea to cover any Tom Jones song.  "What's Up Pussycat?! Woah oh oh oh What's Up Pussycat?!" –swoon-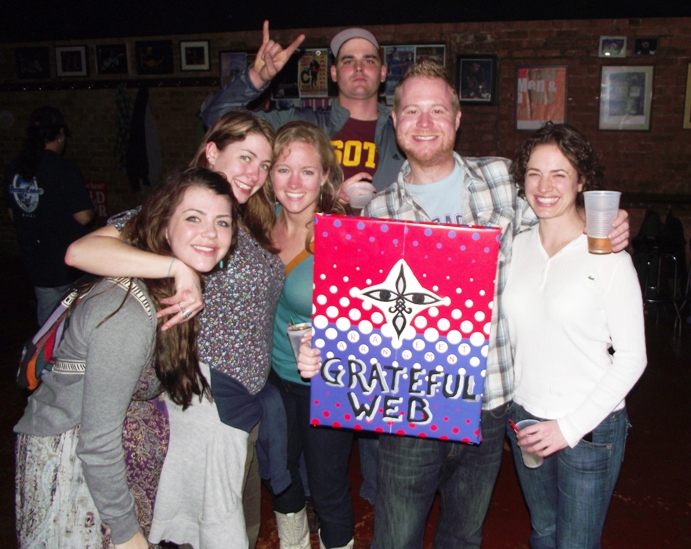 Right? Ha! Wrong.  First, I encountered a storm of responses about throwing panties on stage.  Most felt that my idea was just foul and distasteful.  I plod onward, determined to at least throw my solitary panties at Page and he would just know. After about 25 Phish shows, I finally found myself with the golden ticket.  The lottery had blessed me with actual 2nd row seats at Alpine Valley.  No need to sneak, I could have a direct line of fire because not only were they 2nd row, but Page side 2nd row seats!  This uphill battle continued as I had forgotten to wear any type of under garment that day.  Luckily, Jenny lent me hers.  Jenny and I wrapped up the panties into a ball, testing the velocity and density of the panties to ensure the perfect alley-oomph onto Page's keys.  The second set opened.  I tossed them… bounce…bounce…bounce…right across Page McConnell's black & whites.  They bounced onto the floor and he made a slight motion with his ankle to clear the area where his pedals were and Page continued on to open up the set with "Heavy Things." No reaction at all and my heart just sank.
Now, I know that this is not that big of a deal.  But it changed me.  In the big scheme of it all, of course Page wouldn't understand.  Glow sticks, beach balls, and all sorts of things end up on the stage at a Phish show.  Why should a solitary pair of panties be so different?  Why would that make Page sit up and say, wow! The crowd loves me and wants me to play Tom Jones!  It wouldn't.  But in my blind devotion to following this band, paying ridiculous amounts of money to be with this band, and exhausting a ton of energy on getting to and from the shows, it stopped me short.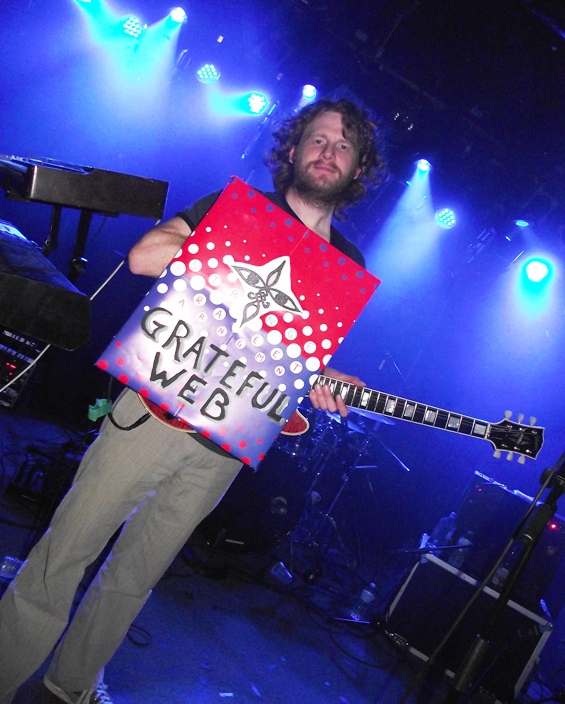 My blind devotion began to evolve at that very moment.  Now-a-days, I like to find those special shows and those special bands where I feel like we are creating the perfect event together.  We are building a catharsis to the moment of musical infinity.  I like that vibe where we all belong and this could not happen without every single person in this room, making it all possible.
Strange Arrangement family members were there Saturday night.  When they heard that I was writing a review about the show, they stopped me.  They told me that this band has a story. They pointed out all the different family members with the band and how much they all support the band.  All together, ten of the Strangement boys' family members were dispersed throughout the audience.  I watched as guitarist Jim Conry's uncle rowked out in happy bliss behind me.  He has autism and when the music stopped, in a blunt fashion, so did he.
I felt the full circle come back around.  Here was a family that played music for each other, more than in just a metaphoric jam-band-hippie sort of way.  Here was a man, Jim's uncle, that has a disorder that affects his communication and social skills and yet he is able to enjoy and participate just like everyone else through Strange Arrangement's music.  Everyone belongs.  The personal relationship could never be there between Page and I the way Jim's uncle and he were relating to each other on Saturday night.
Strange Arrangement is a family of porch monkeys.  We get together, we rowk some tunes, have a few drinks, and we have a good time together.  They opened the set just after 11pm with Bed Bugs, the first song on their new album.  They also played Siete, The Route, SteamRoller, my favorite- Highway, and an epic version of Polygraph.  They did moe from their first album, a song that describes their road travels and their devotion to bands just like my trials and tribulations of the panties.  Some of their lyrics remind me of myself when I am singing in the shower to my dogs, foolish and cheeky.  They did some amazing covers including Ween, Johnny on the Spot, and MGMT's Electric Feel.
Strange Arrangement has 4 solid players on stage that stand steady as the pillars of a house begging for people to come on inside, the party is on the back porch.
"Cheers Everyone! Happy Saturday!"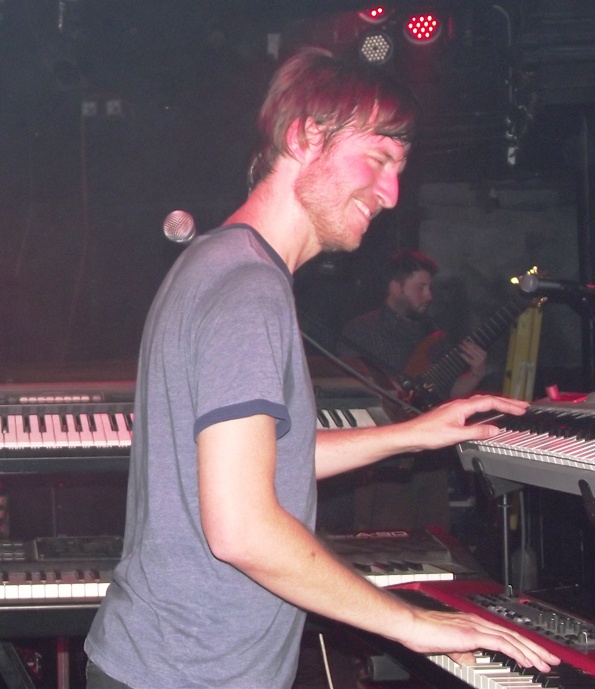 When I chatted with keys man Joe Hettinga, he had mentioned that if and when they get a projectionist for their stage shows, they would love to have images of Maury Povich while playing their album title track, Polygraph.  "The lie detector test determined that is a lie, a lie, a lie, a lie, a lie…" would be coupled with still shots of Maury's finger pointed at the culprit that tried to pull a fast one.  While Saturday's night show did not have that added visual bonus, it did have an extended jam that boasted bass man Kevin Barry and his tapping style that was so harmonic it reminded me of daydreaming in an office while the typing tapping of my co-workers comes together and actually sounds good.  This, of course is complementary, because the song has that beep bop style that is reminiscent of a polygraph machine.  Kevin was making spreadsheets sound fierce.
Polygraph has been released and out to the public for two months now.  I wonder if they have heard The Route and how to get into this bliss of family fun.  Everyone here in the room on Saturday has come along on their own personal route to complete the circle.  If they take the lyrics from this song seriously, they will: a. check the lost & found to get back on solid ground, b. take the long way home instead and c. do it cuz it gets them high. The steam roller is steaming; they have to keep on moving- because it's time, "let's start this process of loving."
I had a couple of people that had never seen Strange Arrangement ask me if they were a Phish cover band.  That is a compliment and a disgrace all at the same token.  For this girl, there is no comparison.  They jam just as hard as Phish, they are eclectic like Phish, but for me, there was a feeling of connectedness that Phish does not offer.  Strange Arrangement is their own grand assembly and they can count me into their assembly line.  It takes village of artists to create the art that is showcased on stage and Strangement includes some of the best art that Chicago has to offer.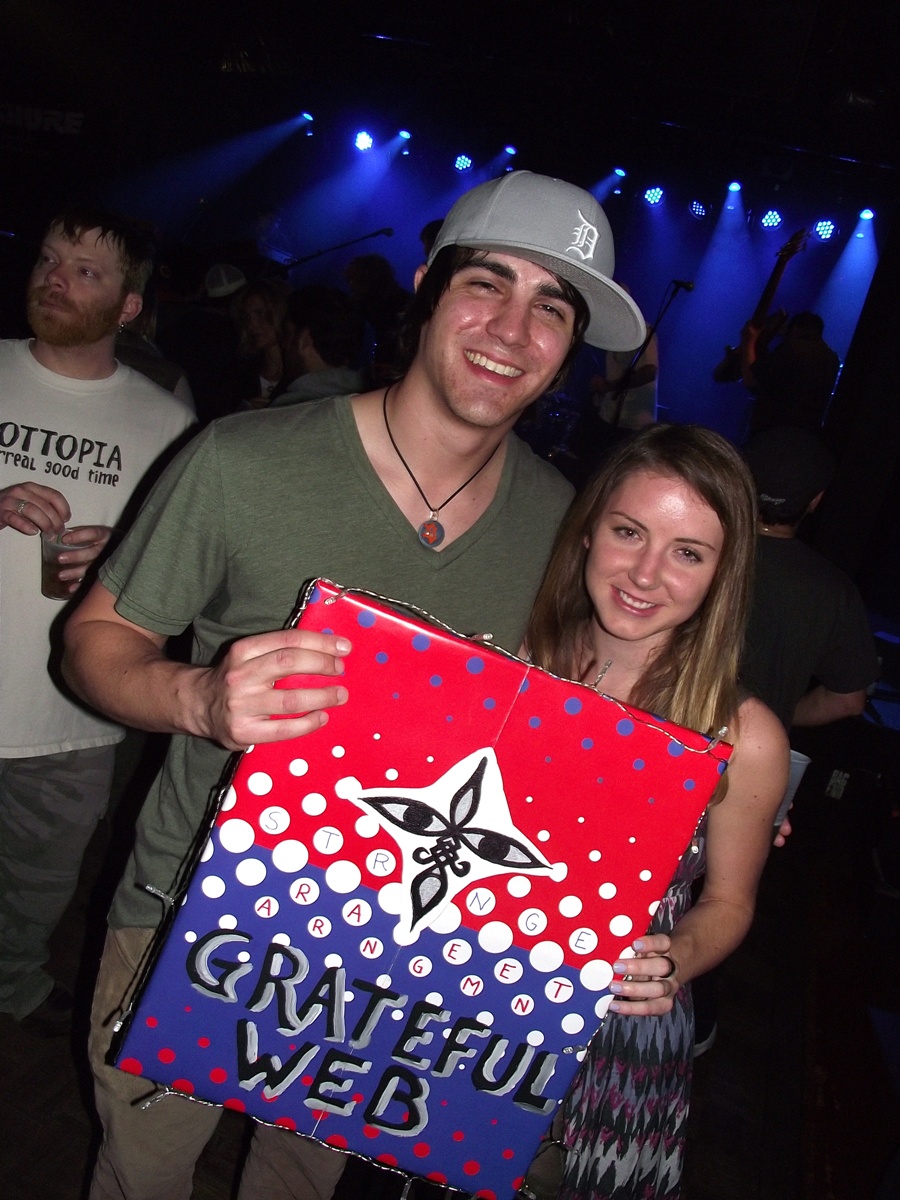 By the end of the evening, it was 2 am and my legs had that wear-you-out-jazz-syndrome where they felt like they'd just collapse if I tried to bounce around anymore.  It's the zapped-shattered dog-tired throb in your calves that actually makes you feel great in the morning.  A good show is like a total body cleanse, good for the heart and soul.  It's these kinds of special shows that keep me wandering the jam band scene.  It was time to go to bed, wake up, and enjoy the first day of May 2011.
I want to leave you with one last personal story, the vision that was given to me as they played their encore, the theme from Night Court.  I am thinking of Roberta Flack's love song to the musician that killed her softly with his song, the one that told her whole life with his words. When I was a little girl, my father took me to the Sears Tower, now the Willis Tower, the tallest building in the US.  We rode up the elevator to the top to see the sights from the observation deck- just me, my dad, and this very tall fella.  I whispered to my dad, "That is Bull from Night Court."  Sure enough it was.  He was very gracious and kind, especially when we reached the top.  I was small and couldn't see over all the people pressed against the window to look out.  Richard Moll, aka Bull from Night Court, scooped me up and put me on his shoulders.  I was higher than high.  "If I have been able to see further, it was only because I stood on the shoulders of giants." – Sir Isaac Newton.  I thanked the bartender, the door man, and the family as we high-fived goodbye for now.  The bass boogie line of Night Court carried me home.