Bucky Pizzarelli 88th Birthday Bash Celebration
Submitted by Eigo on Sat, 01/04/2014 - 09:21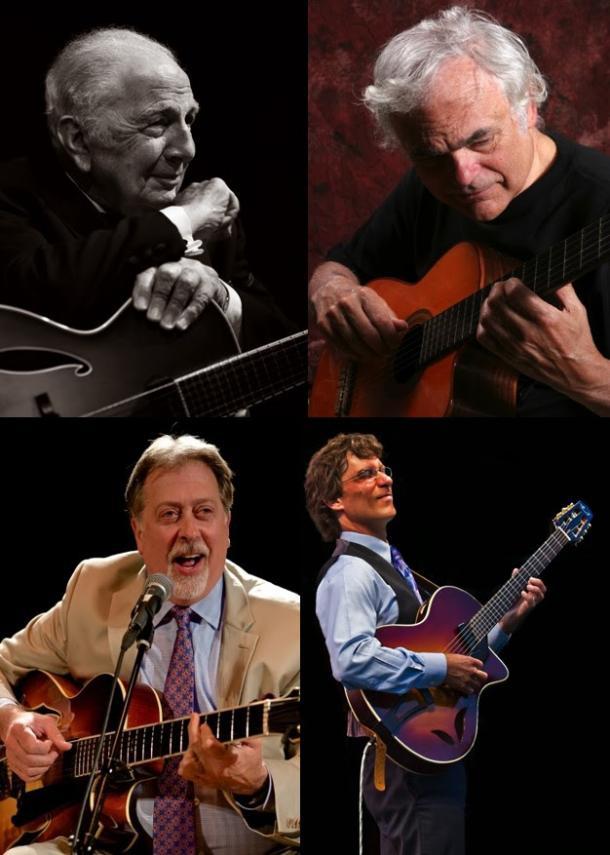 The Bucky Pizzarelli 88th Birthday Bash will feature 3 guitarists who have all grown up with and studied and played with the iconic Bucky Pizzarelli.
Gene Bertoncini, who shared the Tonight Show Band seat with Bucky, has been a long time friend and playing partner.  Both are alumni of the great Benny Goodman sextet as well as countless recording sessions that they have been a part of. (www.genebertoncini.com)
Frank Vignola, who plays with Bucky frequently has always held a special place in is heart for this master of the seven-string guitar.  Frank tours the world these days with his playing partner Vinnie Raniello and constantly wow crowds wherever they perform. (www.frankvignola.com)
Ed Laub began his relationship with Bucky at the age of 16 when he became one of his first students on the 7-string guitar 46 years ago.  Today Ed and Bucky work as a duo on a steady basis whenever Bucky is not playing with his ultimate partner, his son, John Pizzarelli.  Ed provides the vocal backup to the quartet as well as Bucky's key accompanist.  A new 7 String Acoustic guitar trio CD featuring Bucky, Ed and John Pizzarelli will be released in Feb. 2014 (www.edlaub.com)
John "Bucky" Pizzarelli is a world-renowned jazz guitarist who was born in Paterson, NJ on January 9, 1926. His uncles Peter and Bobby Domenick, musicians who also hailed from New Jersey, taught Bucky the guitar.
His career spans over 60 years from the Vaughn Monroe Orchestra, to the Johnny Carson Tonight Show. Hundreds of jazz concerts worldwide, including White House performances with Benny Goodman, Frank Sinatra, and Claude "Fiddler" Williams, with Presidents Reagan and Clinton add to the list.
Bucky has also been honored with many prestigious awards, which include the Jazz Wall of Fame by ASCAP in 2005, two honorary Doctors of Music degrees from Hamilton College in Clinton, NY and the University of Southern Illinois@ Edwardsville in 2003.  In 2002 he received the Lifetime Achievement Award for the Manhattan Association of Cabarets.  Most recently in June of 2011 Bucky was inducted into the New Jersey Hall of Fame.
Last year, Bucky became one of the very first musicians in New Jersey to have two of his guitars, along with a recorded history of his lifetime in music, inducted into the Smithsonian Institute in Washington, DC.