BUSTLE IN YOUR HEDGEROW
Submitted by Tim Hurley on Tue, 03/13/2007 - 19:30
On March 1st the on-and-off again Led Zeppelin tribute band, Bustle in Your Hedgerow, brought their high-energy show to the Bluebird Theater on historic Colfax Avenue in Denver.  A handful of fans showed up to hear their favorite Zep tunes, and were rewarded with a musically stunning performance that covered a wide range of the classic rock outfit's catalogue.
This group of jamband all-stars is comprised of the Benevento/Russo Duo on keys and drums, with Dave Dreiwitz of Ween on bass, and Scott Metzger of Particle/RANA on guitar. Formed about three years ago, the members have since set out to reprise, as Marco Benevento stated, the songs of "the greatest band ever".  While they may not exactly sound like the kings of British hard rock, they certainly breathe some new life into some old favorites.
Though I was unable to witness the entire performance, it was exciting to see what some talented musicians could do with some classic Zeppelin songs.  Renditions of "Moby Dick" and "Kashmir" highlighted a fiery first set of covers.  Also, a blues-heavy version of "Dazed and Confused" reminded the audience that Page, Plant, Jones, and Bonham quite possibly were the greatest rock band ever.
The jams on these tunes were very heavy, and for the most part the band was in sync with each other.  Though each member proved their worth, the show benefited the most by the contributions of Metzger's guitar work.  This was the first time I had the opportunity to see him perform live, and he was phenomenal.  His style is less bluesy than that of Jimmy Page, with heavier licks and a modern jam-oriented approach to solos.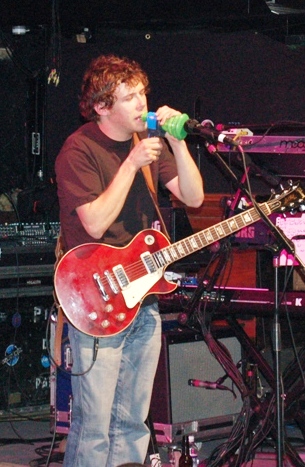 As much fun as it was to actually hear a group cover Zeppelin well, the band failed to provide one aspect that made the original so explosive:  vocals.  Whether it was by choice or lack of a good singer, Bustle in Your Hedgerow performed the covers without anyone singing.  Rather, Benevento used his Wurlitzer organ to administer notes where Robert Plant's vocals would be.  And to be honest, it just came out a little cheesy.  I do not doubt his ability to play keys, however it did diminish the overall quality of the songs.  This talented cover band would benefit greatly from having someone worthy on vocals (might I suggest Theryl DeClouet, formerly of Galactic, who would give the lyrics an interesting and very energetic twist).
Obviously, the members have no plans to quit their "day jobs," but do plan to continue showing off their take on vintage Zeppelin ballads.  Speaking with Dreiwitz after set break, he told me that they were "just having a ton of fun playing in a tribute band."  Having fun indeed, as it was evident in the energy with which these guys played.  Any purist Zep fan might say, "What is and what should never be", referencing an early Zeppelin tune to explain that no one should ever cover the iconic rock group.  However, any fan of classic rock should enjoy the smoking instrumental work these guys blanket over such influential pieces.