Cameron Tapp: A Mate with a Big Heart
Last week, Australian singer/songwriter Cameron Tapp made his US solo debut, not in a coffeehouse or intimate club, but as the processional singer at a fan's wedding. He flew almost 10,000 miles to sing his hit song as Jesse Ihry walked down the aisle of a Fargo, ND church.
Jesse had discovered Tapp's song, "The Guide," on iTunes well before she and her fiance had made their commitment to each other. The song had been recorded in 2006 on Loss of Signal, a CD by Tapp and his band mates under the name Borne. That song had also been licensed and featured on the television program Friday Night Lights and on October Road. "The Guide" became a Single of the Week on iTunes and earned the band a slot at SXSW last year, marking the band's first appearance ever in the States.  Last year, Borne won four Music Oz awards in Australia, including Artist of the Year, and Tapp was tapped as Best Singer/Songwriter.
When Jesse and her fiancé became engaged last June, they began the search for sheet music for "The Guide" because the church didn't permit recorded music during the wedding service. "We looked and looked online everywhere and could not find it," Jesse said. Out of desperation, she went to the Borne website, and emailed every contact person she found there, asking for sheet music.
But there was a problem. Tapp didn't have any sheet music. In fact, he didn't know how to write musical notation. Tapp explained that in a personal email to Jesse and made a few suggestions. One was to have a singer with a good ear listen to the song and learn it; another was to do some sort of video over the internet and show how he approached the song, explaining chords, bridges, and vocal treatments. A third was simply to fly him to Fargo. Jesse's reaction was unbelief. "I thought he was joking," she recalled. "Then, we realized he was serious." That's when the wedding couple decided to consolidate their student loans and give up their honeymoon to get Tapp on a plane to Fargo.
"The thing with this song is so surreal," Jesse said. It was more than just having the singer of a famous band coming to her wedding. "It is the meaning behind the song and having the actual singer here. It's something that you'll never forget."
And for Cameron Tapp, it is just as special. "I'm a sucker for a love story," he said in a phone interview last week and repeated during a relaxed lunch in Fargo the day after the wedding. "It's such an honor to be asked to sing....To be asked to play a song that you've written at someone's wedding is such a beautiful thing. It is a wonderful thing for any artist to be asked that because it means that your song has done what it was supposed to do, which was to reach people, to talk to people. That's what music is for. It's not for bank accounts."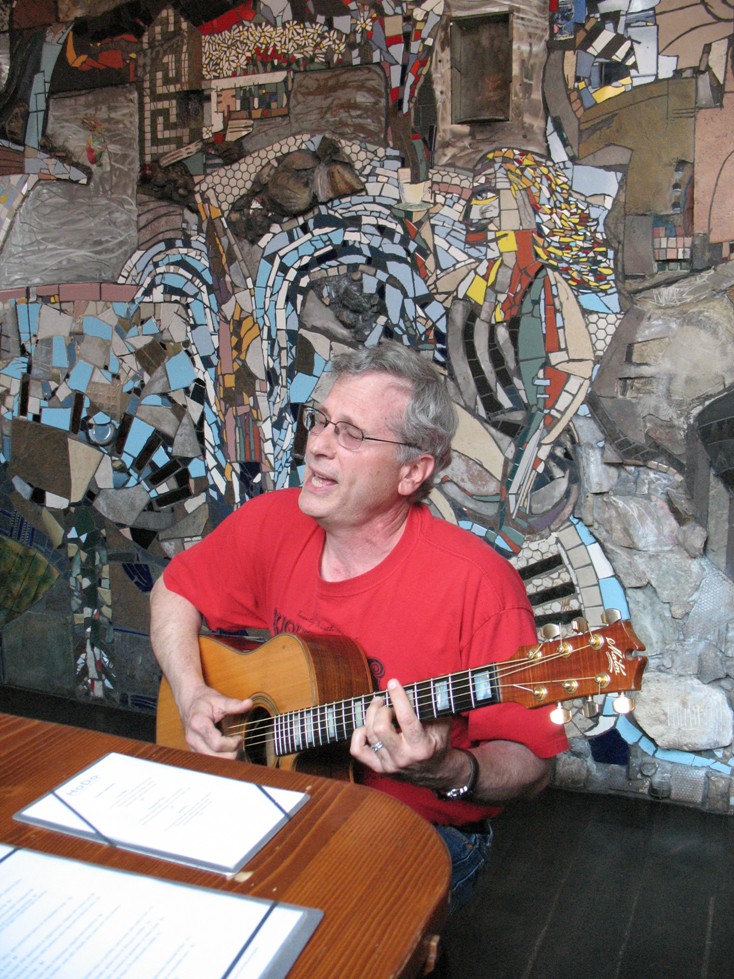 As Tapp, his publicist Christian Quilici, Grand Forks ND singer/songwriter Ron Franz, and I lingered over drinks, we were very aware how much this remarkable story had brought strangers together, not just Tapp and the bridal couple, but all of us. "It's a beautiful story and people love to hear beautiful fairy tales," he said.  "The song was born (pardon the pun) out of love.  Jesse's life is about how she's found pure love again...These kinds of stories just don't come along very often."
But even more strangers got into the act. Tourism Tasmania organized a $10,000 honeymoon package for the couple. It will cover airfare and high-end resort accommodations. The costs are being covered partly by the Tasmanian tourism bureau, which is a government entity, and by airlines, car rentals, and other hospitality industries.
Though the wedding is over, Tapp, however, is not flying back home immediately. He is using this trip to strike out with some material as a solo performer. Some of the live radio spots he did in Fargo, especially at a country station, proved to him and to some new fans that his new material was more universal that the pop genre pigeonhole Borne had been put into.
Tapp is comfortable playing acoustic guitar, but it wasn't his first instrument. Surprisingly, it was the harmonica. And, not blues, but straight harp. "My father played a beautiful mouth organ," Tapp said. "We use to go camping a lot as children with my parents. We'd always have a campfire, and we'd sit around it and sing songs. Dad would play the harmonica and tell us stories of his past... I had a beautiful, wholesome childhood." Later, Tapp picked up drums and then guitar when he was about ten.
Tapp's father, Paul Tapp, today is an author of children's fiction and adult non-fiction books. When Cam Tapp was a boy, his father also wrote songs. "I used to sit around and listen to my Dad play his songs on the acoustic guitar."
Songwriting came naturally to young Tapp. That carried through to his work with the pop entity called Borne. But Tapp quickly asserted, "Borne primarily is me," Tapp said. "It's a Moby-type situation. I've always had the inspiration to write songs. I take them to my producer, and we work the songs. Then the boys come in and play the material with me and we compile the tracks. And when the time comes, we'll go out and play the music."
While Tapp was in Fargo, he brought some new tunes with him. "Winter Chill" tells the tender story of when his father and mother were apart when the elder Tapp served in the Vietnam war and how their letters and the moon they both watched every night kept them connected. This was one story he heard a lot around the campfire. It's a tune that fit very nicely aired on a country station live.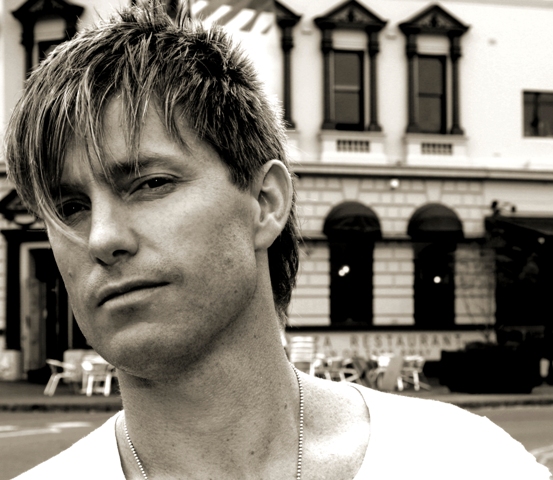 Another song, Tapp is showcasing is "Dacridium franklinii." It was a song his father wrote about the Huon pine, the Dacridium franklinii (now called Lagarostrobos franklinii). "The Huon pine tree grows only in my native state, which is Tasmania," Tapp said. "It's the oldest and slowest growing tree in the world." Individual trees have lived for almost 2,000 years and whole forests stands have survived uncut for over 10,000 years. "When my father wrote this song, they were chopping down these trees to make a dam," Tapp recalled. "That song had a huge impact on my life."
Tapp wrote of the song, "Dacrydium Fanklinii is a lullaby, a lullaby that was sung to me at bedtime as a child. As I fell asleep the verses took me to cool and tranquil Gondwanic forests where the Huon pine tree lives. It was in these forests that I spent the better part of my childhood."
He decided to record it on a compilation CD called Forests Forever that was released this year by the Wilderness Society Initiative to raise money and awareness for the continued destruction of old growth forests. That CD included cuts by two other well-known Australians, Xavier Rudd and John Butler.  Though the Huon pine is now protected, its plight is similar to what else is happening in the country. "Quite recently, there has been a massive debate in my home state of Tasmania about a wood chip mill they are trying to build," Tapp explained. "They are trying to log areas that have vast tracts of old growth forests." Not only is this of concern to Tasmanians but it also can impact the rest of the world.  "These big huge tracts of forest store massive banks of carbon," Tapp said. When the trees are cut, this carbon is released. "So it would be a great global warming crime if they don't stop doing this to wood chip these trees for paper."
It is a plaintive song that makes good use of Tapp's vocal range, his passion, and his crisp acoustic guitar playing. "I went down to Tasmania quite recently," Tapp said, "and I went into the bush to one of these areas that they are going to log and I played that song in the wilderness." That helped launch the CD. (You can catch a youtube video of the song).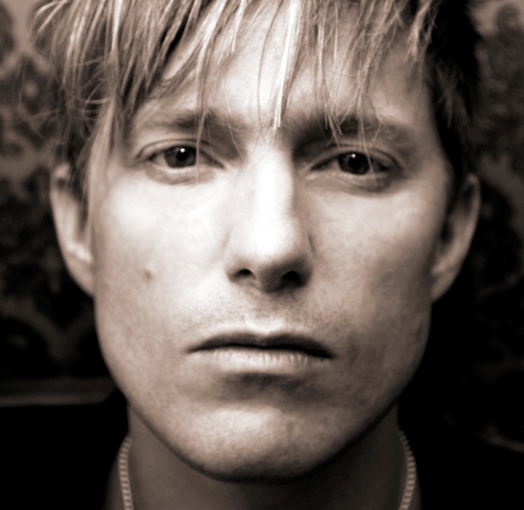 These stripped down tunes like others he will showcase this week in CA rely on Tapp's unusual finger and plectrum combo style on his Australian Maton guitar. He demonstrated that for Grand Forks singer/songwriter Ron Franz and then let Franz have a go at his favorite guitar.
Tapp's guitar work is clean and rootsy.  But the strength of each of these new songs hangs on the power of Tapp's vocals that sometimes whisper and sometimes erupt from the heart in a mourning cry. Both skills uplift lyrics that speak of relationships between people and between people and their environment.
On the coattails of his generous, unpretentious hands-across-the-waters gesture, Cameron Tapp will put his foot into the waters of the American acoustic music scene when he brings his solo show to the Plush Cafe in Fullerton CA on Tuesday June 17 at 7 pm and to the Hotel Cafe (unplugged) in LA Wednesday June 18 at 8 pm. Check him out. There are depths Cameron Tapp hasn't fathomed yet in his songwriting career. Let's hope he continues to bring his talents to American shores.