Caroline Rose to release debut full length, America Religious, 7/2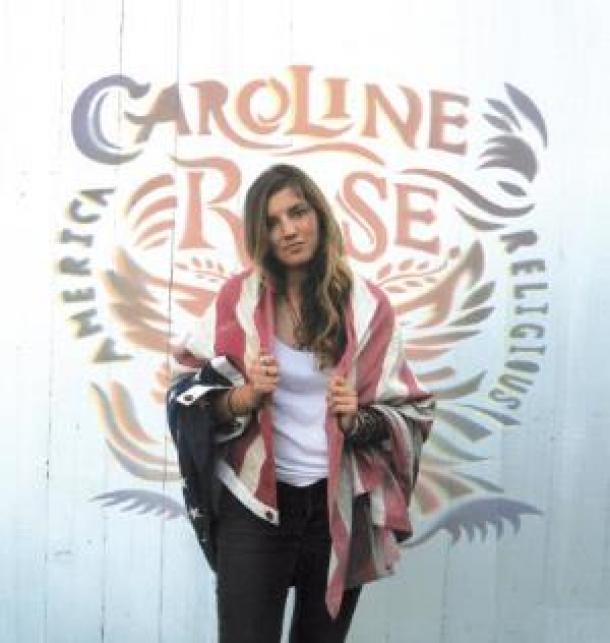 After setting out on a drive that became a near-endless journey traversing across the thick and thin of Middle America, Caroline Rose returned back east with books full of stories and poems that would become the songs of America Religious, a record that delves neck-deep in topics most people wouldn't dare to discuss at the dinner table.  From politics to religion, heartbreaking sadness to seemingly endless joy, Caroline Rose traverses a path paved by the likes of Townes Van Zandt, John Lee Hooker, and Joni Mitchell, to name a few.
"I just want to write honest music," says the songwriter, whose debut album is set for release July of this year. "I don't feel, nor have I ever felt, any desire to write something that I don't need to say. I started out writing just for myself, as some sort of outlet, and most of the things that would flow out of my mind were things that were much bigger than me, things that people might want to hear." From current political issues to vignettes of personal struggles, America Religious depicts stories of a contemporary American society that is far from perfect, yet full of life. "If I can use music to bring to light real things, the hypocrisies and problems in society, as well as the beauty in things people take for granted, then I think that would make me feel pretty good."
The long-awaited official debut album America Religious, co-produced with her partner of four years Jer Coons, is a gospel-meets-country-meets-blues-meets-alternative collection of toe-tapping, roadworthy stories and poetry set to music. Created at Coons' Parkhill Studio in Burlington, Vermont, the duo are quite proud to say they've had complete control over the entire creative process. "I wrote and arranged all the songs, while Jer did all the engineering and nearly all the mixing. He's great at everything I'm not and vice versa, so it works out real well," says Rose. On top of producing, recording, and engineering the record themselves, the duo played nearly every instrument, including lap steel, cello, organ, mandolin, drums, and more. Undeniably, America Religious is a unique combination of elements that stands on its own within an increasingly generic industry.
June
12 - New York, NY @ Bowery Electric
28 - Norway, ME @ Cafe Nomad
JULY
1 - Portland ME @ House Concert
3 - Cambridge, MA @ Club Passim
4 - Brooklyn, NY @ Private Party
5 - Center Moriches, NY @ House Concert
6 - Center Moriches, NY @ Camp Paquatuck Benefit
8 - Washington, DC @ House Concert
9 - Charlottesville, VA @ The Garage
12 - Fairhope, AL @ Fairhope Brewing Company
13 - Jackson, MS @ Martins
14 - Fort Worth, TX @ House Concert
16 - Albuquerque, NM @ House Concert
18 - Santa Barbara,CA @ House Concert
19 - Los Angeles, CA @ Hotel Cafe
20 - San Francisco, CA @ House Concert
25 - Fort Collins, CO @ Moe's Original BBQ
26 - Denver, CO @ Walnut Room
27 - Kansas City, MO @ House Concert
30 - Davenport, IA @ Daytrotter Session
30 - Davenport, IA @ RME Cafe
AUGUST
2 - Louisville, KY @ Haymarket Whiskey Bar
4 - Rochester, NY @ House Concert
5 - Syracuse, NY @ House Concert
6 - New York, NY @ Rockwood Music Hall
7 - Amagansett, NY @Stephen Talkhouse