CHRISTY & EMILY: TALK NORMAL
Submitted by mike on Fri, 03/11/2011 - 05:53
For
Christy & Emily
, these songs are a preview of their newer sound with bass (Pete Kerlin) and drums (Kristin Mueller). Later in the spring of 2011,
Christy & Emily
will be heading to the Faust Studio in southern Germany to record a new full-length album with this quartet. They are happy with the way the band allows them to expand sonically. The extra track on the digital download card is a song by Oakley Hall, called "Endtime Evangelist," off of their first self-titled album on Bulb (four years before they signed to Merge). This song has been strong on
Emily's
mind for half a decade, only coming out as a cover that the duo has been performing live in the last year.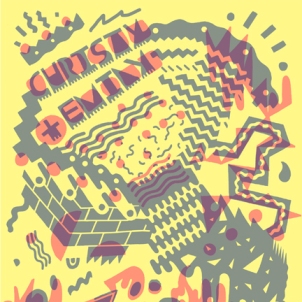 Talk Normal's "Hurricane" is a soaring narrative piece. Lead by drummer
Andrya Ambro's
melodic lead vocal and buffeted by guitarist
Sarah Register's
harmonies, "Hurricane" is a sing-a-long story told with humility, grace & pleasing cacophony. Conceptual references range from
U.S. Girls
to
Meredith Monk
to
Tears For Fears
to
The Velvet Underground
– yet the sound is all their own, with an ebbing structure that carries the imagination through a manic ocean of soundscapes, wildly complex and still simple enough to be howled at the moon.
--
Track List:
Side A
Christy & Emily - "Bells"
Side B
Talk Normal - "Hurricane"
*Digital download cards will include an extra Christy & Emily track, "Endtime Evangelist"
Christy & Emily is:
Emily Manzo - electric piano
Christy Edwards - guitar
Peter Kerlin - bass
Kristin Mueller - drums