The Complete Last Waltz: Wed. Nov. 27 at Capitol Theatre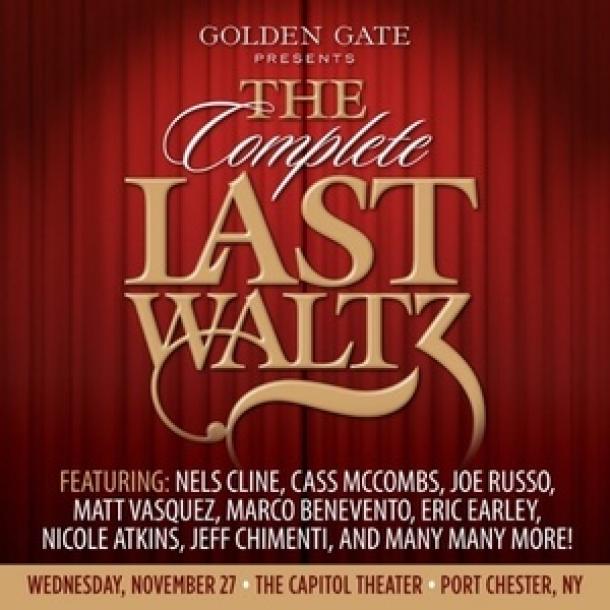 On Wednesday, November 27 at The Capitol Theatre in Port Chester, NY, a star-studded lineup of musicians will pay tribute to The Last Waltz, the historic concert and legendary film by The Band. Entitled The Complete Last Waltz, the concert will feature all 41 songs originally performed The Band along with a long line of legendary guests in San Francisco on Thanksgiving night 1976.
Confirmed to perform are Cass McCombs, Nels Cline, Marco Benevento, Nicole Atkins, Joe Russo, Dave Dreiwitz of Ween, Eric Earley of Blitzen Trapper, Andy Cabic of Vetiver, Stuart Bogie of Superhuman Happiness, Alec Ounsworth of Clap Your Hands Say Yeah, Alecia Chakour of the Warren Haynes Band and more. (complete list below) Sam Cohen of Yellowbirds will serve as musical director.
The concert marks the first East Coast production by Golden Gate Presents, a company founded in 2012 with the goal of mounting singular, once in a lifetime collaborative music events bringing together a wide range of musicians.
"Golden Gate Presents is truly thankful to all the artists coming to perform and celebrate The Band in much the same way The Band paid homage to their influences in the original," comments Ramie Egan of Golden Gate, "It's going to be a magical night!"
Artists Confirmed to Appear include:
Alec Ounsworth (Clap Your Hands & Say Yeah)
Alecia Chakour (Warren Haynes Band)
Andy Cabic (Vetiver)
Cass McCombs
Dave Dreiwitz (Ween)
Eric Earley (Blitzen Trapper)
Eric Johnson (Fruit Bats)
Jeff Chimenti (Furthur)
Jocie Adams (The Low Anthem)
Joe Russo (Furthur)
John Roderick (The Long Winters)
Jordan McClean (Antibalas)
Josh Kaufman (Yellowbirds)
Marc Black
Marco Benevento
Matt Vasquez (Delta Spirit)
Nels Cline (Wilco)
Nicole Atkins
Ryan Miller (Guster)
Sam Cohen (Yellowbirds)
Scott Metzger (Wolf!)
Stuart Bogie (Superhuman Happiness)
And Many More...