CounterPoint Festival Debuts in Atlanta on September 28th/29th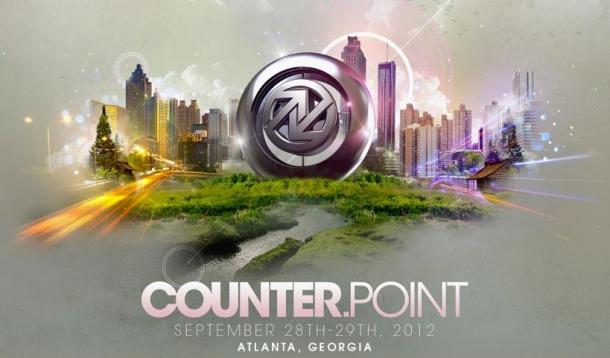 C3 Presents and MCP Presents have joined forces to bring CounterPoint, a new two-day music and arts festival, to Atlanta, Georgia this September 28 and 29, 2012. The multi-stage festival with camping options will be held at the location of 2007's The Echo Project, a 350-acre, scenic Chattahoochee river front property just south of metropolitan Atlanta. Partnering with local businesses, restaurants, artists and more, CounterPoint is expanding upon the format of its predecessor with the inclusion of interactive elements throughout the festival grounds. In addition to a stellar music lineup, planned environments include an arts village, extreme sports demonstrations, a beer garden featuring local breweries, a food truck component, local chefs, and a college football viewing area.  Detailed information and performers will be released in the coming weeks.
Produced by C3 Presents (Austin City Limits Music Festival, Lollapalooza) and MCP Presents (Camp Bisco, Lights All Night, The Echo Project), CounterPoint marks the first partnership for the two companies.
"As the Southeast's beacon of culture and diversity, Atlanta is the ideal location to launch CounterPoint." states CounterPoint Co-Producer and MCP Partner Brett Keber.  "We are partnering with local vendors, restaurants, chefs,  breweries,  artists and musicians in order to create a world-class event that is also uniquely Atlanta."
Located approximately 30 minutes travel time from Downtown Atlanta, Georgia, CounterPoint plans on bringing the city to the pristine festival site. Elements such as preferred viewing areas, VIP table service, multiple VIP levels, and car service will be available. Daily express shuttle service to and from Atlanta as well as day parking will also be offered for those guests not wishing to camp onsite.
Ticketing details and travel packages will be announced in the coming weeks. Visitcounterpointfestival.com for the most up to date information. Stay connected on Twitter and on Facebook.
ABOUT C3 Presents
C3 Presents creates, books, markets and produces live experiences, concerts, and private events. C3 is the force behind Austin City Limits Music Festival in Austin, Texas and Lollapalooza in Chicago. Other events in the C3 portfolio include the Austin FOOD & WINE Festival, Orion Music + More, Wanderlust Festival, Lollapalooza Brazil, Lollapalooza Chile, and Big Day Out Australia. C3 books and promotes more than 1,000 concerts in arenas,  theaters, casinos, and clubs across the US annually, making it the third-largest promoter in the country. In addition to event production and booking, C3 manages the careers of select artists.
ABOUT MCP Presents
MCP Presents
, a national production, promotion and management company with 10 years of festival promotion experience, is an industry leader in the international electronic music scene. Known for producing world-class events such as: Camp Bisco music + arts festival in Upstate New York; Lights All Night in Dallas, Texas; The Buku Project in New Orleans, Louisiana; and The Echo Project in Fairburn, Georgia; MCP also boasts a diverse range of artists and music based projects.