Cowboy Troubadour Mike Beck Releases 'Tribute' on Sept. 17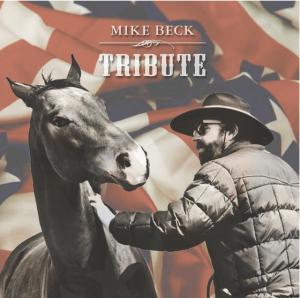 Mike Beck calls himself a cowboy troubadour, but for him, that means far more than donning a tall hat and playing twangy guitar. He's actually a bona-fide horseman, with years of range-riding and cattle-herding experience that gives his music an unmistakable authenticity. On his new album, TRIBUTE (Sept. 17, 2013), Beck imbues each song with the trail dust and vast vistas of his beloved American West, and celebrates the unique bond humans and horse share.
That bond holds even more significance for him since he helped develop a groundbreaking horsemanship program that pairs wounded veterans with abused or neglected horses so they can rehabilitate one another. Working with the Joyful Horse Project, an Austin-based a nonprofit dedicated to holistic equine rehabilitation and education, Beck teaches intuitive horsemanship methods he learned from legends Bill and Tom Dorrance and others. When human and animal understand how to communicate with one another, they can establish trust — the unifying, harmonious bond that empowers both. And helps them heal. Beck is donating all proceeds from album sales to this therapeutic program.
Recorded in Austin, TRIBUTE offers 11 tracks of Beck's cowboy-themed Americana, ranging from folk balladry ("20 Bucks a Gallon") to bluesier tunes and honky-tonkers. He employs his signature Fender B-bender on the tracks "Don't Hurt My Heart" and "Amanda Come Home," the latter one of two songs paying homage to military veterans. The other is a cover of Wilbert Harrison's "Let's Work Together," made famous by Canned Heat and Bryan Ferry.
"I wanted the album to help both horses and people come together in true partnership," Beck explains. TRIBUTE is the latest development in a partnership begun when Joyful Horse Project president Beth Rand approached Beck about starting the program.
"Veterans are amazingly well suited to the challenge of working with these horses," says Rand. "By background and training, they are keenly aware of the bonds of trust required to perform any task with sureness and confidence. These unique talents help the horses overcome their fears and become more suitable for further training and adoption."
Beck jumped on board immediately. "I knew we had the makings of a great story," he says. "It's a win-win for all involved."
Horsemanship and music have long intertwined in Beck's world; he's worked at both in California, Nevada and Montana.
"Being a horseman and musician are similar in many ways. They're both about feel," he told Western Horseman magazine in a 2012 feature story. In 2009, that magazine placed two of his compositions on a list titled "The 13 Best Cowboy Songs of All Time," ranking him among heroes such as Ian Tyson, Lucinda Williams, Tom Russell and Gene Autry, the original singing cowboy. On TRIBUTE, Beck covers Tyson's ode to America's wild mustangs.
Beck's even earned praise from no less a legend than Woody Guthrie contemporary Ramblin' Jack Elliott, who says of Beck's picking skills, "Mike Beck plays the guitar like a Byrd. His strings do things that mine could never do. They obey the slightest finger-touch commands like a fine reining horse."
Beck will perform a benefit concert for the Joyful Horse Project on Oct. 18, followed by a two-day horsemanship clinic Oct. 19 and 20, both at Travaasa Austin.
For pre-release album purchases and donations: 
joyfulhorseproject.org