Curumin: A Man of Many Meanings
Submitted by Ben Welp on Tue, 06/19/2012 - 11:56
Any good musician uses language as a series of stepping stones to pass personal expression on to the audience. It is what binds us together. So when the musician Curumin (KOO-roo-mean) performed at Denver's Bluebird Theater this past Sunday evening, expressing himself in Portuguese, I was searching to find what binds us together.
With 236 million speakers, Portuguese is the 6th most spoken language in the world, and a beautifully expressive one at that. A native of Sao Paolo, Brazil, Curumin is touring in support of his third full length album Arrocha. The word "arrocha" means to hold on with a lot of pleasure (and if you can roll your 'r's is very pleasurable to say).
Curumin's musical recipe includes a smorgasbord of hip-hop, samba, jazz, bossa nova, reggae and funk. On this album Curumin explains to his new record label, Six Degrees Records, that he set out to make more sensual music that tunes down the hip-hop ingredient: "In Bahia it's a rhythm, a way of dancing where you hold your girl very close. On this album I'm trying to make more sensual music, speaking with a lot of feeling and getting closer to people."
As the captain of his vessel, Curumin sits behind the drums center stage, singing lead vocals and twisting the knobs on an MPC (Music Production Center). A guitarist accompanies him to the right and a bass player on his left; each with their own MPCs helping to create an electronic soundscape. Together they are able to develop an atmosphere that is unmistakably unique and undeniably authentic.
Suddenly, the language piece is put into place. They could be singing to me about necrophilia and I would still be floating in the air, trying to sing along none the wiser. But they're clearly not and I don't have to understand Portugese to know it. They are smiling, laughing, pushing out remarkable sounds that transcend the language barrier and effortlessly bind us together.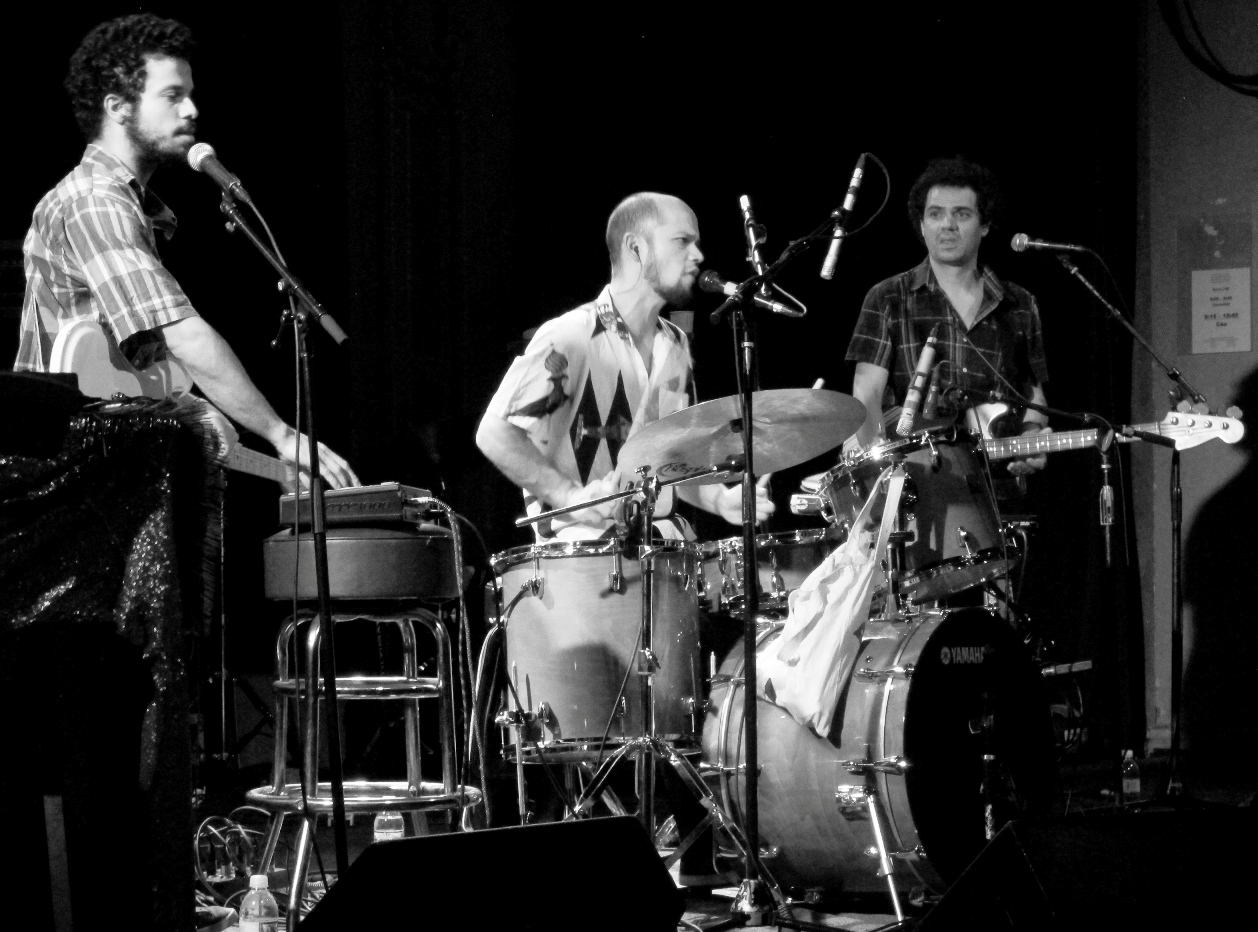 They slip into the song "Afoxoque" that is the hard-hitting bass-heavy first track from the new album. The word "Afoxoque" is a blend of two meanings, the Portuguese "the power of speech" and the English "shock". Curumin, a man of many meanings, centers this arrangement on the shock that happens to you from the power of language. Curumin, a man of many meanings, understands this power very well.