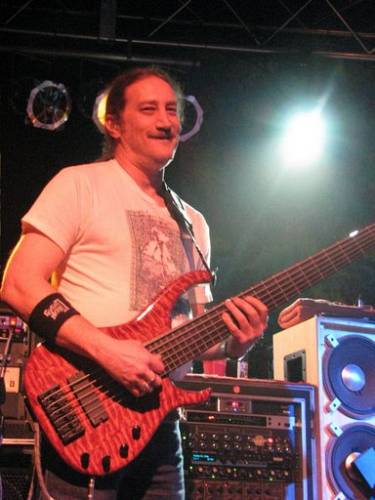 As spring winds down and turns into summer, Dark Star Orchestra will be taking their bus on Spring Tour East, starting with two nights at the Higher Ground in Burlington, VT, and truckin' on through the beginning of June. In between, the circus comes to town in New Haven, Princeton, Englewood, Brooklyn, Boston and Alexandria, makes a stop Paramount Theater in Huntingdon, NY and sets up camp for three days at the Mighty High Mountain Fest at Tuxedo Ridge, including one acoustic set. For all the dates and ticket info, go to DSOtix.

Southbound for the Winter, Overseas

While DSO's musical seeds may have been silent for the month of January, come February 1 they'll burst into bloom as the Dark Star Orchestra bus rolls into Minneapolis for the first show of the Southbound Winter Tour 2012! This ambitious five-week run takes our six guys and a girl on a 25-show trek making stops in Chicago (two shows, including a special Terrapin Nation show at Martyr's), Detroit, Cleveland and Nashville, and winding up in Ft. Lauderdale in the beginning of March. After that it's off to Europe for Jam In The Dam and one show London, and then back to the USA forSpring Tour West. Check out all the dates here.

Fashionable Touring

Before you head out on tour with DSO, make sure you have all the accoutrements to travel in style by checking out our DSO Online Store. From hats, shirts and hoodies, to music and DVDs, we've got everything you need to make your DSO trip complete! Keep a look out for newly arrived Cosmic New Year's 2011-12 posters and t-shirt, coming soon.

TOUR DATES
DATE
VENUE
CITY

TICKETS

Southbound Winter Tour 2012

02/01
First Avenue
Minneapolis, MN
TICKETS
02/02
Barrymore Theatre
Madison, WI
02/03
Pabst Theater
Milwaukee, WI

TICKETS

02/04
The Vic Theater
Chicago, IL
02/06
Martyr's *Terrapin Nation*
Chicago, IL
02/07
Bell's Brewery Eccentric Cafe
Kalamazoo, MI

TICKETS

02/09
Majestic Theater
Detroit, MI
02/10
Egyptian Room @
Old National Centre
Indianapolis, IN

TICKETS

02/11
The Pageant
St. Louis, MO

TICKETS

02/12
Cabin Fever Festival
E. Peoria, IL

TICKETS

02/14
Kentucky Theater
Lexington, KY
02/16
House of Blues
Cleveland, OH

TICKETS

02/17
Newport Music Hall
Columbus, OH

TICKETS

02/18
Bogart's
Cincinnati, OH
TICKETS
02/19
The Valarium
Knoxville, TN

TICKETS

02/20
The Cannery
Nashville, TN

TICKETS

02/22
Orange Peel
Asheville, NC

TICKETS

02/23
Ziggy's
Winston Salem, NC

TICKETS

02/24
The Fillmore
Charlotte, NC

TICKETS

02/25
Variety Playhouse
Atlanta, GA
02/27
Music Farm
Charleston, SC
02/29
Ponte Vedra Concert Hall
Ponte Vedra Beach, FL

TICKETS

03/01
Plaza Theatre
Orlando, FL

TICKETS

03/02
Jannus Live
St. Petersburg, FL

TICKETS

03/03
Revolution
Fort Lauderdale, FL
TICKETS
03/06
Martyr's
Chicago, IL

Jam in the Dam VI

03/14
Jam in the Dam VI
Amsterdam, NL

TICKETS

03/15
Jam in the Dam VI
Amsterdam, NL

TICKETS

03/16
Jam in the Dam VI
Amsterdam, NL

TICKETS

3/18
The Garage
London, UK

TICKETS

Spring Tour West

3/29
The Showbox
Seattle, WA

TICKETS

3/30
The Showbox
Seattle, WA

TICKETS

3/31
Crystal Ballroom
Portland, OR

TICKETS

4/01
McDonald Theater
Eugene, OR

TICKETS

4/03
Arcata Theater
Arcata, CA
4/05
Great American Music Hall
San Francisco, CA
4/06
Great American Music Hall
San Francisco, CA
4/07
Great American Music Hall
San Francisco, CA
4/09
Mystic Theatre
Petaluma, CA

TICKETS

4/10
The Catalyst
Santa Cruz, CA

TICKETS

4/12
Belly Up
Solana Beach, CA

TICKETS

4/13
Canyon Club
Agoura Hills, CA

TICKETS

4/14
McDowell Mountain Music Festival
Phoenix, AZ

TICKETS

Just Announced - Spring Tour East

05/07
Higher Ground
Burlington, VT

TICKETS

05/08
Higher Ground
Burlington, VT

TICKETS

05/09
The Flying Monkey
Plymouth NH
05/11
Toad's Place
New Haven, CT

TICKETS

05/12
Paramount Theater
Huntingdon NY

TICKETS

05/13
Oneota Theatre
Oneota NY
05/16
Birchmere Bandstand
Alexandria VA

TICKETS

05/17
Pocahontas State Park Amphitheater
Chesterfield, VA
05/18
Mighty High Fest @ Tuxedo Ridge
Tuxedo, NY
05/19
Mighty High Fest @ Tuxedo Ridge
Tuxedo, NY
05/20
Mighty High Fest @ Tuxedo Ridge
Tuxedo, NY
05/24
Bergen PAC Theatre
Englewood, NJ

TICKETS

05/25
McCarter Theater
Princeton, NJ

TICKETS

05/26
Tarrytown Music Hall
Tarrytown, NY
05/27
TBA
Philadelphia, PA
05/29
Brooklyn Bowl
Brooklyn NY

TICKETS

05/31
Penn's Peak
Jim Thorpe, PA

TICKETS

06/01
House Of Blues
Boston, MA

TICKETS

06/02
Hampton Beach Casino Ballroom
Hampton Beach, NH

TICKETS