Dark Star Orchestra Announces 2012 Fall Tour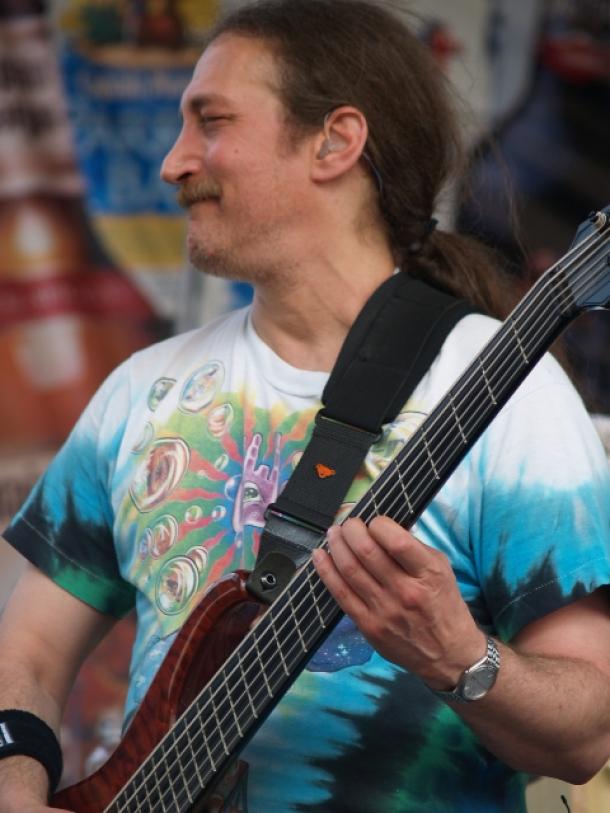 After Dark Star Orchestra follows the summer down so many roads that all lead to the Dark Star Jubilee, our six guys and a girl will need a few weeks to patch their bones, but once summer fades into fall they'll be ready to ride, heading west for the first leg of Fall Tour 2012. After starting in Texas and taking a short swing through the southwest, DSO jets to the promised land on the coast, playing everywhere from Solano Beach to Napa, including a two-night stop at The Fillmore in San Francisco. Talk about some long, long, crazy, crazy nights! Tickets for most shows on Fall Tour 2012, as well as the Meet Me At The Jubilee Summer Tour, are available here.
After having so much fun traveling all over with their fans in the last few years (remember trips to Japan, Alaska, Amsterdam, England, Canada and just about every corner of the continental U.S.?), it's time for DSO to head to the islands for Dark Star Orchestra's Jamaican Jam In The Sand, March 1-5, 2013, at the Breezes Grand Resort & Spa in Negril, Jamaica. For one all-inclusive price you'll get three full 2-set DSO shows, plus an acoustic set and three nights of our friend, Keller Williams, plus ground transportation to and from the airport, all inclusive meals in a variety of restaurants, beverages, water sports and so much more, including a golf tournament hosted by Rob Koritz (greens fees extra). Rooms are filling up fast, so check here to make sure you claim yours while you can!
TOUR DATES:
DATE
VENUE
CITY

TICKETS

 

Meet Me At The Jubilee Summer Tour

06/28
Ogden Theater
Denver, CO

TICKETS

06/29
Mishawaka Amphitheatre
Bellvue, CO

TICKETS

06/30
Steamboat Springs Ski Area
Steamboat
Springs, CO
 
07/01
State Bridge Lodge
Bond, CO

TICKETS

07/03
Crossroads KC
Kansas City, MO

TICKETS

07/05
Minnesota Zoo Amphitheater
Apple Valley, WI

TICKETS

07/06
Big Top Chautauqua
Bayfield, WI

TICKETS

07/07
Park West
Chicago, IL

TICKETS

07/08
Bell's Brewery Beer Garden
Kalamazoo, MI

TICKETS

07/10
The Vogue
Indianapolis, IN

TICKETS

07/12
Veterans Park Amphitheater
Springfield, OH
 
07/13
Haddad River Park
Charleston, WV
 
07/14
Sunoco Theatre @ Whitaker Center
Harrisburg, PA
 
07/15
Highland Park
Rochester, NY

TICKETS

07/17
Tupelo Music Hall
White River
Junction, VT

TICKETS

07/19
Gathering Of The Vibes/Seaside Park
Bridgeport, CT
 
07/20
Maryland Theatre
Hagerstown, MD
 
07/21
All Good Music Festival/Legend Valley
Thornville, OH
 
08/03
Pisgah Brewing
Black Mountain, NC
 
08/04
Pisgah Brewing
Black Mountain, NC
 
08/05
Greenfield Lake Amphitheatre
Wilmington, NC

TICKETS

08/06
The Norva
Norfolk, VA

TICKETS

08/08
Bottle & Cork
Dewey Beach, DE

TICKETS

08/09
Bottle & Cork
Dewey Beach , DE

TICKETS

08/10
Peach Music Festival/Montage Mtn.
Scranton, PA
 
08/11
Mercer County Park
West Windsor, NJ

TICKETS

Dark Star Jubilee

08/31
Legend Valley Campground
Thornville, OH

Jubilee Tickets

09/01
Legend Valley Campground
Thornville, OH

Jubilee Tickets

09/02
Legend Valley Campground
Thornville, OH

Jubilee Tickets

Fall Tour 2012

09/27
House Of Blues
Houston, TX

TICKETS

09/28
Emo's
Austin, TX

TICKETS

09/29
Granada Theatre
Dallas, TX

TICKETS

10/01
Sol At Santa Fe Brewing Company
Santa Fe, NM

TICKETS

10/03
Orpheum Theater
Flagstaff, AZ

TICKETS

10/04
Marquee Theatre
Tempe, AZ

TICKETS

10/05
House Of Blues
Las Vegas, NV

TICKETS

10/06
El Rey Theatre
Los Angeles, CA

TICKETS

10/08
Belly Up
Solana Beach, CA

TICKETS

10/11
Fox Theatre
Redwood City, CA

TICKETS

10/12
The Fillmore
San Francisco, CA

TICKETS

10/13
The Fillmore
San Francisco. CA

TICKETS

10/14
Uptown Theater
Napa, CA

TICKETS

10/16
Cargo In Comro
Reno, NV

TICKETS

10/18
The Depot
Salt Lake City, UT

TICKETS

Dark Star's Jamaican Jam In The Sand

03/01
Breezes Grand Resort & Spa
Negril, Jamaica

Reservations

03/02
Breezes Grand Resort & Spa
Negril, Jamaica

Reservations

03/03
Breezes Grand Resort & Spa
Negril, Jamaica

Reservations

03/04
Breezes Grand Resort & Spa
Negril, Jamaica

Reservations