Dark Star Orchestra Announces New Bassist for Permanent Role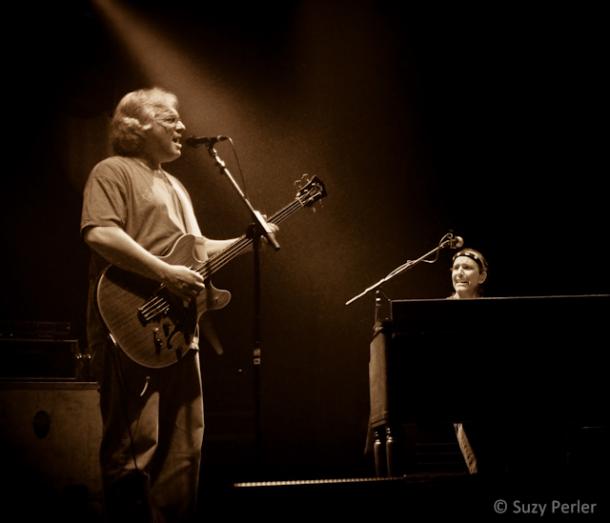 Following the Spring departure of longtime bassist, Kevin Rosen, the Chicago-formed Dark Star Orchestra offered temporary spots to a handful of talented performers. Today, the band announces the formal, permanent bassist role goes to Skip Vangelas who is currently on tour with the band. Vangelas previously played with Dark Star Orchestra guitarist/vocalist Rob Eaton in the band Border Legion and was briefly in DSO himself in 2001.
In addition to the bassist announcement, Dark Star Orchestra this week released numerous live, soundboard recordings of the band mastered by Rob Eaton on the band's Nugs.net / LiveDownloads.com page here. DSO is offering a streaming version of their 17-minute plus take on 'Turn On Your Lovelight' recorded May 26, 2013 at the 2nd Annual Dark Star Jubilee Festival that took place at Legend Valley over Memorial Day weekend. The 'Lovelight' recording can be found here.
As the band performs their 2250th performance this weekend at a two-night stand at San Francisco's The Fillmore, DSO's show count lays less than 100 shows away from eclipsing the approximately 2318 shows that the original Grateful Dead did over 30 years. Their Fall Tour West continues throughout California before wrapping up with a three-night stand at the Fox Theatre in Boulder, CO.
Tour Dates:
Fri 10/11/13                   San Francisco, CA        The Fillmore             
Sat 10/12/13                  San Francisco, CA        The Fillmore             
Mon 10/14/13                San Luis Obispo, CA     Performing Arts Center         
Tue 10/15/13                 Las Vegas, NV  Hard Rock Cafe                   
Thu 10/17/13                 Salt Lake City, UT          The Depot                
Fri 10/18/13                   Boulder, CO      Fox Theatre              
Sat 10/19/13                  Boulder, CO      Fox Theatre              
Sun 10/20/13                 Boulder, CO      Fox Theatre              
Wed 11/13/13                Buffalo, NY       The Town Ballroom                
Thu 11/14/13                 Toronto, ON      The Danforth Music Hall        
Fri 11/15/13                   Jamestown, NY Reg Lenna Civic Center         
Sat 11/16/13                  Albany, NY       Palace Theatre         
Mon 11/18/13                South Burlington, VT     Higher Ground          
Tue 11/19/13                 South Burlington, VT     Higher Ground          
Thu 11/21/13                 Portland, ME     State Theatre            
Fri 11/22/13                   Wallingford, CT Toyota Presents The Oakdale Theatre            
Sat 11/23/13                  Northampton, MA          Calvin Theater          
Sun 11/24/13                 Concord, NH     Chubb Theatre          
Tue 11/26/13                 Syracuse, NY    Palace Theatre         
Wed 11/27/13                Jim Thorpe, PA Penn's Peak             
Fri 11/29/13                   New York, NY   Best Buy Theater                  
Sat 11/30/13                  New York, NY   Best Buy Theater                   
Sun 12/01/13                 Tarrytown, NY   The Tarrytown Music Hall                  
Mon 12/02/13                Tarrytown, NY   The Tarrytown Music Hall                  
Wed 12/04/13                State College, PA          State Theatre            
Thu 12/05/13                 Charlottesville, VA         Jefferson Theater                 
Fri 12/06/13                   Washington, DC            9:30 Club                 
Sat 12/07/13                  Washington, DC            9:30 Club                 
Sat 12/28/13                  Richmond, VA   The National             
Sun 12/29/13                 Philadelphia, PA            Electric Factory        
Mon 12/30/13                Huntington, NY  The Paramount         
Tue 12/31/13                 Huntington, NY  The Paramount