How many Grateful Dead tribute bands does the scene need? The answer could be endlessly debated each way forever. I suppose it's fair to say that since Dead music is a rolling snowball of endless genres, sporting both originals and reinvented covers with thirty years of varying performances where supposedly "no show was ever the same twice," that room for countless cover acts isn't unfound. After all, people still want to listen to their music, obsessively, even though they haven't been around for seventeen years. And it isn't the same as fawning over Led Zeppelin or Pink Floyd, because let's face it, the Dead have given the torrent and live music community, every single one of their shows that are available, basically for free download. This has given the Deadhead geek-out culture fuel to exist forever. So the original question of "how many cover bands does the scene need," is really answered properly by three words: Dark Star Orchestra.
Now I'm sure your neck of the woods has its own Dead Tribute that kicks ass and understands the nuances of their performance, but I guarantee you they're not as good as DSO. Dark Star Orchestra is an organization that started in Chicago, Illinois in 1997, when original DSO guitarist John Kadlecik and original keyboardist, Scott Larned decided to start a cover band that would be dedicated to preserving the environment and ambiance of a "live dead show," by as accurately as possible, performing true setlists from specific shows in the band's thirty year history. But it didn't stop there; the band would not only perform the setlist, but stay true to the arrangement of the show being interpreted, the number of members performing, even the way the equipment is arranged and where each musician stood. People that want to squabble about the legitimacy of imitating the Dead's career or whatever can step aside, as Phil Lesh and Bob Weir recruited DSO's lead guitarist in mid-2009 to be a member of their permanent touring project, Furthur. As we all know, Furthur has been Lesh and Weir's primary tour for the last three years strong. And if that wasn't enough to convince a few stubborn fans of DSO's legitimacy, maybe the fact that on this fall tour, Phil Lesh himself sat in with the band at San Francisco's Fillmore for an entire set. Phil's sit in marks the fact that every living member of the Dead (including the late Vince Welnick) has sat in with DSO. You convinced?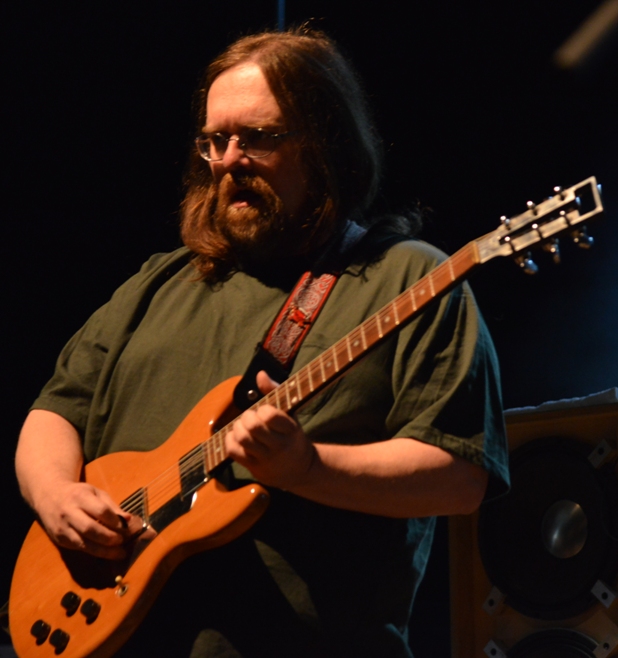 Okay so I've seen DSO like four-dozen times, but this last weekend's Boulder Theatre run, which ended a six-week tour for the band, was just incredible. The band turned over its founding lead guitar player with Kadlecik in 2009, but was at no loss with landing on Jeff Mattson (formerly of the Zen Tricksters, and Donna-Jean Godchaux Band) as their new lead. He's simply astounding. He fits right in with the rest of the band's geekiness and is devoted to interpreting Garcia per-performance not as a mimic or best ever, but a genuinely talented guitarist and vocalist. They are lucky to have him. And vise-versa. So DSO in addition is guitarist (and legendary Dead taper) Rob Eaton, Rob Barraco on all keys (simply my favorite interpreter of Dead piano), the thunderous Kevin Rosen on bass, Dino English and Rob Koritz as the Rhythm Devils, and last but not least vocalist Lisa Mackey. Together they simply tore the roof off of the Boulder Theatre last Friday.
Flashback to summer of 1976; The Dead were coming off of a two year hiatus and on their comeback tour starting in Portland, Oregon and moving directly to their throw-down turf of New England/Mid-Atlantic. Their June 19th performance from the Capitol Theatre in Passaic, New Jersey just right outside of Newark and New York City proper was part of a three-night run by the Dead. They had reintroduced their other drummer, Mr. Mickey Hart, on that tour and were reworking his sound into the group, as well as playing nearly a dozen revived and brand new tunes. Suffice to say it was a really important time in the band's history to look back on and no better of a channel to experience it through than DSO (unless you we're there.)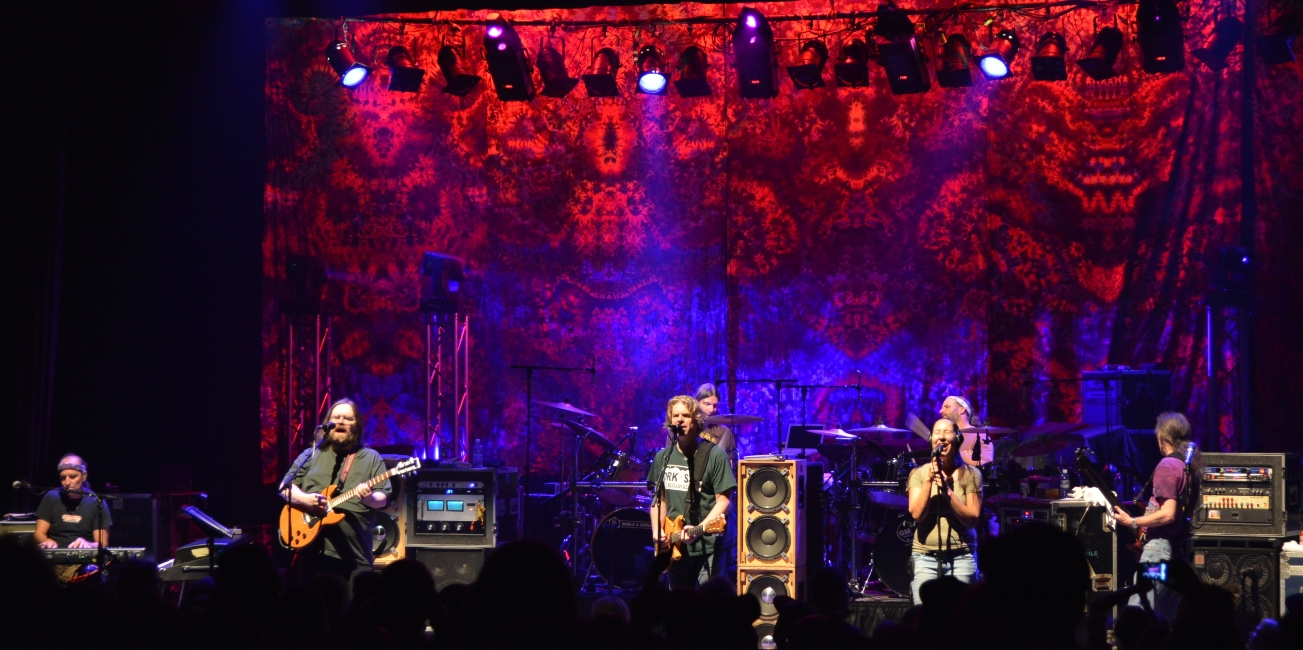 Dark Star comes onstage, immediately starts tuning and launches into Help On The Way-> Slipknot! -> Franklin's Tower. The three song-suite is the strongest part of a strong then-new album. 1975's Blues for Allah was released on the Dead's hiatus and completely changed their live sound from ambient and psychedelic to forwardly jazzy and punched-up. Dark Star's "Help->Slip->Frank" was accurately played given the show in portrayal. Their interpretation reveals a band still working out a relatively new opus. Next, the band busts out the Bob Weir classic "The Music Never Stopped", also from Blues for Allah. Extensive heavy jamming toward the end gets the crowd roused and even causal fans love the energy. The rest of set one is Grateful Dead mainstay material, nothing newly revived from that June 76' tour. Hunter and Barlow classics like "Brown Eyed Women", "Cassidy", "They Love Each Other", "Looks Like Rain", and "Tennessee Jed" are given extensive workouts and lots of love. Then to close the set, DSO accurately depicts a trippy and way far-out "Playing in the Band," a stark contrast to a high energy and jazzy set, this "Playing" got a bit intense for a few minutes. It's always cool to see the audience's response to their farther out stuff. The crazies seem to dig it while some wish they were playing more "sing-along" stuff.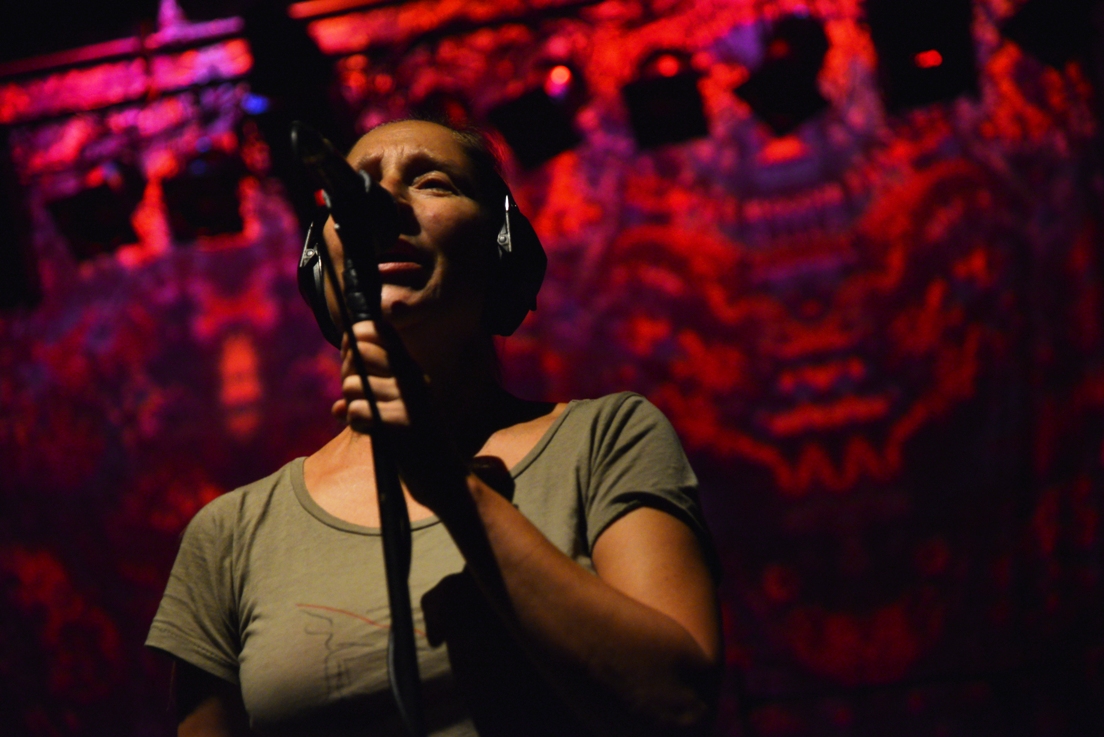 After a well-needed set break (lots of dancing) the boys plus Lisa come back with a very 76' setlist. "Might as Well" starts off set two. Brand new to the June 76' tour, the song tells the story of the Dead on a multi-band, multi-city train bound tour through Canada in summer of 1970.
"Never had such a good time in my life before. I'd like to have it one time more. One long ride from start to end I'd like to take that ride again," screams Hunter's nostalgia.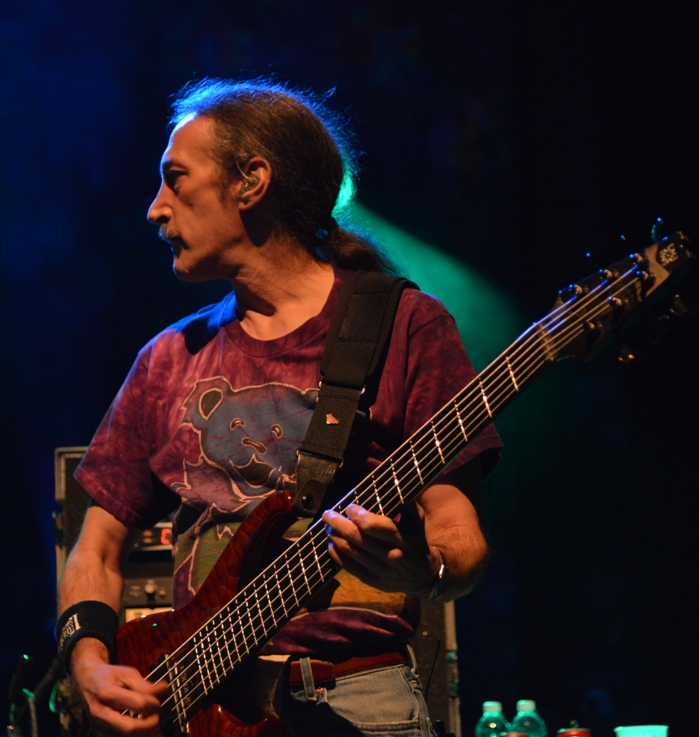 "Samson & Delilah" is next. Part of the Dead's repertoire very steadily since June 76', Koritz and English impress all with their near-perfect Rhythm Devils interpretation. After some insane "Bobby howls" from Eaton, the band plays the newly revived "High Time" (if we're being historical about it) not played since sometime in 1970. This Hunter/Garcia tune was beloved by many fans as one of Jerry's best ballads. Mattson does an amicable job vocally and absolutely nails the guitar parts.
Next comes the main second-set jam sequence. "Dancing In the Streets" (revived on this tour with a punched-up disco arrangement), into "Let it Grow" (which gave the drummers a solid solo), into "Cosmic Charlie" (revived on this tour alone for a few select performances). After some really solid extended jams in "Dancin'" and "Let It Grow", the band cranks out some of the band's best rockers to close the show. "Around 'n' Around" from Chuck Berry, the traditional "Goin' Down the Road Feeling Bad", and "One More Saturday Night" from, well Bobby. I must say the drummers really did some accurate interpreting of that 76' sound. With Mickey working his way back into the groove, the previously solo Bill Kreutzmann had to adjust his all-around powerhouse sound to accompany Mickey's drum and percussion work. English and Koritz did a great job at emulating this last Friday. It's all these little details that really make DSO more than just a cover act.
Encore call brings a slightly expected "Not Fade Away" getting the crowd into its anathematic call-and-response mode. When the band ends the 76' show, the band reveals the setlist (I guessed the month not the date. It's always a fun game to play as each DSO set materializes,) and gives the audience an unexpected filler song, the Ron "Pigpen" McKernan original "Mister Charlie." In the vein of an old Jimmy Reed or Muddy Waters raver, the tune was performed by the Dead in 1971' and 72', not historically the same time period portrayed in the show. It was cool of the band to bust out something completely different from the rest of the evenings explorations. Might I also mention that Barraco's Pigpen is always a highlight and it was nice to get a taste of that since he had been mute for the entire show, accurately channeling pianist Keith Godchaux who rarely to never sang.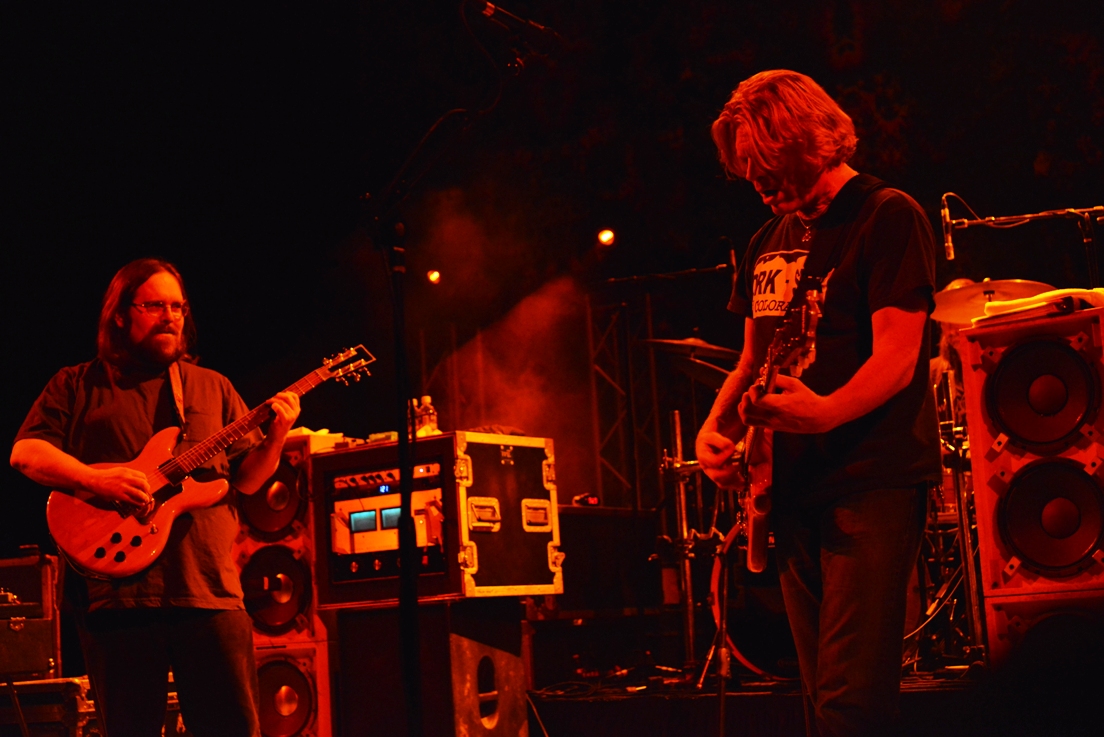 Another great DSO night comes to an end. It doesn't matter how many times you see them, there's always something new and it's always worth the dollar. Nothing but great vibes come from this group who isn't parroting a sound or living off of another's career, but paying the highest tribute possible to the most geeked over cult-band turned rock 'n' roll phenomenon of all time. Even if Furthur has wavering energy (let's face it, Phil and Bob can't do it forever) we can always count on DSO to deliver the goods to either casual fans who love the songs to the craziest of collectors who know every note of every show they posses. Seriously I can't wait till the next time they come through and it was only a few days ago. Luckily they hit Colorado at least twice a year and there's always checking out Rob Eaton's local side project "Rocky Mountain Grateful Dead Revue" whose playing a number of shows next month. Please support DSO by attending their shows and listening to Grateful Dead music.
Check out more photos from the show, including a lot of fan shots,