While the "core four" remaining members of the Grateful Dead are hanging up their collective spurs this Fourth of July weekend, Dark Star Orchestra has no intention of ending their road warrior ways. Dark Star will be in Chicago for the festivities and a performance for the Rex Foundation on July second, and it only seems fitting; they've been long considered the top tier of the Grateful Dead cover band food chain. Now anchored with the additions of Jeff Mattson and bassist Skip Vangelas over the past few years, DSO sold out the Boulder Theater on Saturday night, the culmination of two previous nights where they played full Grateful Dead shows from 1974 and 1969.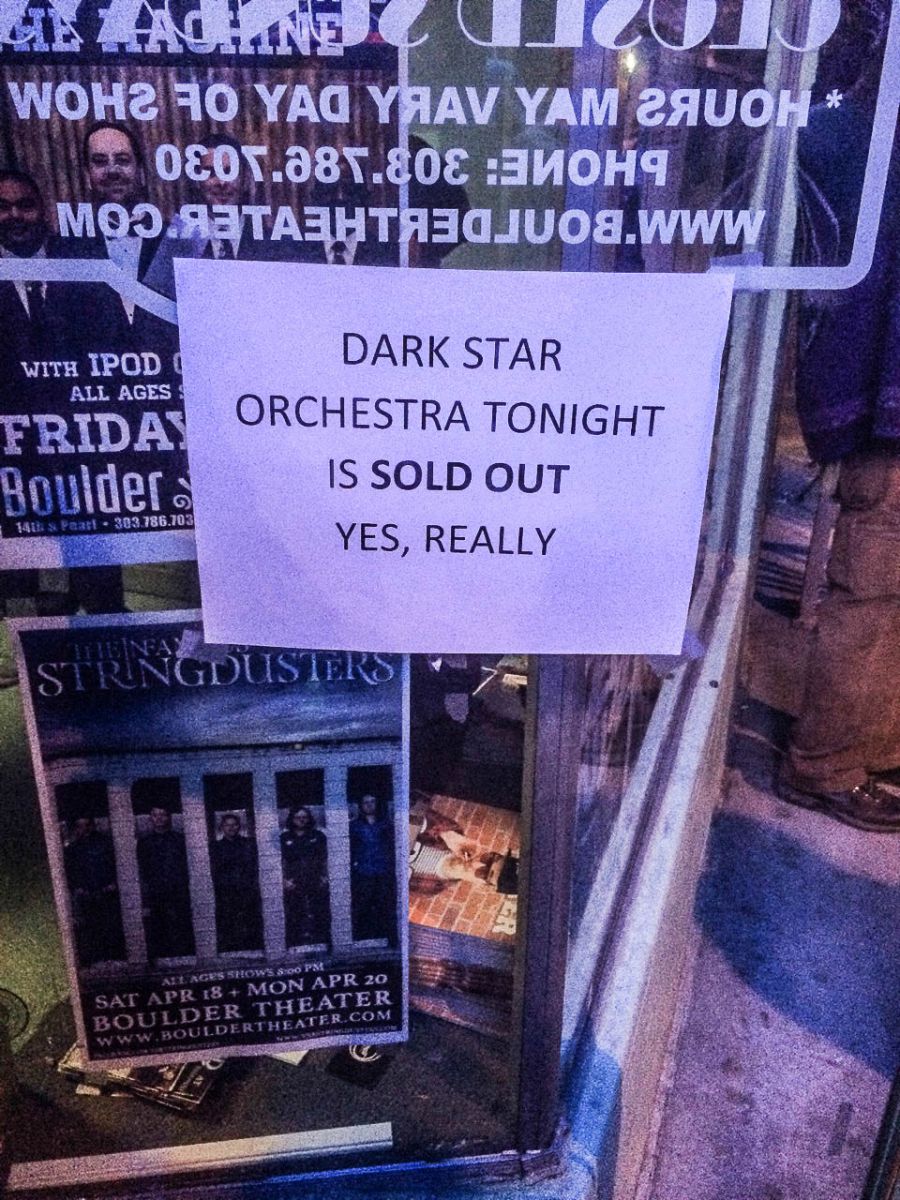 It was evident from the start that they were molding their own show, or as Rob Barraco mentioned during the encore break, "our own concoction." A first set opening Blow Away led some to think it was an eighties show, but a extra microphone stand stood waiting for Lisa Mackey, who sings Donna's parts. Longtime Bobby impersonator and taper maestro Rob Eaton leapt into The Music Never Stopped, with Lisa stretching out her voice despite obvious miscues with the monitor engineer. Jeff "Jerry Garcia" Mattson slow-rolled into Cold Rain and Snow after a longer than usual tuning break, and a slide guitar and organ driven Minglewood Blues provided the down and dirty stomper the crowd needed to erupt.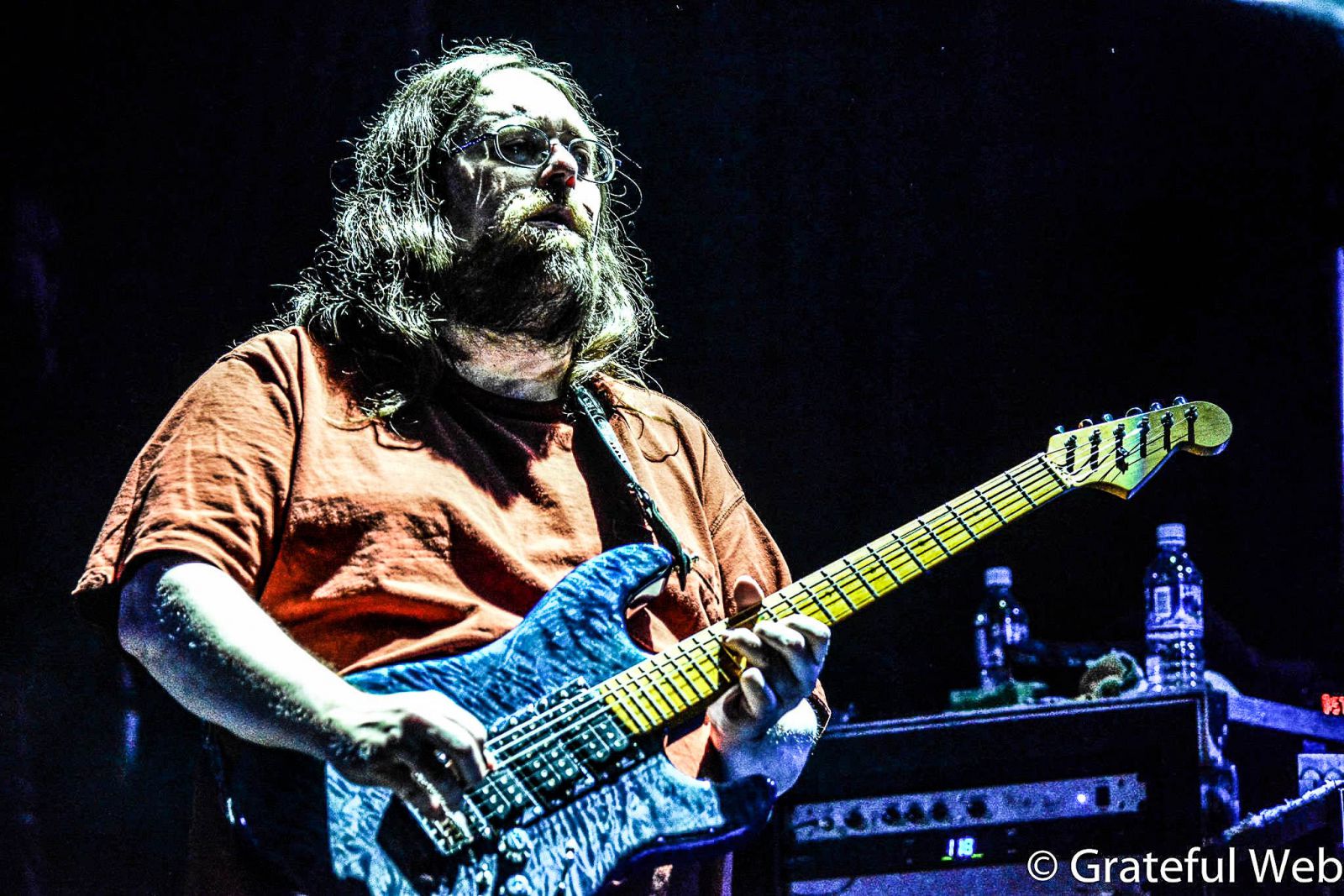 If there was any lingering speculation that this could be some unknown oddity of a Grateful Dead show, it was put to ease with Bruce Cockburn's out of place but fully welcomed Waiting for a Miracle, covered by the Jerry Garcia Band but never at a Grateful Dead show. The doo-wop boogie of Evangeline followed the same fate and was played after Bob Weir's Greatest Story Ever Told. It wouldn't be a Grateful Dead show without a Bob Dylan song, so Eaton worked in When I Paint My Masterpiece. Eaton and Mattson have developed a strong rapport in their playing and vocals, and as Eaton started to close the song out with a final, "When I paint," Mattson followed it up with the same line before they both exclaim, "my masterpiece" in unison. It's the way Jerry and Bob did it, and it's the way DSO does it, too. Those nuances have helped Dark Star Orchestra go beyond the prototypical Grateful Dead cover band and into the successful touring act they've become.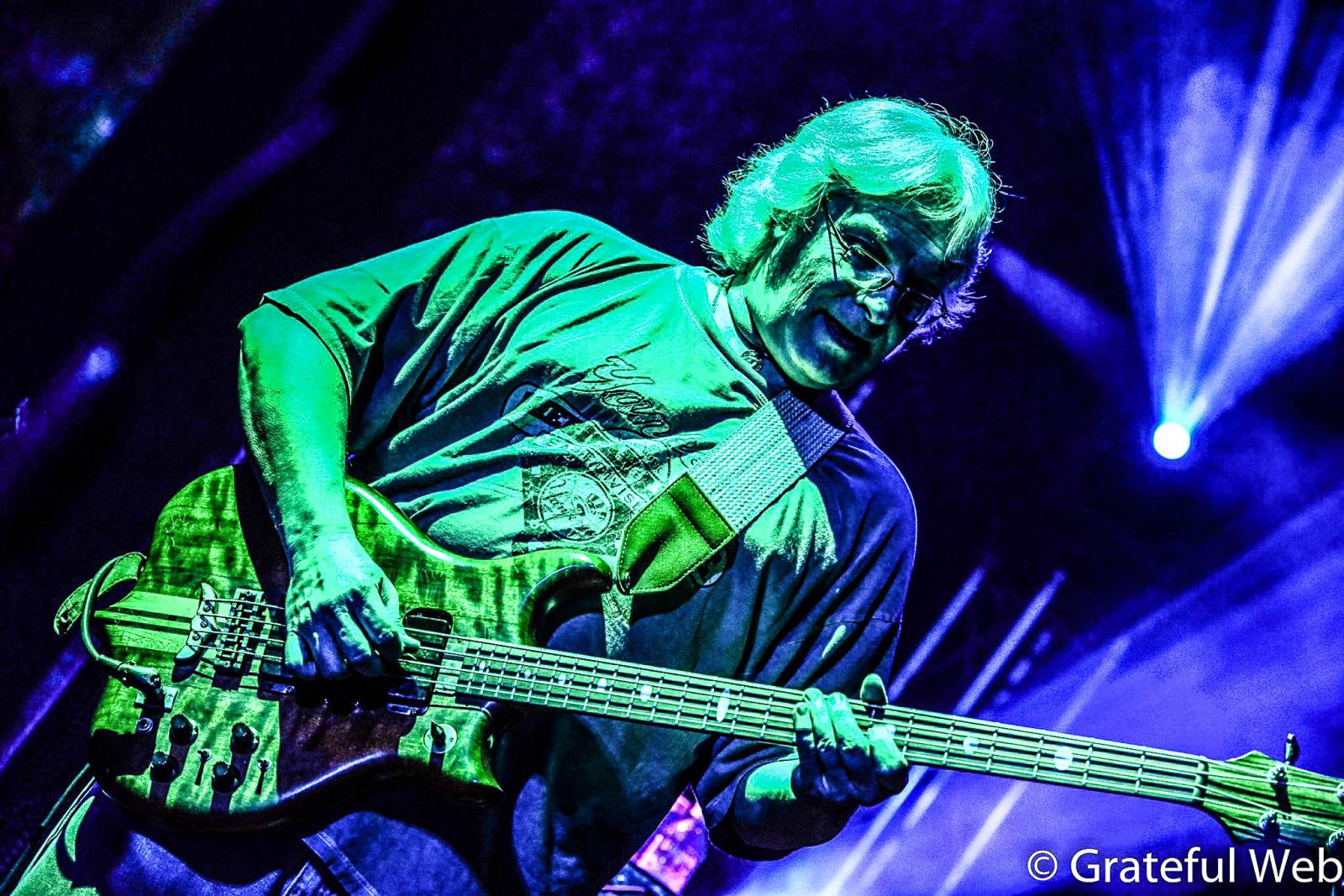 They closed out the set with a couple more rarities that I didn't see coming: Keep on Growing (played three times between 85-86) and Rubin and Cherise (four times in 1991). Barraco belted out the Derek and the Dominos tune with a little help from Skip, and Mattson was off in his corner doing his best imitation of Jerry imitating Eric Clapton. Ruben and Cherise might not have made many appearances with the Grateful Dead, but it was always a favorite to those who knew Jerry's solo material. Much like the Dead's first performance of the tune on March 17th, 1991 when the crowd reaction overpowered the on-stage vocals, the Boulder Theater fans went berserk before making their way outside to smoke and shuffle around during the break. With the first set ending by ten, it wasn't so much about the sequence of songs or the duration, but more about the focal points and before-mentioned nuances of those tunes. You could tell the band started hitting their stride by Masterpiece, and while this trend seeped into the second set, they were more about flexing the jamming vehicles through an up and down ride that went full sail until they said goodnight.
A frenetic race through Help on the Way>Slipknot!>Franklin's Tower got things hustling in a hurry, with dual drummers Rob Koritz and Dino English plowing ahead in syncopation no matter the pace. Bob Weir's politically charged period piece, Throwing Stones, lent a little vocal resonance to the pre-drums/space portion of the set, which seemed to come far too soon. Beer and bathroom lines quadrupled as usual and the already crowded walkways filled with abstract dancers, and I kid you not, at least one person that was sitting on the floor stretching.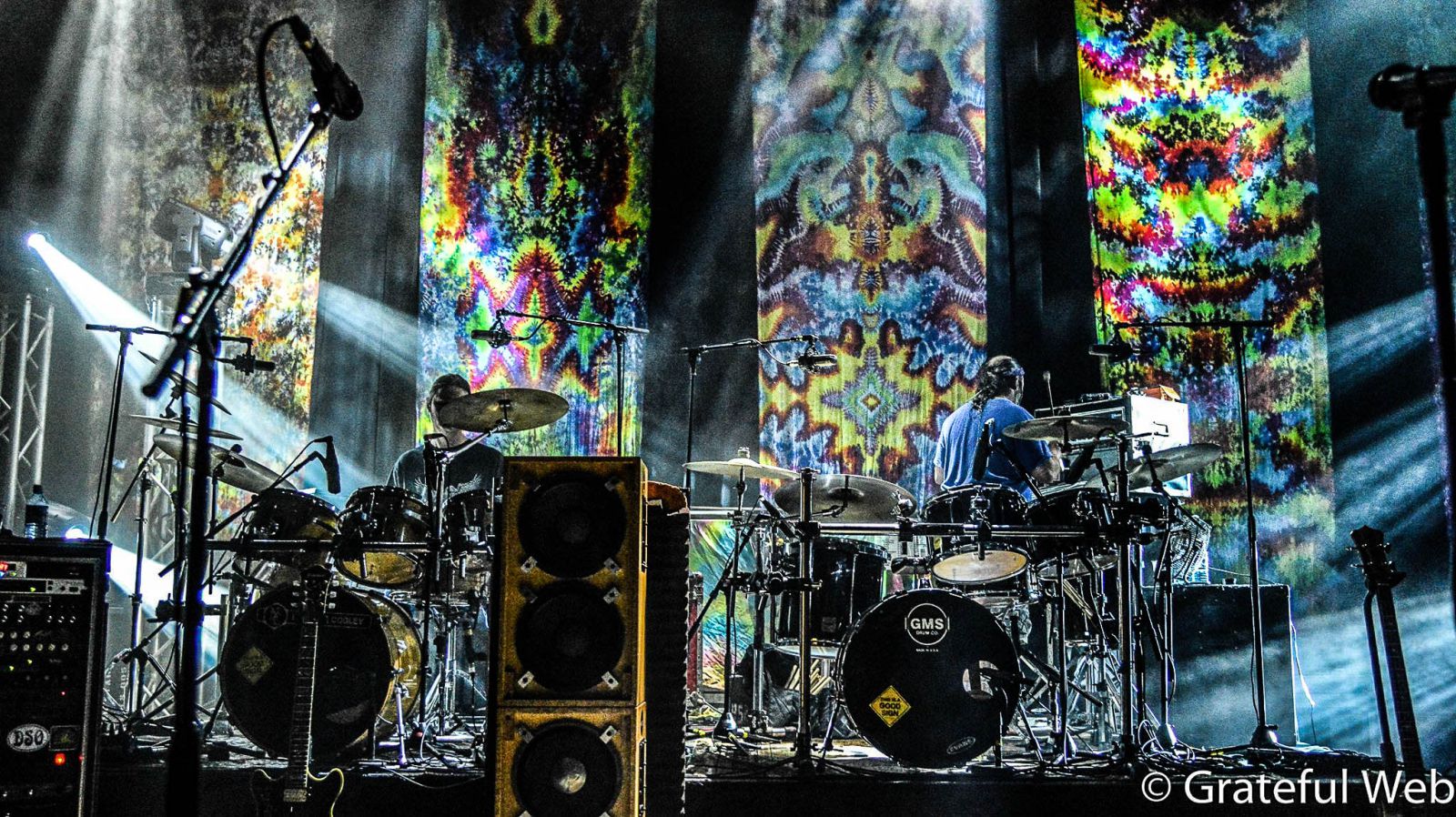 We were taking bets on what Jerry ballad they'd roll into before they hit us with a refueling Eyes of the World that took everybody by surprise, in a good way. It seemed like they might take another plunge into the strange after nailing all the different parts of Eyes, but the wheels fell off with the vocal heavy Attics of My Life. Love the song, but it didn't really fit the hole they attempted to wedge it in. Uncle John's Band tied things back together for a bubbly attempt at harmonies before a red shirted Mattson (Jerry in red) took off into Casey Jones to close the set.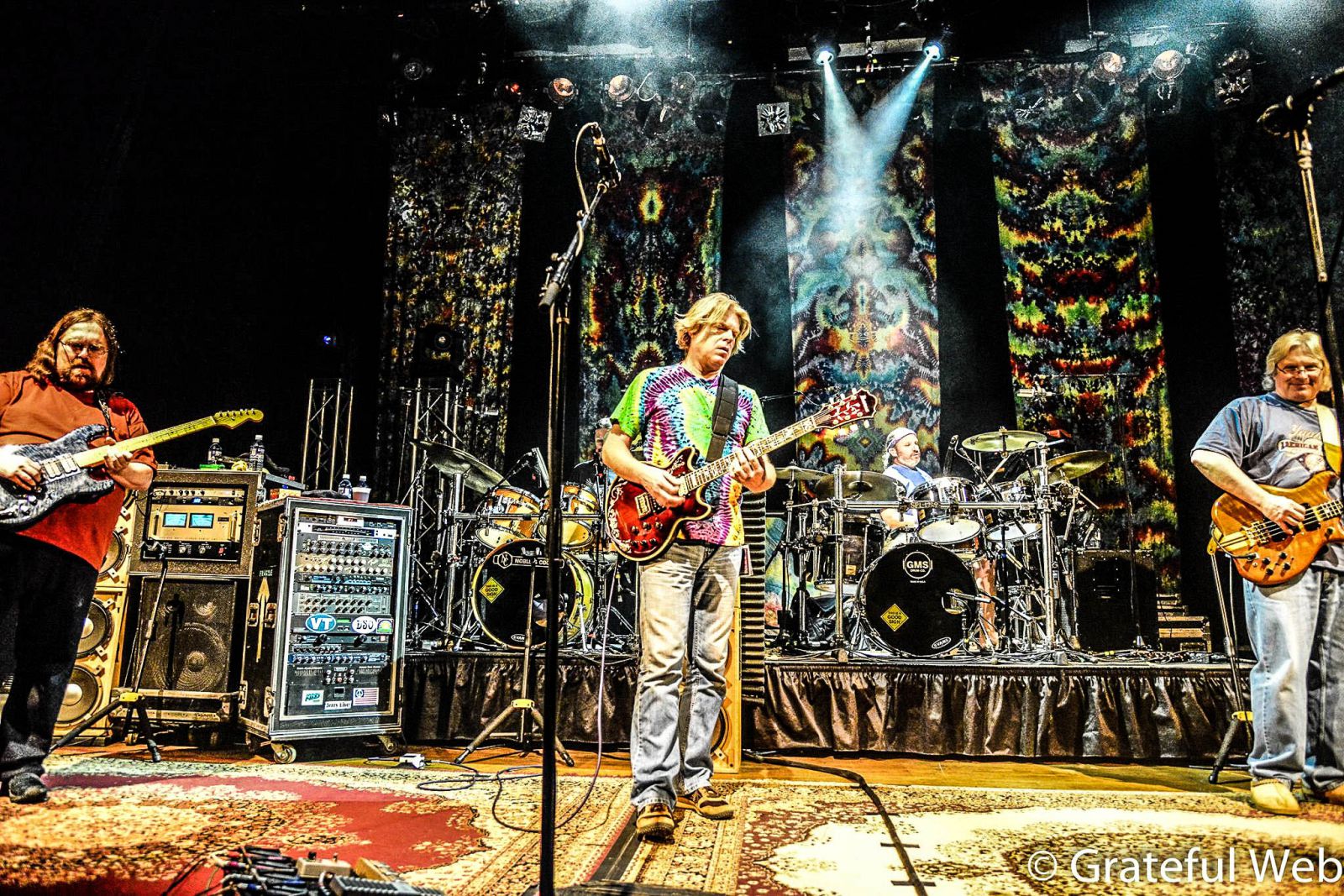 Keith Godchaux's Let Me Sing Your Blues Away was the first of a three-song encore. Another Grateful Dead rarity, this tune was played six times, all in 1973. Bob Dylan's influence crept back into the show, this time in the form of Quinn The Eskimo (The Mighty Quinn), and what a feel-good, sing along vibe it brought. After singing lead on only one song the entire second set, Eaton regained the reigns for Satisfaction; the rocker we needed to send us out shaking. While it was obvious the crowd enjoyed themselves, Mattson walking offstage like an Egyptian let us know the band was digging it too. After a three-night run, it was a surprise any of us still had the energy to dance at all.