The Grateful Dead were always an unnecessarily modest group of musicians. Milestones, anniversaries, career-spanning accomplishments were underplayed by guitarist and vocalist Jerry Garcia in particular, who always was hesitant to accept hype around the group's resurgence in mainstream popularity in the mid-1980s. After all, the group had been traveling nonstop rigorously nationally and worldwide since a brief hiatus in 1975 into 76', and built its true fan-base state to state by performing consistently. Perhaps this is why they forgot the significance of their Folsom Field, University of Colorado at Boulder shows in 1980. These were their 15th anniversary shows, and apparently the band had to be reminded of it on the first night. So when 1985 rolled around, the Dead, who had unconsciously reestablished themselves as a "lean rock 'n' roll band with a lot of range," as Garcia put it, found it necessary to commemorate their 20th anniversary as a band. When the guys played Berkeley's Greek Theatre in June of 1985, a mainstay venue they had been playing since 68', they made something on an occasion of it. With a gorgeous stage backdrop of an iconic skeleton minuteman ready for battle, designed by celebrated artist Rick Griffin, the Dead revamped classic arrangements and set lists, reviving old dormant compositions, and surged strong into their 20th year as a band.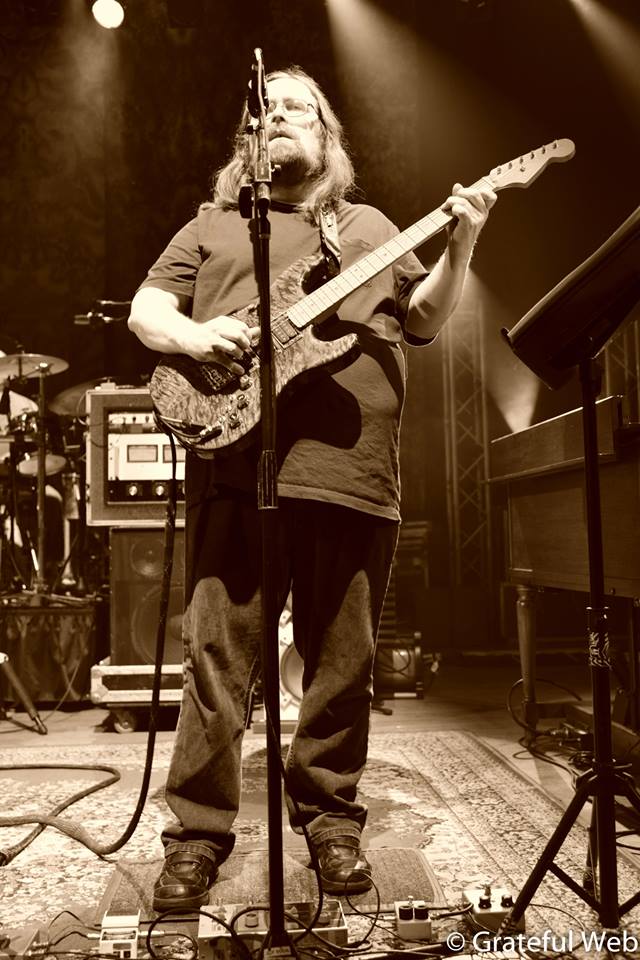 Three nights at the Greek showcased the contemporary Dead, a band that had countless common covers and originals that were possible to break out any given night. 1985 saw the band revamping stale set list arrangements and dusting off old fan favorites. The Greek saw the band break out Derek & The Dominos' "Keep On Growing" in a punched up arrangement by bassist Phil Lesh and soulful Hammond B3 player/vocalist Brent Mydland. Perhaps the most exciting breakout of June 85' was reviving of the "Cryptical Envelopment" segment of "The Other One" dormant since the early 70s. While Garcia would suffer from health problems that year and worse in 86', fans and tapers collectively see 1985 as a fine year of consistent shows and fantastic playing from Garcia. Flash-forward to 2014. Premier Grateful Dead cover band Dark Star Orchestra, who has been recreating the music of the Dead for nearly 20 years now, by performing full historically accurate concerts by their mentors, is at an all-time height of popularity. The band has continued to strengthen its uncanny recreation of the Grateful Dead vibe since Jeff Mattson's joining up as full time lead guitarist back in 2010. His boisterous personality and ability to channel any era of Garcia's evolution with the Dead has brought the band even higher than with founding guitarist John Kadlecik. To top off that, last year brought fantastic new bassist Skip Vangelas back to performing full time with Dark Star Orchestra. Vangelas is no doubt in a clan of Dead-nerddom making him a perfect fit for the band.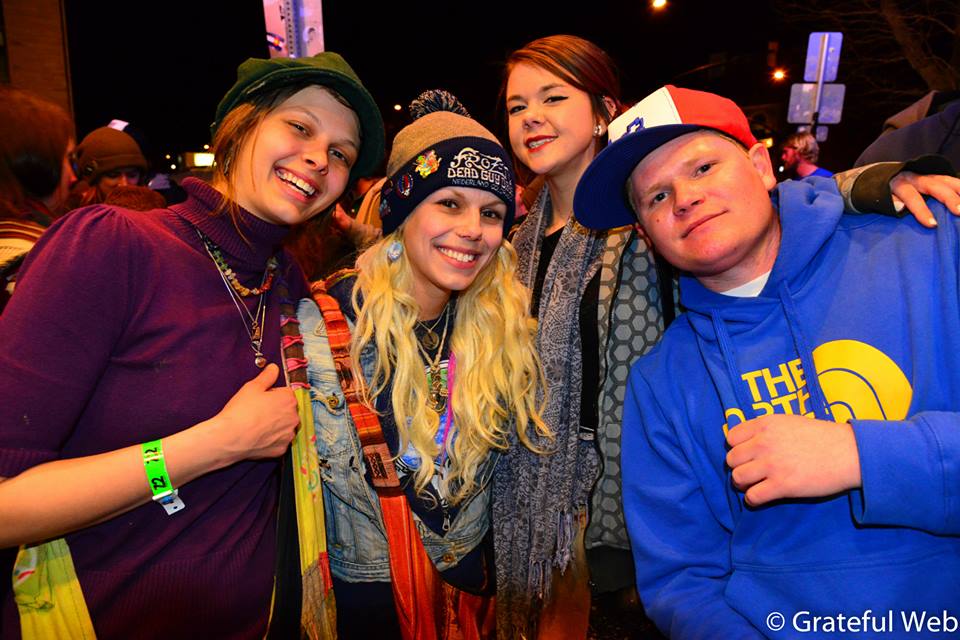 Last weekend's two night DSO run at the Boulder Theater was a thrill for 80s Dead fans. Both nights, sold-out, full of Dead fans of all ages, many whom had never seen the Grateful Dead, yet still seemed to know the words and instrumental build ups of most songs. When DSO recreated the June 14th, 1985 Greek Theatre performance, they did so, as always, with acute attention to even the smallest details. The opener "Dancing in the Streets" was a punchy revival and rearrangement from the 70's disco versions. And of course rhythm guitarist Rob Eaton and piano-man Rob Barraco did a perfect rendition faithful to Bob Weir and Mydland's rave-up "Dancin'" show openers of the mid 80s. A sweet climax jam gave everyone high hopes for a slick 80s recreation done right. Next, Mattson's rendition of "West L.A. Fadeaway," had most in the crowd singing along. "C.C. Rider" gave Barraco and Mattson fiery solos. "Peggy O" was poignant, sweet, and well received. "Hell in a Bucket," no doubt Weir's strongest 1980s original, was performed mid-set, faithful historically to the song's set placement. "Bucket" would evolve into a fire-on-all-cylinders show opener in the later 80s.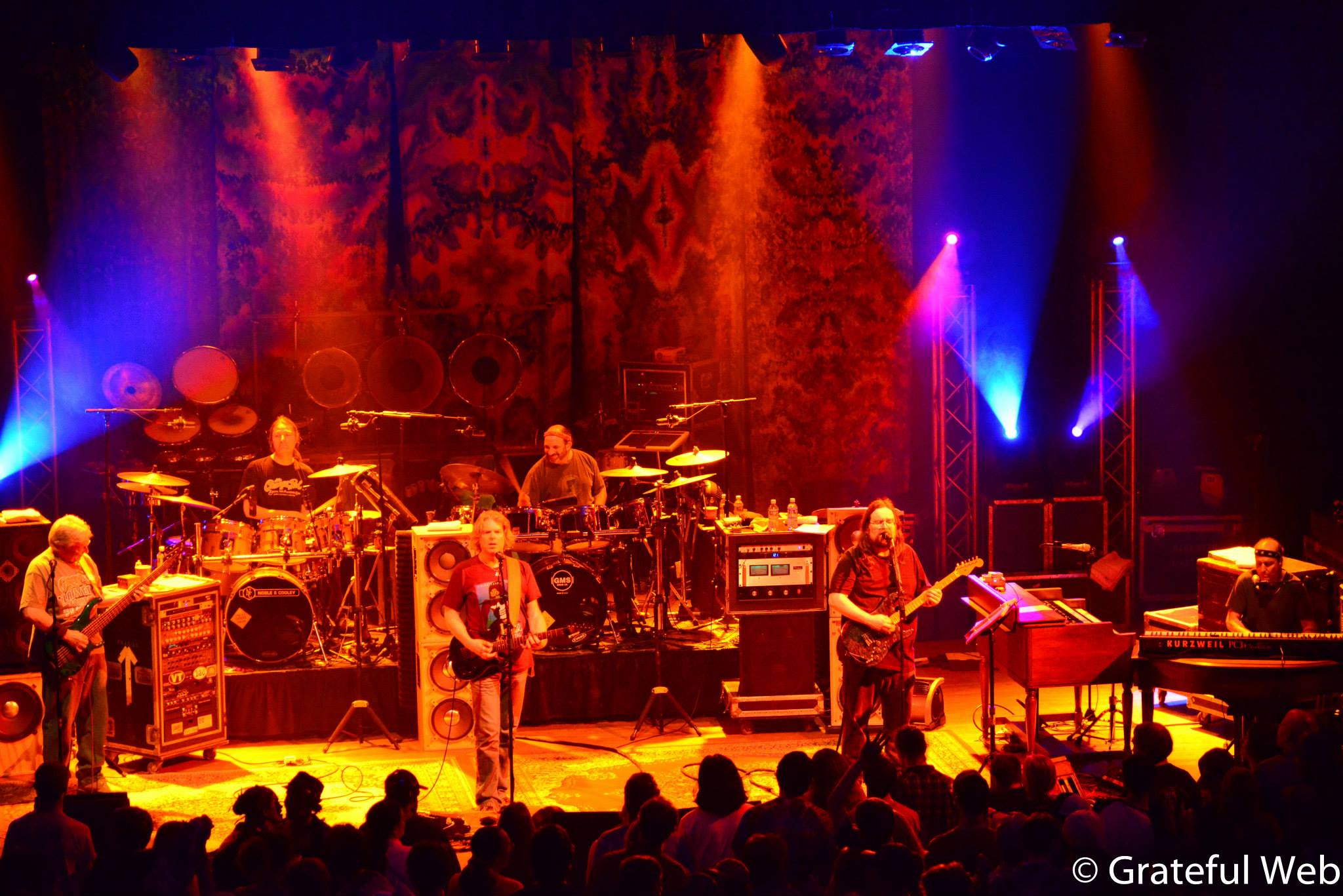 The first Grateful Dead performance of Eric Clapton's "Keep On Growing" was a perfect fit for their grooving 85' sound, no doubt special treat for those in attendance. "Stagger Lee" was heavily played during the mid 80's and Mattson's rendition was a great tribute to the softer yet complexly interwoven guitar and drum work. The set closer of "Let It Grow" into "Deal" saw the highest energy jamming of the night. The crowd went nuts. This song combo was much more common of a pairing the early 80s, another sign that the band was reviving old set arrangements come 85'.
The second set started with an ultra-rare "Morning Dew" opener. Not played as an opener since the early 1970s, the original June 14th performance was preceded by a psychedelic sound montage in the vein of Ken Kesey weirdness. "Dew" climaxed big-time, then crashed into "Playin' in the Band" which bounced off of different instrumental interludes and ideas. The "China Doll" to follow had a beautiful outro jam into the drum segment. Drummers Dino English and Rob Koritz showcased their extensive drum rigs, with hanging toms, midi-interface sound effects, and creepy beam experiments. This rhythm devils tribute was historically accurate and an awesome time for nerd-fans to dig what a drums segment during that time was like. Out of some spacey jams came a strong "Truckin'" into "Smokestack Lightnin'". Humorously, Eaton flubbed the lyrics to "Truckin'", which Weir did more frequently than getting it right. A real treat for hardcore Garcia/Hunter fans, Mattson played the delicate intro chords to "Comes a Time," an anathematic ballad about the simultaneous necessity and hardships of love and loss. With classic Robert Hunter lyrical themes of contradiction in the human experience ("when a blind man takes your hand, says don't you see",) and a magnificent instrumental to follow, it has become hailed as one of Garcia/Hunter's finest works. The "Sugar Magnolia" set closer was the come up that we all needed after some ponderous psychedelia in the second set. The band encored with "Keep Your Day Job," a goofy but jaunty mid-80s original that Hunter admitted was omitted from repertoire "by request of the fans." Nonetheless, a special treat.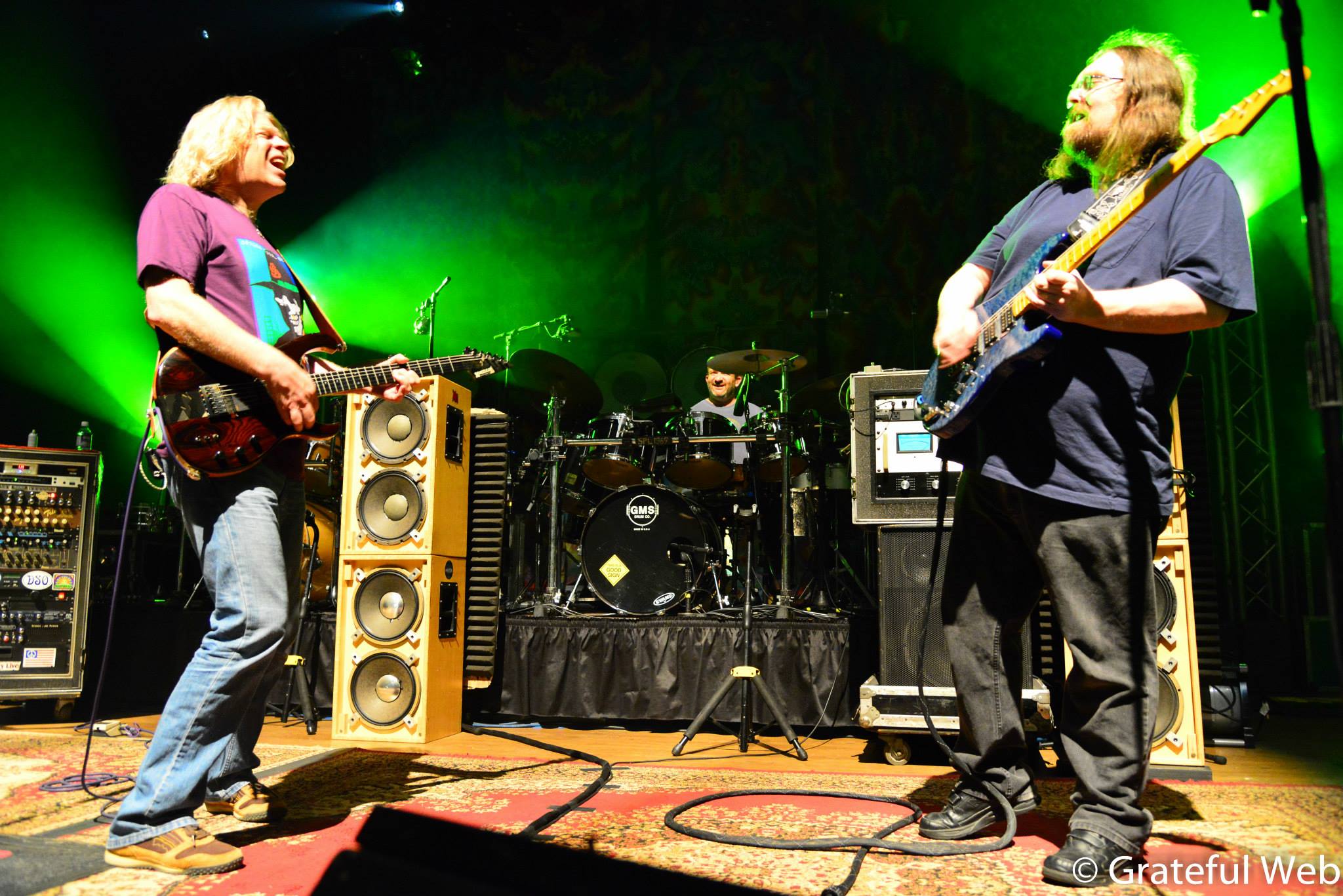 The band announced the historic show of recreation before welcoming out vocalist Lisa Mackey and performing Jimmy Cliff's "The Harder They Come," a Garcia Band favorite. Dark Star will no doubt "keep on growin'". The sold out Boulder crowds need their fix at least twice a year and we expect to see them sooner than later. Thanks to the band for a couple of long long, crazy crazy nights!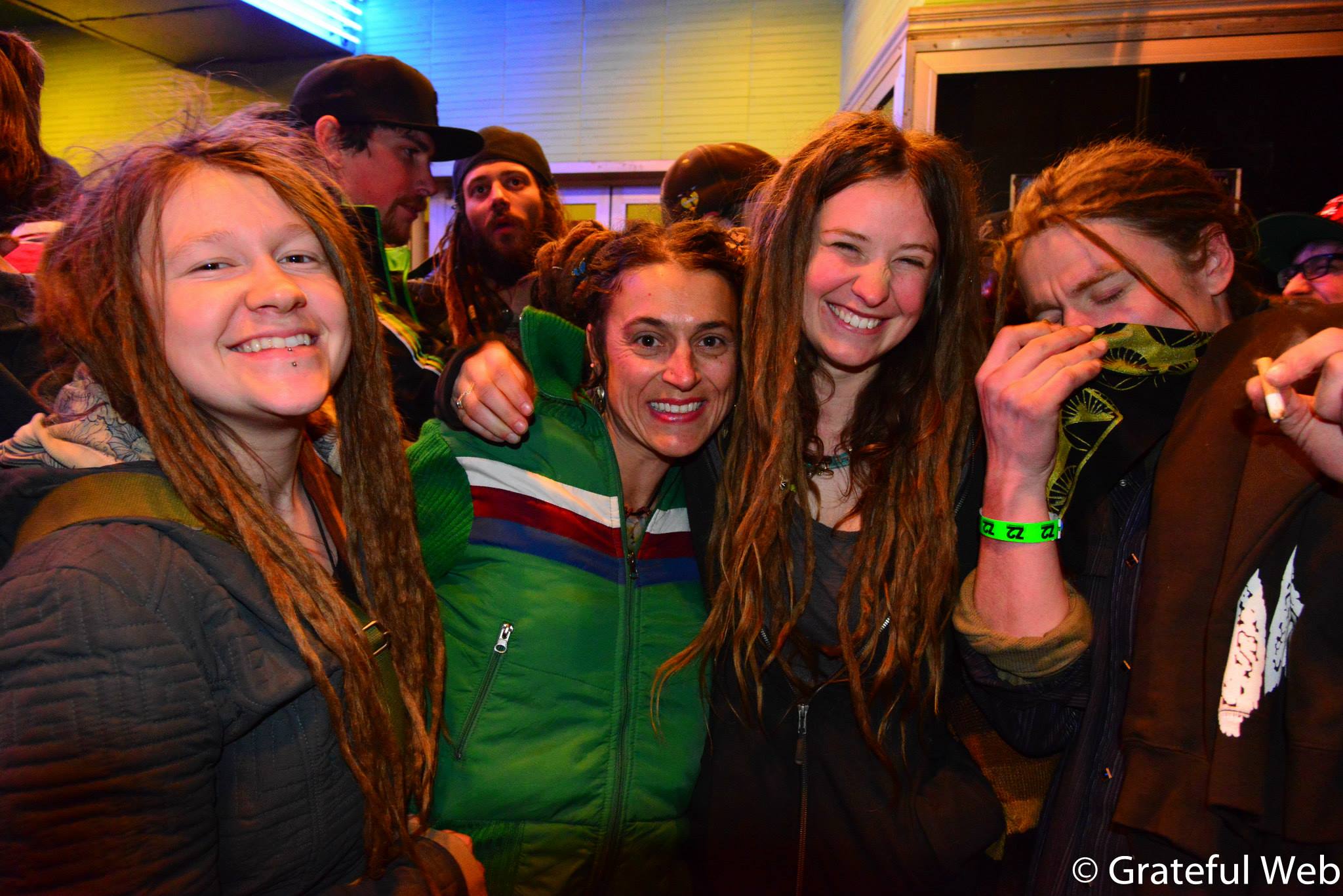 Check out more photos from the show, including a lot of fan shots.