The date was March 30th, 2013. Or was it October 9th, 1977? Either way, the city of Denver held camp to the throngs of Deadheads along Colfax. On our way into McNichols Arena, I mean The Ogden Theater; there was a buzz in the air that only a live concert can produce. It had been a beautiful, early spring day and had transitioned well into a mildly acceptable evening. The strip of Colfax that stretches from Sancho's Broken Arrow to The Ogden was alive with tie-dye, booty shorts, Afros and dreadlocks. Erykah Badu was playing The Fillmore Auditorium, a name most Deadheads recognize from the early days of Bill Graham, but at the Ogden was Dark Star Orchestra, the premiere Grateful Dead cover band spearheaded by Rob "Bob Weir" Eaton and his cast of characters doing their best to impersonate any given show from the Dead's run of thirty years strong.
Outside, the will call line was a mess. Typical of Deadheads, everybody showed up right when the music was scheduled to start, promptly flooding the little window and adjacent sidewalk. The always good willed venue staff did their best to sort through the line, weeding out the guest list from normal will call, and gladly got me my ticket while still a dozen or so people from the front. The band must have taken note of this line, because they came on nearly twenty minutes after their scheduled set time.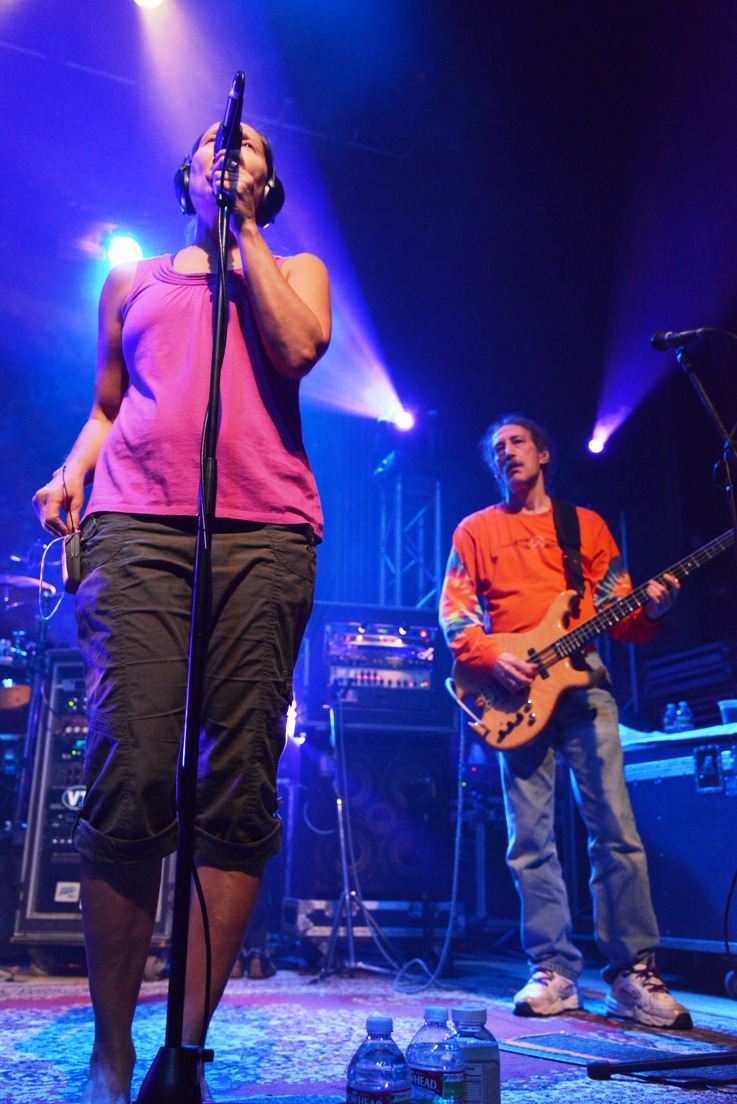 One of the most entertaining aspects of Dark Star Orchestra shows is the ability, as a fan, to break down the set list like a statistician. Everything is done for a reason with this band. My first impression was the stage arrangement. Dueling drummers Dino English and Rob Koritz sit with their kits on risers in back, and in front of them, starting stage right, is Rob Barraco on keys, Jeff Mattson on lead guitar, Rob Eaton on rhythm, Lisa Mackey on vocals and Kevin Rosen on bass. In Grateful Dead terms, that would be Keith Godchaux, Jerry Garcia, Bob Weir, Donna Godchaux and Phil Lesh, with Bill Kreutzmann and Mickey Hart on drums and percussion. This is the lineup that started in 1971, when founding member Pigpen fell ill, ultimately passing in 1973.
Stage placement can go a long way in determining what show, or even what era of the Grateful Dead is being played. Sometimes a left hand monkey wrench gets thrown in the gears, however, and DSO creates their own setlist. This is where knowing the great American songbook of the Grateful Dead comes in handy. Some songs were only played in certain years. Lyrics changed throughout their three generations. Some songs were first set or second set only, and some songs would never be played before or after one another, or even during the same era. Take the second set Drums>Space>Terrapin Station; this was a masterpiece in its earliest live stages, and only appeared out of Drums>Space a few times.
I felt the show was in the late seventies style from the get go. Probably somewhere between 1977-1979 considering that Lisa was singing Donna's parts and Barraco was primarily working electric piano, in addition to the stage arrangement. Eaton kicked off the show with a rocking "Minglewood Blues," doing his best Bobby lockjaw. The set that followed was a perfect example of the ebb and flow between Jerry Garcia and Bob Weir during their live performances. For the majority of their time together, the Dead relied on these two as their primary vocalists, one of the reasons Donna was added to the mix, and due to Phil's reluctance or healthy ability to sing. This was the case with this show, as Rob and Jeff handled all vocal duties, with the others providing backing harmonies.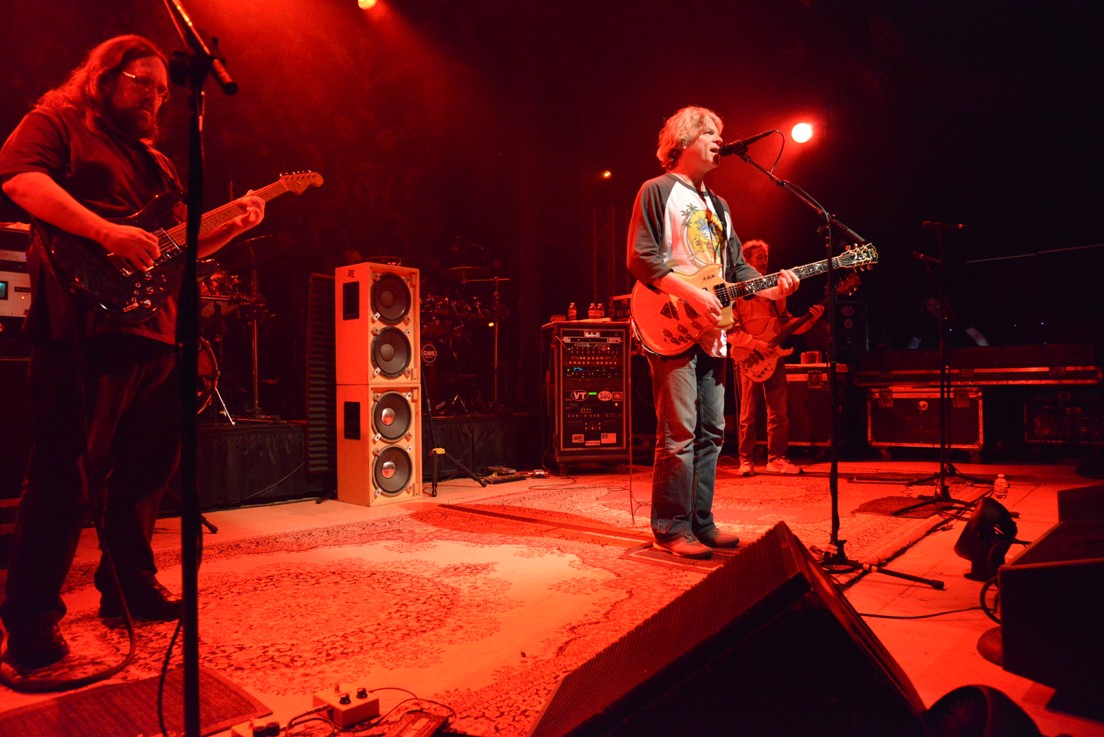 As they plowed through the honkytonks and Americana infused melodies with psychedelic prowess, we were greeted by familiar tunes like "Cassidy," "Dire Wolf," and "Brown Eyed Women." I've always loved this era of Dead music. All three of these songs had been in rotation for some time by the late seventies, with "Dire Wolf" first being played live in 1969. These songs have such depth and storied rhythms to them. They lead you down twists and turns and embody the folklore that dominated early traditional music. This is heavily in part to Jerry Garcia and lyrical partner Robert Hunter's foray in country and Americana music, which spawned the albums "American Beauty" and "Workingman's Dead;" still remembered as quite possibly the best albums they ever made. Hearing the country embodied songs played during the later seventies, as the band was still relatively fresh off of their mid seventies hiatus and in a full swing transformation into an arena rock staple, has always interested me. They had a hold on their sound and music like no other band really did, and still were abe to alter and find new dimensions. They were the oddballs, the band playing to fans and not record labels and Billboard charts.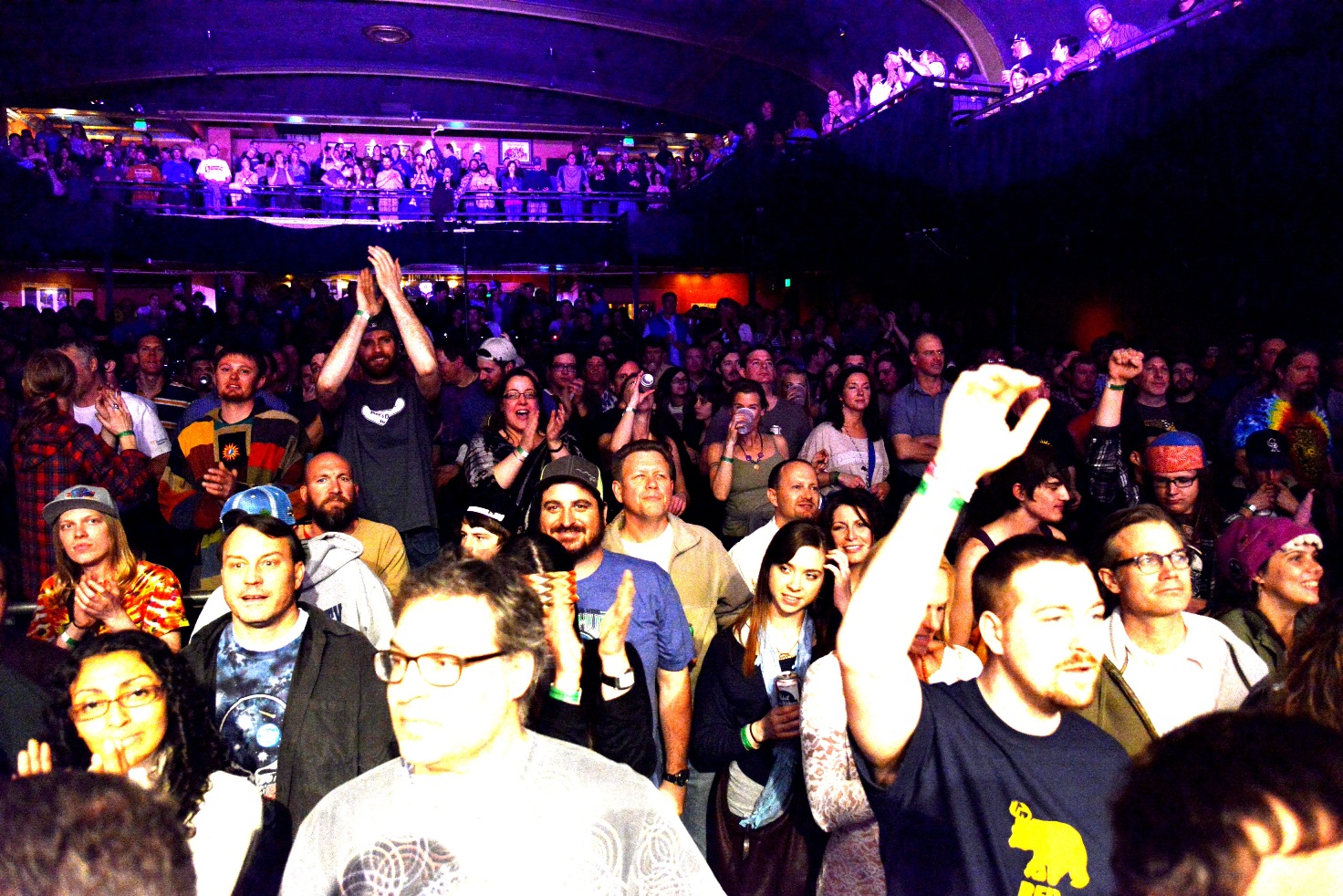 The show really took off, in my opinion, when Eaton started up the metallic rhythm of "Lazy Lightning>Supplication." I've seen DSO play this combo before, back when John Kadlecik was in the band, but Jeff Mattson has really found his groove with these guys and ripped the living hell out of the transition before Eaton began howling "dizzy aint the word for the way you're making me feel now." And I concurred. Things slowed down a bit for "Sugaree," before they opened up a can of whoopass and I honestly thought it was going to be the last song of the first set but Eaton shifted gears for a more spaced out, harmonic version of "The Music Never Stopped," and though it did for a little while, it was sure to return.
Setbreak at DSO shows, like Dead shows, are a time to chat about what you heard and what you think is to come. I parted with a group of friends from the Ratdog.org board, and found amongst the crowd the biggest deadhead I know, and also a very talented writer for the Grateful Web. We chatted about how in the modern era of live Dead music we are so used to hearing the Ratdog/Furthur versions of songs that we find ourselves chanting lyrics aloud at a Dark Star Orchestra show, where they are hitting the set and songs the way the Dead would have, when nobody else is. In Ratdog and Furthur, when playing "The Music Never Stopped," Bobby sings "never stopped, never stopped," on repeat during the closing jam, and it has really become something I enjoy. Nevertheless, it was just the spawn of set break communications and made for interesting conversation as we tried to conserve our energy for the upcoming second set of what we were almost positive was a 1977 or 1978 show.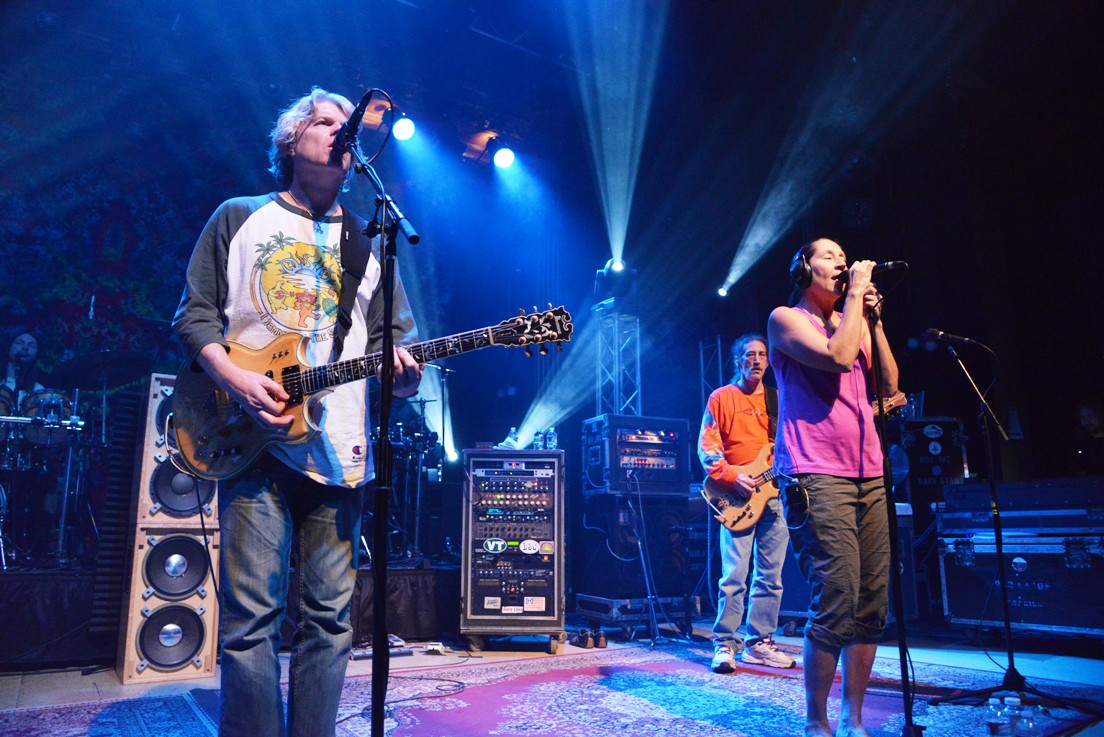 Eaton kicked off another set of great music with "Samson and Delilah," which was a staple during the late seventies and was played to excess on some of those 1976-1977 tours. It was a joy to hear a full fledged rocking version, as it is one song I am not a huge fan of these days when it comes to the tambourine acapella vocal intro, though I understand and appreciate it seeing how it is an old spiritual tune that Bobby likes to preach every Sunday. With the early set rocker out of the way and the crowd swinging, the band dipped into full, robust bass bombs only a disciple of Phil Lesh could muster, and swept everybody off their feet with "Scarlet Begonias>Fire on the Mountain." First paired together in 1977, this dynamic combo stayed in the repertoire until Jerry checked out in 1995, and is one of the most debated pairings, as it seems everybody has their favorite version (right now mine is 2/5/1978).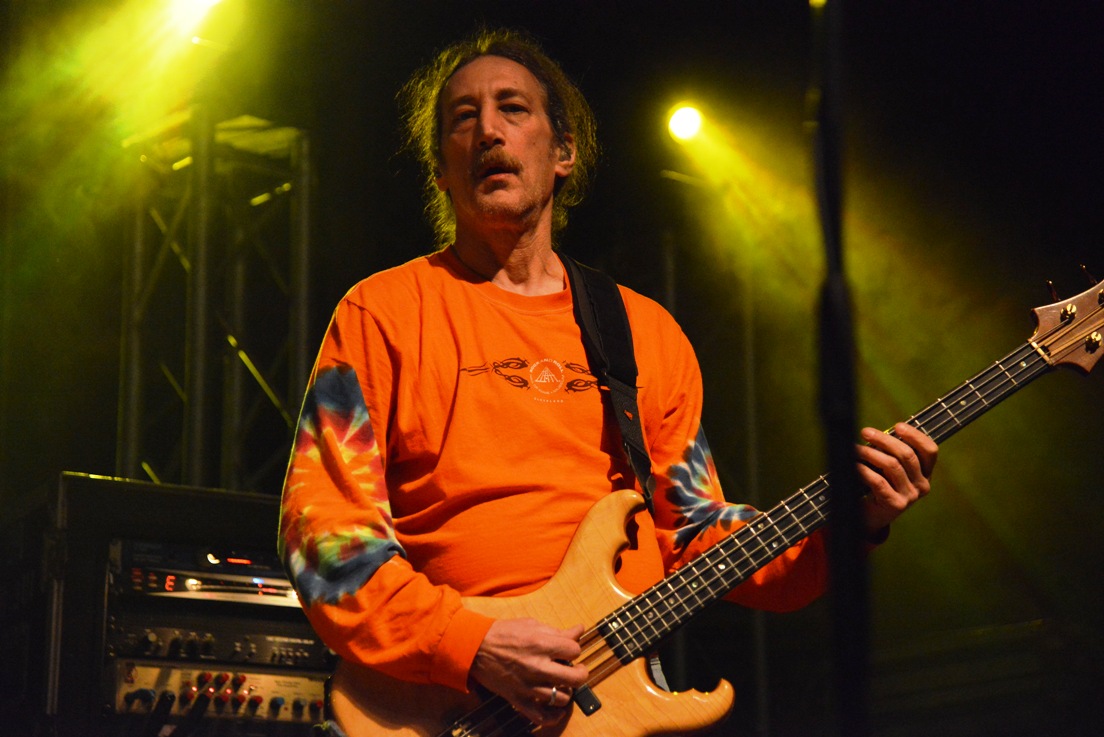 Scarlet is a song with a strong lyrical presence, boasting such lines as, "strangers stopping strangers, just to shake their hands," which most audience members do, and "Once in awhile you get shown the light in the strangest of places if you look at it right." The latter lyric was especially poignant to me, as I met a fresh-faced twenty-one year old I'll call jr on the RTD from Boulder. He was so wide eyed with enthusiasm; so oblivious to what he was to expect, but he was enthralled and eager and I wish I hadn't lost him in line. I would have loved to hear what his thoughts were on the show, and if he truly was "shown the light."
The combo seemed to go on forever, which is always fine by me, and "Fire on the Mountain" really showed Eaton and Mattson on the same page as the dug through solos, slides and interchanging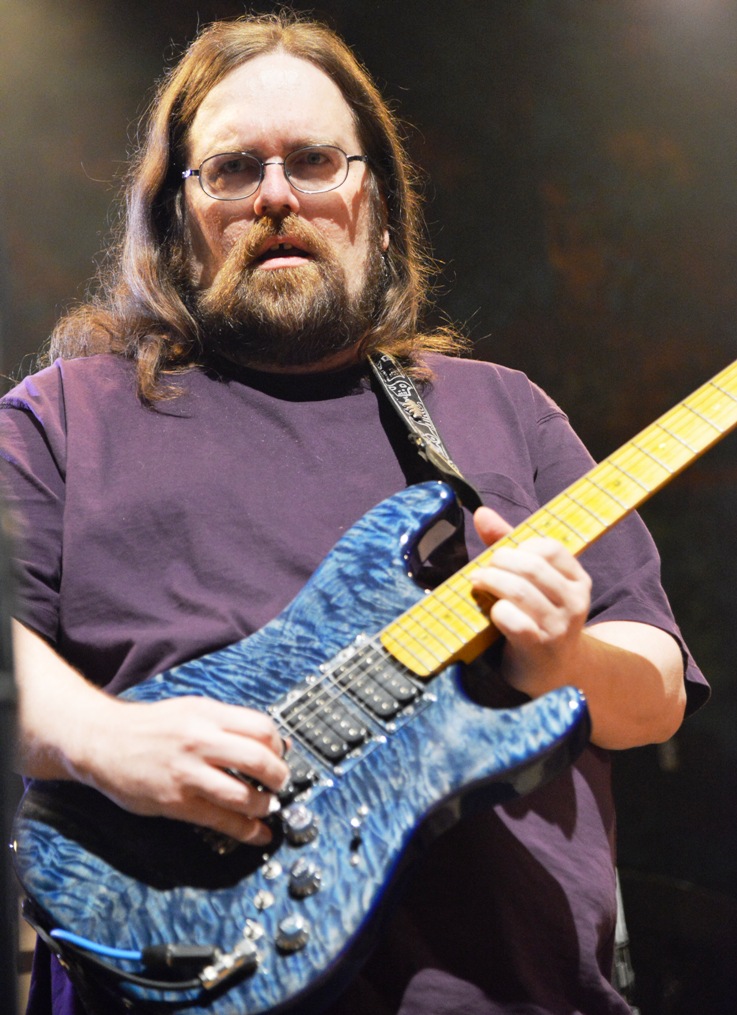 leads. Even Lisa, usually happy swinging in circles through every jam, shakes her head, smiling at the excessive continuation and bobbing back and forth. It was around the end of "Fire" when I made my way to the bar and met a kind lady wearing an Ohio State Buckeyes shirt. We weighed the loss to Wichita State, said cheers, and took solace in the live Dead music to comfort us in our time of loss.
After a brief pause to catch their collective breath, we were treated to a another foray into the strange and psychedelically infused with "Estimated Prophet," which started a classic cycle of songs in true Dead form: "Estimated>He's Gone>Truckin>Drums/Space." Like any lesson, one can learn a lot by song structure and setlists. This combo was classic Dead. Strong, strange jams transitioning into a slow Jerry ballad that builds before erupting into a rocker by Weir. This segment preceding drums/space was just that.
Coming out of a somewhat swift drums/space jam, we took a trip to "Terrapin Station." As mentioned earlier, the placement of this song following Drums/Space is rather unique and was a moment where many people, including myself, began to pinpoint just what show was being covered.
The second set came to a close with Chuck Berry's "Around and Around," and the crowd was definitely reeling and rocking. They encored with Casey Jones, just like the setlist called for way back on 10/9/1977, and let the crowd make their way into the night, some on their way to catch a bus, and some destined to be on it forever.