The Dead Kenny Gs 'Gorelick' Limited Edition 12" EP + Tour Dates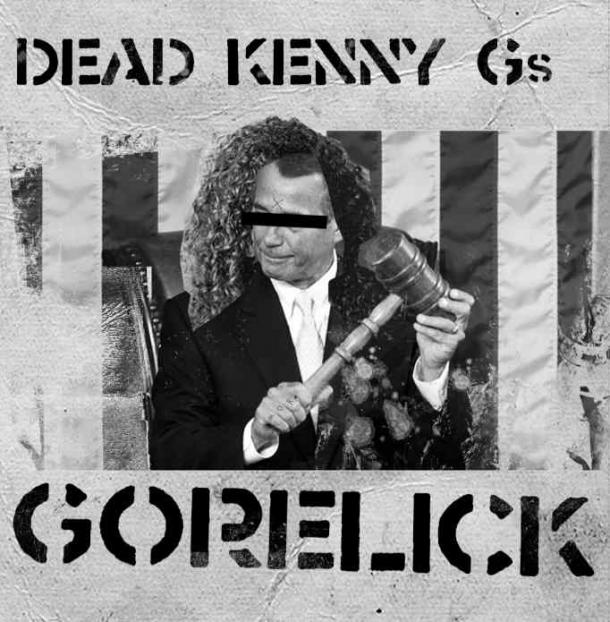 The Dead Kenny Gs have made their punk rock masterpiece—a 17-minute EP entitled Gorelick available May 8 from The Royal Potato Family. Not one more second is needed as the DKGs slash and burn their way through six tracks, including originals "Beer," "Daddy Issues" and "Punk Rock Girlfriend," plus a bruising rendition of their namesake The Dead Kennedys' "Kill The Poor."
"This EP is the manifestation of jazz nerds who worship heavy music," says Mike Dillon. "There's not a drop of vibraphone on this record!"
Gorelick will be released as limited pressing 12-inch vinyl with only 500 copies being issued, after which the recording will be available solely as a digital download. The combustible punk jazz trio featuring saxophonist Skerik, bassist Brad Houser and vocalist/vibraphonist/drummer Mike Dillon have garnered a fanatical cult fan-base over years of incessant touring and critical praise, as well as through related projects like Garage A Trois, Critters Buggin and Mike Dillon's Go-Go Jungle.
The Dead Kenny Gs will tour in support of Gorelick, including headline shows and a string of dates supporting Primus.
Tour Dates:
May 2 | Howlin Wolf | New Orleans, LA #
May 5 | Sugar Mill | New Orleans, LA +
May 22 | Stage AE | Pittsburgh, PA ^
May 23 | LC Pavillon | Columbus, OH ^
May 24 | Martyr's | Chicago, IL
May 25 | Summer Camp Fest | Chillicothe, IL
May 26 | 2720 Cherokee | St. Louis, MO
May 27 | Cosmic Charlie | Lexington, KY
May 29 | Woodlands | Columbus, OH
May 30 | Rex Theater | Pittsburgh PA
May 31 | North Star | Philadelphia, PA
June 1 | Brooklyn Bowl | Brooklyn, NY *
June 2 | The Press Room | Portsmouth, NH
July 27 | Floyd Fest | Floyd, VA
# with Garage A Trois & Marco Benevento
+ with Primus & Tony Clifton
^ with Primus & GoGo Bordello
* with Galactic