decker. | 'Slider' | Review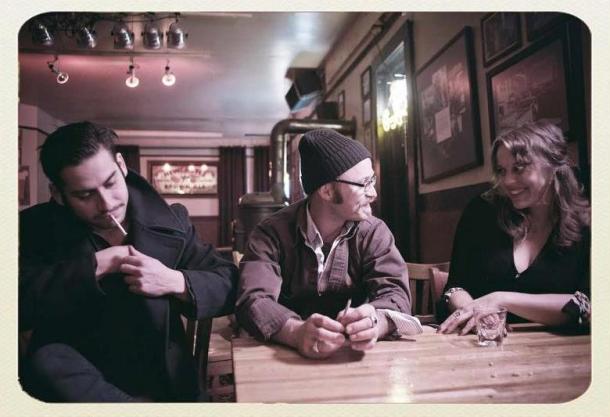 A near-fatal car accident would set most bands back months, maybe years. Arizona-based trio decker. pulled through the experience and released their fourth album just six months later. The gritty folk-rock band is led by Brandon Decker, whose first album, Long Days, debuted in 2009. Four albums in four years may seem like a lot, but Decker has been piling up praise with every new release.
With the help of a Kickstarter campaign and some faithful fans, decker. released Slider on February 26. The opening track "Speak in Tongues" is the band's own "Come Together," gradually gaining momentum but delivering the same steady amount of soul throughout the tune. Decker's desert twang is driven by the heavy drumbeat. A pulsating bass and acoustic guitar remain simple in the background, but the combination of these basic elements deliver a strong start for a promising album.
The sound decker. has crafted for Slider is an impressive anomaly. From the psychedelic "Interluder" to the drawling "Shadow Days" to Decker's yowl on "Weight in Gold Pt. 2," decker. will have you scratching your head if you try to nail down their genre. Don't get tripped up trying to place them--just close your eyes and soak it in and you might find your subconscious self in their desert. The southern influence has a heavy hand throughout the record, with most of the songs traveling at a slow but powerful pace. Decker's old-soul voice may be the one that inspired every `90s alt-rocker to feverishly organize a reunion tour a few years ago. At times, his tone is so impassioned it's androgynous, such as on the heart-wrenching "Blowhard."
While decker.'s sound covers more than a few bases, their lyrics are on a more straightforward track. Decker begs for honesty throughout the album, completely unashamed (and rightfully so). On Slider's first single, "Weight in Gold Pt. 1," he asks a question most men wouldn't have the balls to ask: "In my final hour, won't you stay with me / despite my indignity, despite my wounded knee? / In my final hour, say a prayer for me / for some sort of impunity for all my blasphemy." His brazen nature is prominent down to the last track, "Robes of a Prophet," where he sings: "I have been foolish and I have been bold / I have been selfish and I have been spoiled / But I am not rotten and you are not God / I am not poison and you are not flawed."
Perhaps the standout on Slider is the simplest song of all: "In the Van," a comfortingly eerie duet between Decker and vocalist Kelly Cole, accompanied by basic guitar strums and later, on a deeper vocal overlapping it all. The State Radioesque tune was written on the road, a few short months before the band's van blew a tire and caused the horrific accident that nearly killed Cole. The hauntingly lovely song is a departure from the rest of the album, but the lo-fi recording and vocal layering are far from out of place on Slider.
With the state of music today, Slider's timing couldn't be more perfect. You won't find any auto-tune on this record. After listening the whole way through, it's safe to say that Brandon Decker has probably never even heard of "dubstep." Instead, he has brought his band together to deliver heartfelt, purely human thoughts on top of an intuitive depiction of true-blue music.