Deerhoof Announce U.S. 2011 Fall Tour
Submitted by mike on Sat, 07/02/2011 - 20:30
The concept of
Milk Man
came from Tokyo artist
Ken Kagami
, whose sassy cover art is the perfect match to the sly, at times frightening, but irresistibly catchy music contained inside: the Styx 'n' Stones magic of the title track, an instant pop classic if there ever was one, undeniable proof of
Deerhoof's
extraordinary songwriting gifts; the organ-driven monster mash of "Giga Dance," whose crazed group interplay sets a new standard for "tension and release"; the otherworldly, borderline operatic, electronica that is "Desaparecere,"
Deerhoof's
Spanish-language debut...and that's just the first three songs! Have we ever heard a band so confidently navigate the extremes of control and chaos, edginess and beauty, profundity and just plain fun?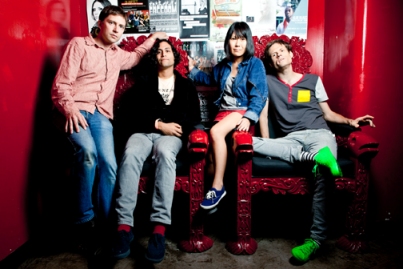 Deerhoof
will be performing
Milk Man
in its entirety for the first time ever tonight, July 1st, in London at Alexandra Palace. They will joining
The Flaming Lips
, who will be performing
The Soft Bulletin
,
and
Dinosaur Jr.
, who will be performing
Bug
.
  Milk Man
vinyl will be
reissued
on
July 5th
by
Polyvinyl Records
.
Deerhoof
will tour the U.S. throughout September!
sept 15 - San Francisco, CA - Atrium at SFMOMA (part of Adam Pendleton's
BAND
)
sept 20 - Brooklyn, NY - Music Hall Of Williamsburg
sept 21 - Philadelphia, PA - World Cafe Live
sept 22 - Charlottesville, VA - Jefferson Theater
sept 23 - Cincinnati, OH - Know Theatre / Midpoint Music Festival
sept 24 - Champaign, IL - Polyvinyl's 15th Anniversary Party at Pygmalion
sept 25 - Chicago, IL - Bottom Lounge
sept 26 - St Louis, MO - Luminary Center For The Arts
sept 28 - Ithaca, NY - The Haunt
sept 29 - Cambridge, MA - The Middle East
oct 1 - Washington, DC - 9:30 Club