Del Fuegos reuniting for 11-city U.S tour
Submitted by conqueroo on Sun, 12/18/2011 - 07:29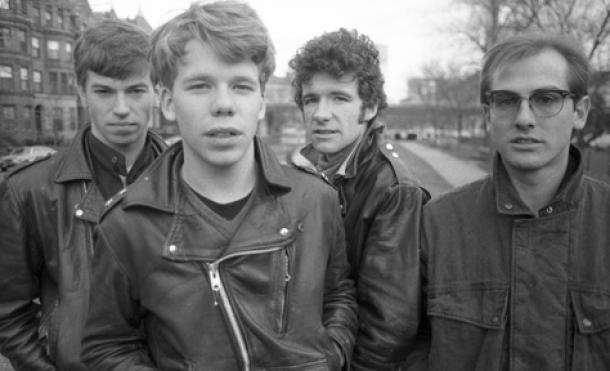 After disbanding in the late 1980s, the various members of the Del Fuegos went on to lead remarkable second lives. In the New Year, however, all four original members of the acclaimed Boston quartet will come together for a 12-city tour of the Eastern Seaboard and Midwest.
On Wednesday, February 22, the band will begin at The Paradise Rock Club in their hometown of Boston, heading from there to New York, Cleveland, Chicago, Evanston, Minneapolis, Minneapolis, Milwaukee, St. Louis, Kent and Brooklyn with a March 4 wrap in Concord, N.H.
The Del Fuegos are among a handful of legendary rock and roll exports from Boston, Mass. Recording alongside X, the Blasters, Los Lobos, and others for L.A. 's Slash Records, the Del Fuegos burned brightly through the 1980s. They played more than 200 dates a year internationally and released albums that were consistently favorites of audiences and critics alike. Even before they released their first record, Rolling Stone named them a band to watch. Touring with groups ranging from the Kinks to the Replacements to INXS, ZZ Top and Tom Petty and the Heartbreakers, the Del Fuegos played a style of rock and roll that knocked down the door, stole your girlfriend, and won your heart. Over six busy years, they built a reputation. And then they disappeared.
 
Of course, not every disappearance is of the same kind. In the case of the Del Fuegos, it 's the character of their disappearance that is finally so intriguing. After breaking up, none of the band members took a job at a bait shop. Neither did any of the band members take jobs at Guitar Center. The Del Fuegos dispersed . . . widely. In time, some reports filtered in: two of the band members earned PhDs, one launched a drug and alcohol rehab, and one started a new movement in family music. No one would have called it. Four members . . . and each one reinvented himself. And now they're back, if only for a short visit. Why?
 
Blame it on a wildly successful summer 2011 reunion show in Boston that sold out almost overnight, with extra shows added. Blame it on the audience reaction to this celebrated return. Blame it on the fact that the band came out hitting on all cylinders, somehow seeming younger than when we last saw them. Blame it on the fact that every member was able to get time away from his day job during the same two weeks. Blame it on the pure joy of elemental rock and roll.
According to Warren Zanes, "I did a motive check when the idea of reforming for a tour came up. Was I having a breakdown? Was I strapped for cash? Was there a girl in Minneapolis I couldn't get off my mind? The good news is that I felt like  'no ' was the answer to all those questions. Musically, you have to be doing this stuff for the right reasons or the audience can sniff it out. And I think we all wanted to do this so that we could turn the amps up one more time. It was pretty simple . . . though Woody did mention something about a certain Mary in Scranton." Brother Dan Zanes also had to ask himself a few hard questions. "I couldn't be more committed to the family music that I've been playing for the past dozen years and yet when we reunited I realized I'd been secretly missing the raw teenage emotion in the songs. And the old camaraderie. And the cursing. I also realized, much to my surprise, that this was one of those rare instances in which maturity among the band members actually seems to have helped the rocking out process. In the 80's we probably cared too much about everything. Now we're just looking for a loud vacation."
The Del Fuegos handpicked the cities they remembered best from years of touring. Where the memories linger, the band is now returning. Playing the best-loved songs from their catalog and keeping a few tricks up their sleeves, a little bit of Boston is, once again, making the rounds.
How the members of the Del Fuegos spent their vacations:
Guitarist Warren Zanes earned a Ph.D from the University of Rochester in Visual and Cultural Studies. Having established himself as a professor and writer, Zanes then re-entered the music business when signed as a solo artist by the Dust Brothers, making his debut with Kings of Leon producer Angelo Petraglia. Shortly thereafter he was hired as Vice President of Education and Programs at the Rock and Roll Hall of Fame and named Visiting Professor at Case Western Reserve University. With several books to his name and a third solo recording just released, Zanes is currently the Executive Director of The Rock and Roll Forever Foundation, a non-profit started by Little Steven Van Zandt, and at work on an authorized biography of Tom Petty, for whom Zanes has done several writing projects.
Guitarist and Singer Dan Zanes earned a Grammy for his widely celebrated family album, Catch That Train! With a decade of international touring behind him and appearances in venues such as Carnegie Hall, the Sydney Opera House, the Somerville Theater (where he returns every year), and hundreds of other esteemed rooms, Zanes helped rewrite the possibilities of children 's music by creating an organic, folk-based sound geared toward family listening and participatory music-making. He is known for a dozen recordings, several DVDs, and a handful of books, and is these days nothing short of a household name. Always collaborating in a way that further extends the possibilities of his art, he has recorded with the Kronos Quartet, Lou Reed, Philip Glass, the Blind Boys of Alabama, the Pilobolus dance company, and many more.
Bassist Tom Lloyd earned a Ph.D from Caltech in Environmental Engineering Science, after which he continued his research on biologically mediated geochemistry of transition metals (of course, right?). Following that, he worked as a consultant at McKinsey, focusing on the intersection of media and technology in the non-profit sector. After leaving McKinsey, Lloyd became the Interim Executive Director at My Friend 's Place, a non-profit center for homeless youth based in Hollywood. Today he works as an investment analyst at Capital Research. A classically trained cellist, Tom remains active as a musician, these days favoring the string quartet but always keeping a guitar handy.
Drummer Woody Giessmann started Right Turn in March of 2003 as a freestanding addiction treatment program in Arlington Ma. Through his experience as a creative person with a history of addiction, Woody developed a unique approach incorporating evidence-based treatment and an emphasis on the arts and creativity, an approach that remains at the heart of Right Turn Outpatient services. Right Turn brings creative people together in a safe haven, where they can explore their art and preserve their creative gifts. Still active as a musician, Woody recently released a solo recording and remains a fixture on the Boston scene.
The Winter 2012 Reunion Tour:
Wed., Feb. 22  BOSTON, MA  The Paradise Rock Club
Thurs., Feb. 23  NEW YORK, NY  Bowery Ballroom
Fri., Feb. 24  CLEVELAND, OH Beachland Ballroom
Sat., Feb. 25  CHICAGO, IL  Lincoln Hall
Sun., Feb 26  TBA
Tues., Feb. 28  MINNEAPOLIS, MN Varsity Club
Wed., Feb. 29  MILWAUKEE, WI  Turner Hall
Thurs., March 1  ST. LOUIS, MO  The Old Rock House
Fri., March 2  KENT, OH  The Kent Stage
Sat., March 3  BROOKLYN, NY  The Bell House
Sun., March 4  CONCORD, NH  The Capital Center