The first night started out surprisingly quiet around the Boulder Theater, although the crowd packed in quickly after the opener. The Boulder Theater is the perfect venue for the Biscuits and most bands that play in Boulder. The venue is open enough to handle a full, unruly, raving crowd. After a DJ spun a bit, the band took the stage to a full house chanting, "Allen, Allen, Allen…" in reference to drummer Allen Aucoin's return from being hospitalized for asthma related problems throughout the New Year's run in Philadelphia. Although original Disco Biscuits drummer Dr. Sam Altman, Lotus' Mike Greenfield, Break Science and Pretty Light's drummer Adam Dietch, Darren Shearer from the New Deal, and Johnny Rabb from BioDiesel did an amazing job filling in for the star drummer, there is nothing like Allen's ferocity behind the kit. After bowing in thanks, guitarist, Jon "the Barber" Gutwillig, got on the mic to jokingly say, "Didn't you read the sign up here that says don't talk to the musicians? That's for your protection. Here we go, a little fist pump, here we go." And boom, they went into "King of the World."
The place erupted as this song is an upbeat dance party. Just as Gutwillig came back last spring after surgery on his arm, Aucoin did not miss a beat on his return. The drums were like a machine gun and keyboardist Aron Magner jumped this show off with this funky number only played twice in the last year (once at the Fox Theater in Boulder). It may have been the best song of the night. After the opener bassist Marc Brownstein gave his trademark, "What's up everyone? Welcome to the Boulder Theater," and the night brought me back to old school Biscuit shows starting with the next song "Morph Dusseldorf." After only playing it four times in 2010, the smoothness of this intricate song was right on time. The changes were smooth as can be, and Brownstein's slap happy bass groove got the crowd forsaking all their inhibitions. And even though "Vassillios" was next, and they played it during their last show, the surprise and old school theme was consistent and pleasurable for the fans that were there from the beginning. I remember playing beer pong in college at La Salle University in Philadelphia in 1998 listening to Uncivilized Area at parties. These two back to back brought me to a good place when I did not have a care in the world. I think most people felt like that in the venue on this night even though it was a Thursday. The first set ended with an almost twenty minute epic "Spacebirdmatingcall."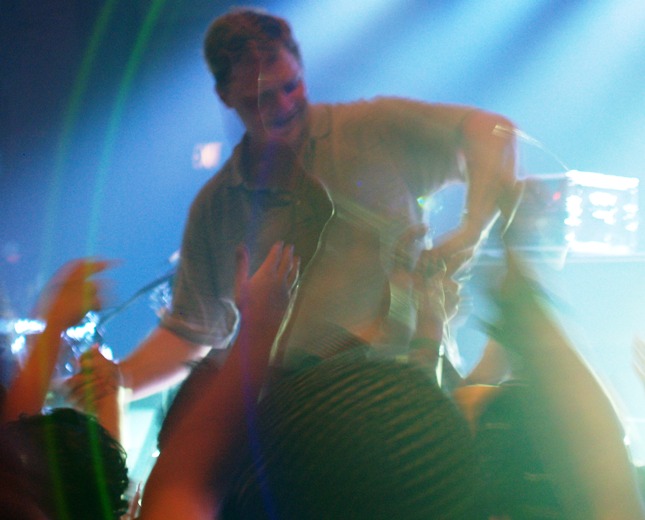 The second set started right where they left off with chants for Allen, and a really old school song off of their first album Encephalous Crime called "Pat and Dex." The Biscuits have only played this song twelve times in the last decade. This was a bust out for sure and a special treat for one of their favorite cities in America to play in. After a string bending signature solo from Gutwillig, the trance Magner notes of a much newer song came forth and into "Lunar Pursuit." It was as if they were switching off from Brownstein and Gutwillig driven songs to Magner and Aucoin driven songs staying fresh for the next mind blowing anthem. The astral notes of Magner led the jam right into an inverted "Crickets," which they played the middle section only during their last show on New Year's eve in Philadelphia. For those of you newbies that do not know what an inverted song is, in this case when they jam out of "Lunar Pursuit," they segue into the ending of "Crickets." Then, at the exact point of the ending of "Crickets," they play the beginning of "Crickets." And in this case, segue into "Portal to an Empty Head," which was also played on New Year's eve with Chris Michetti on guitar. Gutwillig was relentless on the last five minutes of this one.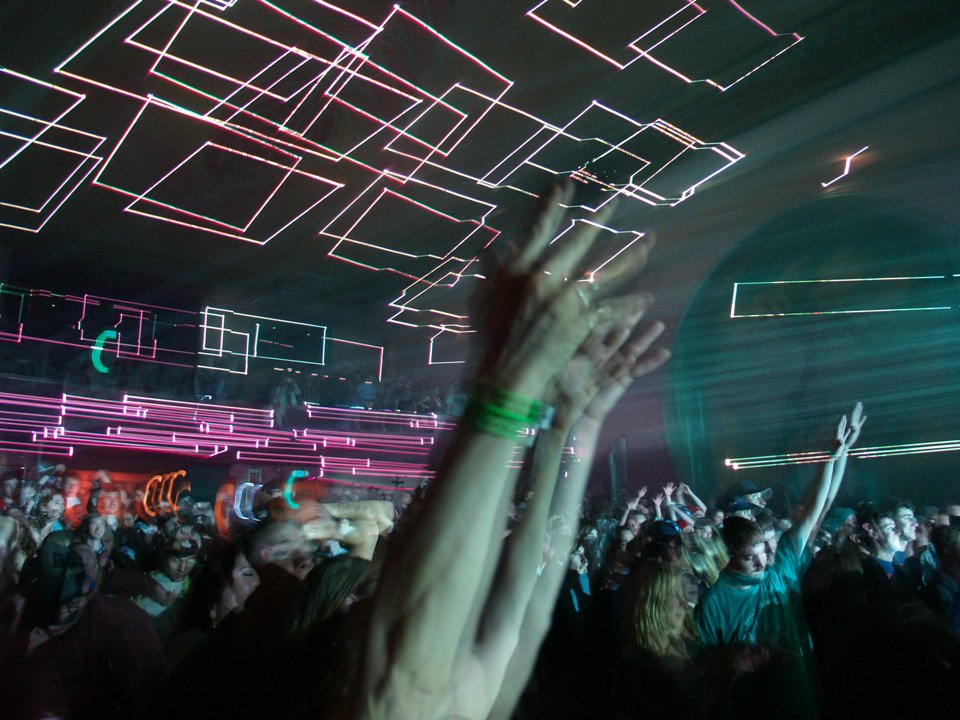 The beginning and end of the next song, "Neck Romancer" totally sounds like Simon Posford meets Dracula, which makes this song perfectly named, as a necromancer is a person who practices a discipline of black magic used to communicate with the dead or bring back the dead to foretell the future. This dark dance beat is usually when a Bisco fan puts their sunglasses down, bobs his/her head, and probably fist pumps. The crowd was swaying for sure. It was electric! It was the perfect mix of old and new. The final song of the second set was "Mulberry's Dream," which was another special treat for the fans. In Disco Biscuits fashion, there was a complete contrast in style between these last two songs. Finally, the encore was voted on by the fans at the HeadCount table, which was a very creative expression being that HeadCount's goal is to register voters. The fans picked a clever song to play in high altitude, and one of my favorites that I have not seen live until this night. It was "Highwire." The final curtain call had Allen Aucoin come out to the front of the stage to high five many fans near the stage. This capped off an amazing night, and it was just the beginning of a four night run featuring three late night shows each night with members of the Disco Biscuits.
Check out more photos from the show.
Also be sure to read Grateful Web's interview with Marc Brownstein of the Disco Biscuits.