Donna the Buffalo | Tonight, Tomorrow and Yesterday | Review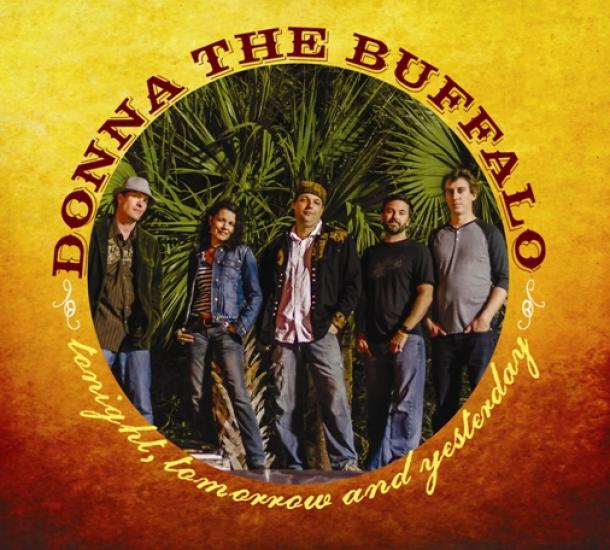 Sweet. Swirly. Pure. If you want to get with any of these words musically, Donna the Buffalo offers these sounds and feelings in each and every song.  The band's new album, Tonight, Tomorrow and Yesterday, drops 6/18/13 featuring founding members, songwriters and lead vocalists Jeb Puryear and Tara Nevins. Tonight, Tomorrow and Yesterday offers 14 tracks to get you in a nice state of mind. To help their fans achieve this state, the band's ballads offer reminders of the importance of chasing and achieving dreams that when first dreamt, may seem to be too far away from reality to ever be anything but dreams. On the keeping things light and bouncy side, there is a peppy, psychedelic zydeco sound from the band that lends itself to wonderful times dancing or chilling with friends until the wee hours, rain or shine, indoors or out under the stars. For those needing a boost with dream chasing and getting to a better place, which we all do, check out Working On That.  If you feel like doing some random twirling, daydreaming or hula hooping, do it while playing I Love My Tribe , Spinning World or All Aboard.
In preparing the album, the band went with a very traditional and in these days, rare, route. The album was recorded in a church on analog tape for a fuller sounding record. Yes, analog tape and a church instead of a digitized maze coming out of a fancy studio. You have to love a band that is confident enough to be so true to their beliefs and sounds that they skip out on technological conveniences. "The idea was to make it in one place, keep the vibe and let it go — and we did that, to a certain degree." according to Puryear.  Nevins has said that "Making this record was a very personal process." Puryear seconds that emotion by adding, "When you're playing live — not that it's not personal, but there are so many other people around that you're up against it and you just do it."
With Jeb on guitar and Tara on guitar, fiddle, accordion, scrubboard and sometimes drums, the following statement is well deserved.  Tara Nevins and Jeb Puryear are as talented of a duo as you will find out on tour today. If you simply go by the heart and thought given to their lyrics, the mastery of their instruments and how they give it up for their fans with such consistent touring, these two performers match up with anyone.
The other members of Donna the Buffalo are certainly not to be overlooked for their roles in making this great music.  David McCracken will quickly make it obvious why the Hammond organ has been a staple sound of so many fantastic musicians and bands.  As well as McCracken plays, the tradition and thick, rich sound of the Hammond organ is in more than capable hands.  Just to make sure things stay interesting, David also breaks out the clavinet on occasion to add even more eclecticism to Donna the Buffalo's sound. With Mark Raudabaugh on the drums along with bassist Kyle Spark, the rhythm section's ability to bounce back and forth between the band's zydeco style, to ballads with a slower tempo then into jams that spiral high into the treble notes then dips down into the bass octaves is truly impressive.  
For those in need of a crash course in Donna the Buffalo beyond Tonight, Tomorrow and Yesterday, please check out these songs for starters; There's No Place Like the Right Time, Positive Friction, Funky Side, The Ones You Love and Family Picture.
Donna the Buffalo is not shy about being on the road so be looking for them coming to a place where lots of folks are smiling ear to ear at a venue or festival near you.  An extensive list of summer and fall dates is available on http://www.donnathebuffalo.com.