Dulcie Taylor Sets Release Date for "Only Worn One Time"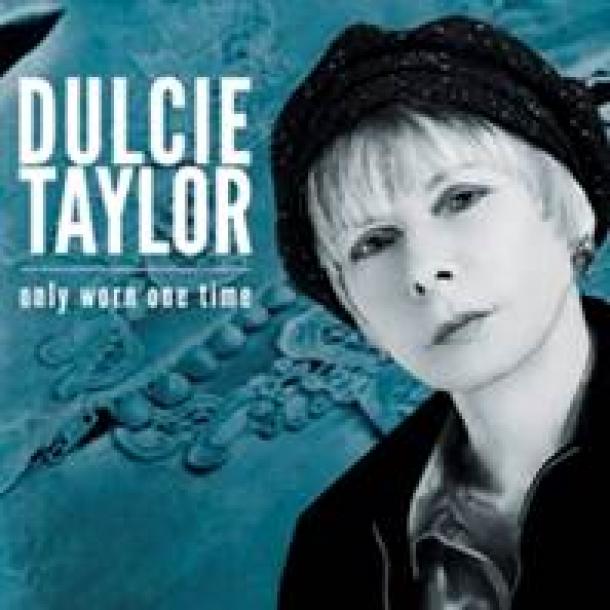 Mesa/Bluemoon Recordings announces a June 24 release date for Only Worn One Time, the new CD from California-based singer/songwriter Dulcie Taylor. Only Worn One Time was produced by George Nauful and Tyson Leonard, mixed by Keith Olsen and recorded at the Colorado Room in Atascadero, California.
A native South Carolinian and previously based in the Washington, DC, area, Dulcie Taylor returned to California in 2012 and has been living in San Luis Obispo County on the central California coast, creating exciting new music that covers the folk and Americana genres. Kudos for her previous work include The Washington Post, which said, "Taylor is a poet, a romantic. She writes from the heart for the heart;" while Dirty Linen described her as a "gifted writer;" and Barnes & Noble in its review said she "makes a mesmerizing impression."
Mesa/Bluemoon Records has released three previous all-original Dulcie Taylor albums, with every one garnering critical acclaim and substantial radio airplay. The first, Diamond & Glass, hit the Triple A radio chart and also won a WAMMIE (Washington, DC Area Music Award) as "Best Contemporary Folk Recording." The second, Mirrors and Windows, reached the number 7 spot on the Roots Rock Chart at Roots Music Report, also getting listed in the Best Recordings of the Year by Soundstage. Her last CD, Free of this Sorrow, was released in 2012 and reached Number 1 on Amazon.com as the Top-Rated Americana album. Dulcie was also awarded First Place Best Songwriter at the 2013 New Times Music Awards for her song, "Cigarette Smoke."
As with most of Dulcie's songs, the 11 tunes on Only Worn One Time (written by her along with George Williams, George Nauful and Tony Recupido) are primarily personal, yet they share a common bond that any listener can understand and appreciate. "The title track of the new CD started out as a song about my sister's wedding dress," says Dulcie. "We lost her when she was quite young and I just couldn't bear to part with her wedding dress. I carried it from house-to-house for several years. Then one day I realized someone else could really use this beautiful dress and wouldn't that be a lovely thing to do with it. I started writing the song about her and her dress but then I just started writing it from the viewpoint of a man who finds his departed ex-wife's wedding dress back on a high shelf in a closet. You can imagine how he would feel if she only left that one thing behind." 
The recording sessions for Only Worn One Time went incredibly smooth according to Taylor, who asserts so much of that has to do with the production team and the musicians enlisted for the album. "We have such gifted players on these tracks," Dulcie says. "George Nauful has such a feel for what supports and propels a song, and it's always something unique. I can hear his playing and know he's the one holding the guitar. The same with Tony Recupido. He plays jaw-dropping guitar, hand him a flat-pick and backup. Tyson Leonard – not only can he work the board with the best of them, he plays gorgeous violin/fiddle, parts that become a piece of the song as soon as he lays it down. Tim Pierce – he cranks up that Tele and there's never a guitar noise anywhere that he doesn't mean for it to be there, fluid, melodic, unmistakable. Tom Lackner on drums - tight, tough, and easy when it needs to be. Randy Tico on bass – the bass becomes a beautiful voice. Scott Breadman – we always call Scott for percussion, he knows what to play and does it with such feeling and finesse."
In discussing some of the new songs she composed for her CD, Taylor has specific reference points that directed her towards each composition.  "The song 'Like My Momma Loved Me' – I have friends who are adopted, friends whose mother was adopted (my maternal grandfather was adopted) – and when you hear people's stories, there is always so much poignancy around the subject of adoption," she states. "Nowadays, people seek out their birth parents so much more than they did in days past, and folks who gave up babies for adoption seek out those children, so I wrote a song from the viewpoint of the birth mother who finds her daughter. I can only imagine what it must be like to see the grown child when you had given it up when it was a baby – such a strong combination of regret for the lost time, joy for finding the child, and hopes for the future."
"'On a Rainy Day' is one of those songs that tumbled down out of nowhere; it wrote itself," she recalls. "I love it when that happens. I was playing the guitar and just started singing the chorus. I wish I could figure out how that sort of thing happens, but you just have to go with it and be grateful when it does."
For more information, visit www.dulcietaylor.com and www.mesabluemoon.com
Dulcie Taylor Tour Dates
5/25                 Strawberry Festival – Conrad's Porch Stage              Arroyo Grande, CA
6/6                   F. McClintock's (7-10 PM)                                         Paso Robles, CA
6/8                   SeaVenture Resort (3-6 PM)                                      Pismo Beach, CA
6/13                 Chateau Lettau (6-8 PM)                                            Paso Robles, CA
6/18                 Wine & Song Concert Series                                      South Pasadena, CA
6/22                 Summer Solstice Farm Fest (3:30-6:30 PM)               Cambria, CA
6/28                 Wild Horse Winery (1-4 PM)                                     Templeton, CA
6/30                 Windows on the Water                                               Morro Bay, CA
7/6 & 7/7         Otter Rocks Café                                                        Morro Bay, CA
7/10                 Barrel Room (CD release party show – 7:30 PM)      Atascadero, CA
Additional dates forthcoming ….