Dumpstaphunk Collaborates with Chaka Khan
Submitted by press on Thu, 06/14/2012 - 10:05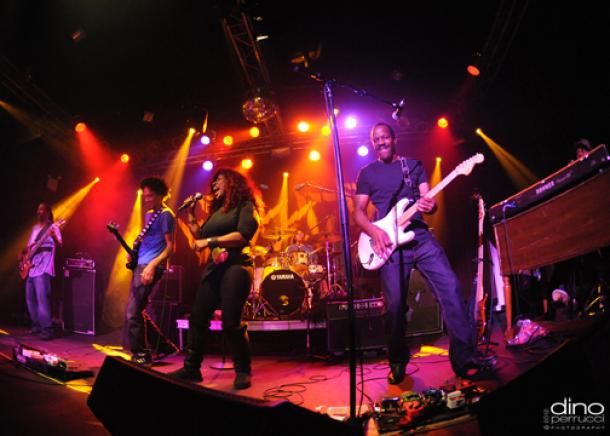 Dumpstaphunk treated the Highline Ballroom to a surprise double-dose of funk royalty last Wednesday, June 6 as the legendary "Queen of Funk" - Chaka Khan - shared the stage with Ivan Neville's all star New Orleans funk ensemble for the pair's first ever live collaboration.
The private performance was for book distributor Publishers Group West (PGW)'s annual BookExpo America party, which opened the night with a set from Brooklyn funk favorites, the Pimps of Joytime. Chaka Khan was a guest for the invite-only event, and after being spotted in the audience during Dumpstaphunk's headlining set, was invited onstage to sing her 1974 hit "You Got the Love."
The next day, Dumpstaphunk headed to Manchester, TN for the Bonnaroo Music Festival, headlining Friday's late night set in the 'Other Tent' where they phunked fans to old favorites such as "Put It In the Dumpsta" and "Meanwhile..." and debuted two new songs from their forthcoming studio album, Dirty Word. Set for a fall 2012 release, Dirty Word will feature guest appearances by fellow Bonnaroo headliner Flea of the Red Hot Chili Peppers, as well as Trombone Shorty, the Rebirth Brass Band and The Meters' Art Neville.
Bonnaroo set list: Friday, June 8 at the Other Tent
Deeper
Water
Blueswave [on new record]
Fame / Dumptsta
Everybody Wants Sum
One Nation
Betty Davis (If I'm in luck) [on new record]
Meanwhile...
About Dumpstaphunk:
Formed during New Orleans' 2003 Jazz and Heritage Festival, Dumpstaphunk has evolved from keyboardist Ivan Neville's chance side-project into what is widely considered to be one of the nation's most prestigious modern funk ensembles. An offspring with a direct lineage to their fathers in The Meters and The Neville Brothers, Dumpstaphunk sets the new standard for an entire genre.
Ivan and Ian' the sons of Neville Brothers Aaron and Art Neville respectively' create a dirty funk that resonates organically from their souls as true kin of the legendary New Orleans family. Ivan sets the keys on fire front and center, playing artfully off of the double bass attack of both Nick Daniels and Tony Hall on bass, with the scorching guitar rhythms of cousin Ian Neville, and the group's newest addition in heavy-hitting female protégé Nikki Glaspie on drums. Whether on stage or in the studio, Dumpstaphunk's members have collectively collaborated with music legends such as The Rolling Stones' Etta James and the Funky Meters, as well as modern favorites including Gov't Mule' Trey Anastasio, Dave Matthews, Lettuce, Soulive, Slightly Stoopid, Beyoncé, Cee Lo Green and Karl Denson to name a few.
Dumpstaphunk's anticipated third full length album, Dirty Word, is set to hit the airwaves in the fall of 2012. Recorded in New Orleans' infamous Music Shed Studios, the ensemble's newest creation will feature appearances by Flea of the Red Hot Chili Peppers, Trobone Shorty, Rebirth Brass Band and Art Neville, as Dumpstaphunk collectively pushes the envelope with a progressive funk sound that continues to define the sound of New Orleans