Eddie Palmieri/Brian Lynch Jazz Quartet
Submitted by press on Tue, 02/23/2010 - 00:51
Musical sparks will be flying at the famed Iridium jazz club March 12-14 as Afro-Caribbean musical legend and nine time Grammy winner Eddie Palmieri joins renowned trumpeter (and Grammy Award winner) Brian Lynch for the the Eddie Palmieri/Brian Lynch Jazz Quartet. In an unprecedented jazz small group setting for "The Sun Of Latin Music" Palmieri, the Quartet is the latest manifestation of the 20 year + musical relationship between Lynch and Palmieri in Palmieri's groups (including his acclaimed Afro-Caribbean Jazz Octet) and their collaboration for their Grammy Award winning CD "The Brian Lynch/Eddie Palmieri Project: Simpático". The Quartet will be performing selections from "Simpático", recasting classic Palmieri compositions on a jazz tip, and debuting brand new numbers from Lynch, Palmieri, and other members of the quartet. Two of the most accomplished musicians around today, bassist (of Mingus Big Band & Workshop fame) Boris Kozlov and Grammy nominated drummer/composer Dafnis Prieto, round out the quartet. Don't miss out on musical history in the making!
-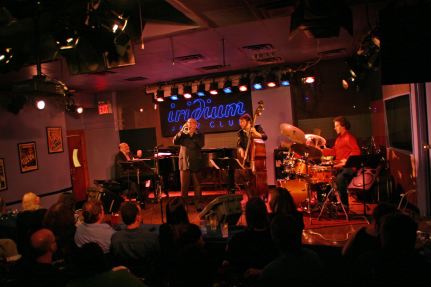 Eddie Palmieri, known for his charismatic power and bold innovative drive, has a musical career that spans over 50 years as a bandleader of Salsa and Latin Jazz orchestras. A true powerhouse of brilliance, known for his astute arranging skills and historic compositions, Mr. Palmieri has shown that time is infinite with respect to his repertoire as he continues to thrill audiences throughout the world with his legendary style. With a discography that includes 36 titles, Mr. Palmieri has been awarded nine Grammy Awards, from 1975's "The Sun of Latin Music" (the first Grammy awarded in the Latin field), through "Palo Pa ' Rumba" (1984), "Obra Maestra/Masterpiece" in collaboration with Tito Puente (2000) to "Listen Here!" (2005) and 2006's "Simpático", a collaborative effort with trumpet master Brian Lynch. Palmieri's myriad honors for his life's work in music and culture include the Eubie Blake Award, Yale University's Chubb Fellowship (an award usually reserved for international heads of state), the Alice Tully African Heritage Award, and induction into both the Bronx Walk of Fame and the Chicago Walk of Fame. In 2002, he received the National Black Sports and Entertainment Lifetime Achievement Award. Other inductees with him were Roberto Clemente, Count Basie, Max Roach, Billie Holiday and Dinah Washington. At the 1998 Heineken Jazz Festival in San Juan, Puerto Rico, the Berklee College of Music paid tribute to his contributions as a bandleader in bestowing on him an honorary doctorate. In 1988, the Smithsonian Institute recorded two of Palmieri's performances for their catalog of the National Museum of American History in Washington, D.C a rare public honor. "Caliente," a radio show hosted by Mr. Palmieri on National Public Radio, has been a tremendous success, being picked up by more than 160 radio stations nationwide.
Born in Spanish Harlem in 1936, Eddie began piano studies at an early age, as did his celebrated older brother, the late Salsa legend and pianist, Charlie Palmieri. Possessed by a desire to play the drums, Palmieri joined his uncle's orchestra at age 13, where he played timbales.  Says Palmieri, "By 15, it was good-bye timbales and back to the piano until this day. I'm a frustrated percussionist, so I take it out on the piano." He began his professional career as a pianist in the early '50s, and subsequently spent a year with the Tito Rodriguez Orchestra before forming his own band, the legendary "La Perfecta" in 1961. With an infectious sound, Palmieri's band soon joined the ranks of Machito, Tito Rodriguez and other major Latin orchestras of the day. His unconventional style would once again surprise critics and his fans with the 1970 release entitled Harlem River Drive.  This recording was the first to really merge black and Latin styles (and musicians), resulting in a free-form sound encompassing elements of salsa, funk, soul and jazz. Further to this proclivity for creating and performing in funk Latin style, in 1997 he was invited to record by Little Louie Vega in "Nuyorican Soul," a release which has been a huge hit with dancers and dj's in the house music genre.
Palmieri's influences include not only his older brother Charlie but also Jesus Lopez, Lili Martinez and other Cuban players of the 1940s; jazz luminaries Art Tatum, Bobby Timmons, Bill Evans, Horace Silver, Bud Powell and McCoy Tyner.  Says Palmieri, "In Cuba, there was a development and crystallization of rhythmical patterns that have excited people for years.  Cuban music provides the fundamental from which I never move.  Whatever has to be built must be built from there.  It's a cross-cultural effect that makes magnificent music."
-
Brian Lynch
A respected insider within both the hardcore straight ahead and Latin Jazz communities, 2007 Grammy Award Winner Brian Lynch is as comfortable negotiating the complexities of clave with Afro-Caribbean pioneer Eddie Palmieri as he is swinging through advanced harmony with bebop maestro Phil Woods. A honored graduate of two of the jazz world's most distinguished academies, Art Blakey and the Jazz Messengers and the Horace Silver Quintet, he has been a valued collaborator with jazz artists such as Benny Golson, Toshiko Akiyoshi, and Charles McPherson; Latin music icons as diverse as Hector LaVoe and Lila Downs; and pop luminaries such as Prince. As a bandleader and recording artist he has released a series of critically acclaimed CDs featuring his distinctive composing and arranging, and toured the world with various ensembles reflecting the wide sweep of his music. He currently is on the faculty at New York University as well as conducting clinics and workshops at prestigious institutions of learning the world over. His talents have been recognized by top placing in the Downbeat Critics and Readers Polls; highly rated reviews for his work in Downbeat, Jazziz and Jazz Times; 2005 and 2007 Grammy award nominations, and grants from the National Endowment for the Arts, Chamber Music America, and Meet The Composer.
Born September 12, 1956 in Urbana, Illinois, Lynch grew up in Milwaukee, Wisconsin where he apprenticed on a high level with such local residents as pianist Buddy Montgomery and organist Melvin Rhyne. In San Diego (1980-81) he gained further valuable experience in the group of alto master Charles McPherson. In 1981, Lynch moved to New York, and soon linked up with the Horace Silver Quintet (1982-1985) and the Toshiko Akiyoshi Jazz Orchestra (1982-1988). Simultaneously, he played and recorded on the Latin scene with salsa bandleader Angel Canales (1982-83) and the legendary cantante Hector LaVoe (1983-87). He began his association with Eddie Palmieri in 1987, and at the end of 1988 joined what turned out to be the final edition of Art Blakey and the Jazz Messengers. He began his tenure with Phil Woods in 1992.
In 1986, Lynch recorded his first album as a leader, Peer Pressure, for Criss-Cross. There followed Back Room Blues and At The Main Event [Criss Cross], In Process [Ken], Keep Your Circle Small [Sharp Nine], and a string of sideman dates with Art Blakey and Phil Woods. On each, Lynch documented his fiery, coherent tonal personality. He also made a name for himself as a composer, through numerous songs that play with and stretch harmony while never losing melodic essence and rhythmic thrust. A 1997 recording called Spheres of Influence [Sharp Nine], which earned a 4-1/2 star Downbeat rating, was Lynch's first project to reflect the panoramic range of interests that influence his working life as a musician. During these years he documented cross-cultural investigations with Eddie Palmieri's seminal Afro-Caribbean Jazz Octet on Palmieri's Palmas, Arete and Vortex [Nonesuch and RMM]. As the '90s progressed, he steadily refined his concept, eventually collaborating with Palmieri as an arranger, co-composer and musical director. In a rare gesture, Palmieri took advantage of Lynch's pen on the recent albums La Perfecta II and Ritmo Caliente [Concord Picante]. The synchronistic nature of their relationship continued in 2006-7 with a series of duo and trio concert performances, the debut of the Eddie Palmieri / Brian Lynch Jazz Quartet in Japan, and Palmieri's culminating (and Grammy winning) collaboration with Lynch on his ambitious recording project Simpático for ArtistShare.
-
Boris Kozlov
Born in Moscow in 1967, Boris Kozlov started playing piano at the Evening Music School and going on to play tuba and trumpet in the public school band. He then went on to join the State Musical College on electric bass and it is there that he picked up acoustic bass, graduating in 1987 with a Diploma of Honour. In 1989 -1991 he studied at the State Academy of Music while touring USSR, Europe and USA with various jazz groups including his own. Winning many awards for his playing, Boris has performed and recorded with some of the top musicians in the jazz field including saxophonists Bobby Watson, Bob Berg, Benny Golson, James Moody, Ronnie Cuber, Lew Tabackin, John Stubblefield, Jay Collins, Jorge Sylvester, Ravi Coltrane: Trumpeters Dizzy Reese, Phillip Harper, Brian Lynch, Alex Sipiagin; pianists Andy La Verne, David Kikoski, Walter Bishop Jr., Michel Petrucciani, Stanley Cowell, Toshiko Akiyoshi; vibraphonists Terry Gibbs, Joe Locke; guitarist Mark Whitfield; drummers Tommy Campbell, Victor Jones, Jimmy Cobb, Marlon Simon: clarinetist Buddy De Franco; violinist John Blake; vocalists Jay Mc Govern, Urszula Dudziak; trombonist/vocalist Frank Lacy's Experience, as well as funk jazz bands NHJ and his own BEA ,1992-94 Headliner of Texas International Jazz Festival. Since 1995 he has also been present on the NY recording scene working with various pop-music projects. In 1998 he started performing with the Mingus Big Band.
-
Dafnis Prieto
His arrival in the U.S. has been compared by to that of an asteroid hitting New York. Indeed, within a short period of time Dafnis Prieto's revolutionary drumming techniques had a powerful impact on both the Latin and jazz music scene, locally and internationally. Having studied at the school of Fine Arts in Santa Clara, Cuba as a youngster and later at the National School of Music in Havana, Prieto obtained a thorough classical education while broadening his knowledge of Afro-Cuban music, jazz and world music outside of the academy. He first toured Europe with pianists Carlos Maza and Ramon Valle and the groundbreaking group "Columna B." A resident of New York since 1999, he has already played in bands led by Henry Threadgill, Steve Coleman, Eddie Palmieri, Chico and Arturo O'Farrill, Dave Samuels & The Caribbean Jazz Project, Jane Bunnett, D.D. Jackson, Brian Lynch, Edward Simon, Michel Camilo, Chucho Valdez, Claudia Acuña, Roy Hargrove, Don Byron, and Andrew Hill, among others. He has performed at many national and international music festivals as a sideman and bandleader.
As a composer, he has created music for dance, film, chamber ensembles, and most notably for his own bands, ranging from duets to his "Small Big Band" and including the distinctively different groups featured on his two acclaimed recordings as a leader, "About The Monks," and "Absolute Quintet." A new CD, entitled "Taking the Soul for a Walk" and featuring a sextet, will be released in May 2008. He has received new works commissions, grants, and fellowships from Chamber Music America, Jazz at Lincoln Center, East Carolina University, and Meet the Composer. Various awards include "Up & Coming Musician of the Year" by the Jazz Journalists Association in 2006, a Grammy Award Nomination for "Absolute Quintet" as Best Latin Jazz Album, and a Latin Grammy Nomination for "Best New Artist" in 2007. Also a gifted educator, Prieto has conducted numerous master classes, clinics, and workshops. Since 2005, he has been a member of the NYU Music Faculty.
-

IRIDIUM
1650 BROADWAY (CORNER OF 51ST)
NEW YORK, NY 10023
RESERVATIONS: 212-582-2121
HTTP://WWW.IRIDIUMJAZZCLUB.COM/
SETS  AT 8:00 & 10:00PM
The Iridium Is Pleased To Present:
MARCH 12-14 EDDIE PALMIERI/BRIAN LYNCH JAZZ QUARTET
Eddie Palmieri – piano, Brian Lynch – trumpet, Boris Kozlov – bass, Dafnis Prieto – drums