Elephant Revival To Tour the Northeast Starting in September
Submitted by mike on Wed, 08/10/2011 - 23:05
Indie acoustic quintet Elephant Revival will tour the Northeast and beyond behind its sophomore release, BREAK IN THE CLOUDS (June 2011, Ruff Shod/Nettwerk Records), with praise for its songwriting, instrumentation, multi-genre style and spirit ringing in its ears.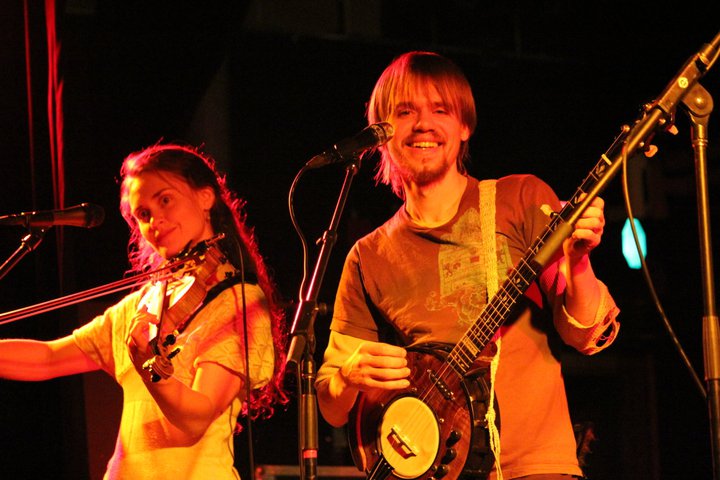 The tour starts in mid-September, with dates in venues from New York City, Philadelphia and Pittsburgh to Kentucky, Boston-area (return show) and Indiana.
Chicago Sun Times says, "The melodic, finely tuned songs are a tribute to the collaborative songwriting talents of each band member," who are Bonnie Paine (vocals, washboard, djembe and musical saw), Sage Cook (electric banjo/guitar, acoustic guitar, mandolin, viola and vocals), Dango Rose (double-bass, mandolin, banjo and vocals), Daniel Rodriguez (acoustic guitar, electric banjo/guitar and vocals) and Bridget Law (fiddle and vocals).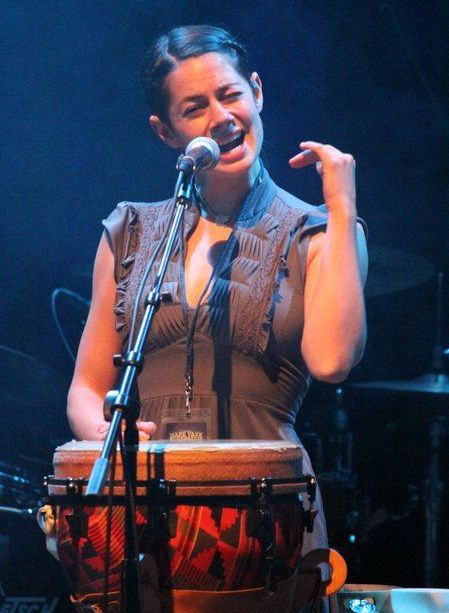 The band plays a variety of folk instruments, from washboard to fiddle, electric banjo, djembe to musical saw, but the band goes further with originals that snap and sparkle with traditional balladry, Scottish/Celtic fiddle, psychedelic old-time, indie rock, rustic Americana, world beat, traditional jazz and an occasionally hip-hop beat.
"Elephant Revival is not five musicians supporting one songwriter, but friends in full collaboration for the betterment of music," says The Huffington Post, "both their own and what folk means to modern America, which is inevitably embedded in the lyrical content." BREAK IN THE CLOUDS was recorded in Lyons, Colo., and was produced by David Tiller (Taarka) in his studio, The Distillery.
"We have elements from many different styles of music. The cohesive quality comes from the honor and respect we hold for each other and our fans." Rose told Relix magazine, which wrote, "The band's multi-layered musical style comes from the various musical breeding grounds of its players" a particular quality that puts Elephant Revival far ahead of the rest of the crowd. "We create in service to the music," Rose said. "We do not control what it is or what it will become."
The band will play a special end of the summer concert at the State Bridge in Bond, Colo., with
DeVotchKa
and
Gregory Alan Isakov
on September 10.
--
Upcoming Elephant Revival Fall Tour includes:
September 10, State Bridge, Bond, Colo. (with Devotchka and Gregory Alan Isakov)
September 16, Old Rock House, St. Louis, Mo.
September 17, Bluebird, Bloomington, Ind.
September 18, Uncle Slayton's, Louisville, Ky.
September 20, Thunderbird Café, Pittsburgh
September 21, Birchmere, Alexandria, Va.
September 22, Grape Room, Philadelphia
September 23, Piano's, New York City
September 24, The Saint, Asbury Park, N.J.
September 25, Histroic Blairstown, Blairstown, N.J.
September 27, Iron Horse, Northampton, Mass.
September 28, Blueberry Hill Jam III, Warren, Ver.
September 29, Club Passim, Cambridge, Mass.
September 30, Red Square, Albany, New York
October 1, The Axe Festival, Collinsville, Conn.
October 5, The Box, Charlottesville, Va.
October 6, Sun Music Hall, Floyd, Va.
October 7, One Stop, Asheville, N.C.
October 8, Smith's Olde Bar, Atlanta
October 12, Loveless Barn, Music City Roots, Nashville, Tenn.
October 14-16, Harvest Festival, Ozark, Ark.
October 21, Aggie Theater, Fort Collins, Colo.
November 18, Bluebird Theatre, Denver
November 19, Boulder Theater, Boulder, Colo.