Elephant Revival To Welcome Spring With U.S. Tour Dates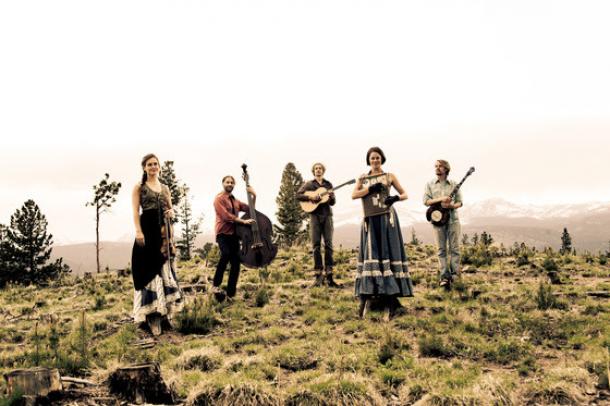 Colorado-based Elephant Revival is looking forward to spring, which the band will greet with a series of West Coast-to-Midwest tour dates in support of their acclaimed new album, These Changing Skies. Recent tour dates included a successful European debut, with a string of shows throughout the United Kingdom and Ireland. 
Press plaudits included this from the Herald Scotland: "Their sophisticated hybrid of American roots music … the quality of sound that they make with fiddle, guitars, mandolin, banjo, double bass and washboard, [is] an embarrassment of riches." The paper also described their music as "dynamically forceful" and "shamelessly catchy."
Elephant Revival is a unique quintet of multi-instrumentalists blending elements of gypsy rock, Celtic, alt-country and folk. Brought together by a unified sense of purpose and using music as a language, Elephant Revival communicates the importance of harmony among all living things. The band is committed to responsible stewardship of the planet and its inhabitants, and works with organizations such as Conscious Alliance, Calling All Crows and Trees, Water & People.
Elephant Revival is: Bonnie Paine (vocals, washboard, djembe and musical saw); Sage Cook (electric banjo/guitar, acoustic guitar, mandolin, viola and vocals); Dango Rose (double-bass, mandolin, banjo and vocals); Daniel Rodriguez (acoustic guitar, electric banjo/guitar and vocals); and Bridget Law (fiddle and vocals). 
Winter/spring tour dates
Feb. 20 & 21 – Aggie Theatre, Fort Collins, Colo.
Feb. 23 – WinterWonderGrass Craft Brew & Bluegrass Festival, Avon, Colo.
Feb. 28 & March 1 – Wintergrass Festival, Bellevue, Wash.
March 2 – Vancouver Folk Music Festival, Vancouver, Canada
March 4 – WOW Hall, Eugene, Ore.
March 5 – Applegate River Lodge, Applegate, Ore.
March 6 – Arcata Theatre Lounge, Arcata, Calif.
March 7 – Mystic Theatre, Petaluma, Calif.
March 8 – Crystal Bay Club Casino Crown Room, Crystal Bay, Nev.
March 9 – The Rendezvous, Chico, Calif.
April 3 – Lincoln Hall, Chicago, Ill.
April 4 – Old Rock House, St. Louis, Mo. 
April 5 – The Bottleneck, Lawrence, Kansas
April 6 – George's Majestic, Fayetteville, Ark.
April 10 – Vanguard Music Hall, Tulsa, Okla.
April 11 – Live Oak, Fort Worth, Texas
April 12 & 13 – Old Settler's Music Festival, Austin
May 1 – 3rd & Lindsley, Nashville, Tenn.
May 2 – Eddie's Attic, Decatur, Ga.
May 3 – The Pour House, Charleston, S.C.
May 13 – The Hamilton, Washington D.C.
May 15 – Joe's Pub, New York, N.Y.
For updates and ticket info, visit elephantrevival.com