Elliott Murphy: On Tour In the USA For the First Time in Eight Years
Submitted by press on Tue, 11/04/2008 - 22:10
ELLIOTT MURPHY - the legendary Paris-based American rock troubadour will embark on his first U.S. tour in eight years.  The tour kicks off December 2008 in the Northeast U.S. (New York City, Philadelphia, Boston, DC, Albany, Larchmont, Amagansett), and continues on to the West Coast, where he hasn't played in 12 years) in January 2009 (San Francisco, Felton, Tehachapi, Los Angeles, San Diego, Long Beach). Elliott will be accompanied by his longtime guitarist extraordinaire Olivier Durand.  More shows will follow in Spring 2009.
Elliott Murphy has collaborated with Bruce Springsteen, Billy Joel, Phil Collins and other great rock 'n roll names.  His ground-breaking, debut album AQUASHOW was recently called an "Album Classic" in a full page review in the UK's prestigious Uncut magazine.
Opening all shows will be multi-cultural singer-songwriter Jann Klose, who was born in Germany and raised in Kenya, South Africa, Hamburg and first came to the US as an exchange student in Cleveland.  His album REVERIE is now being played on over 80 stations in North America.  Jann tours aggressively in the U.S. and Europe.  Recent shows included collaborations with Annie Haslam and John Tout of Renaissance, sharing the stage with Marty Stuart, Rosanne Cash and Roger McGuinn at Martin Guitars' 175th Anniversary Concert, and a special show at the German Embassy in Washington, DC. Jann moved to the Bronx in 2000, the same year Elliott played his last show at the Bottom Line in New York City.
Elliott Murphy will be promoting his latest release NOTES FROM THE UNDERGROUND - his 30th album in a non-stop 35-year career. Album Music Guide (AMG) recently awarded NOTES a rave 4-Star review making Elliott one of the rare artists who have received over fifteen 4 -star reviews on this prestigious review site.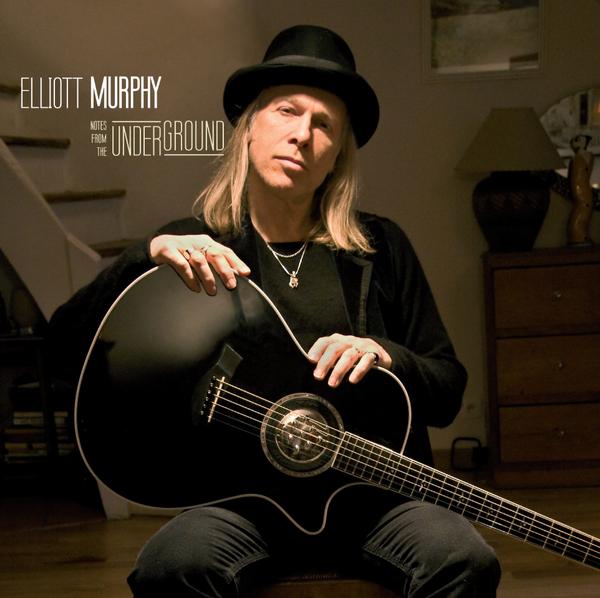 Elliott was born to a show business family in New York and began his career by winning the 1966 New York State Battle of the Bands, and then followed a troubadour's odyssey across Europe included a bit part in Federico Fellini's film "Roma." His career was launched by the critical success of his debut album AQUASHOW followed by LOST GENERATION (Produced by Doors producer Paul Rothschild), NIGHT LIGHTS (featuring Billy Joel), JUST A STORY FROM AMERICA (featuring Phil Collins and Mick Taylor) and an extraordinary duet with Bruce Springsteen on his 1996 masterpiece SELLING THE GOLD.  (Bruce often invites Elliott on stage with him during his European tours.)  In October 2008, he was honored with a monumental exhibition in Paris' Town Hall entitled "Elliott Murphy - Last of the Rock Stars – Retrospective" featuring hundreds of posters, photos, videos, album covers and memorabilia.
Elliott Murphy is also a published author of short story collections  (most recently Café Notes) and two novels (Cold And Electric and the neo-western Poetic Justice) as well as penning the liner notes for the Velvet Underground album 1969 Live. Elliott has lived in Paris for 18 years and has performed at such prestigious venues as the Montreux Jazz Festival as well as opening for Bob Dylan at the Pistoia Blues Festival.
Dec 10 2008 Johnny D's   Somerville, Massachusetts
Dec 12 2008 The Stephen Talkhouse   Amagansett, New York
Dec 13 2008 Valentine's   Albany, New York
Dec 15 2008   The Living Room   New York, New York
Dec 16, 2008   Velvet Lounge    Washington, DC
Dec 17 2008   World Cafe Live   Philadelphia, Pennsylvania
Dec 18 2008   Watercolor Cafe   Larchmont, New York
Jan 7, 2009     Café Du Nord    San Francisco, California
Jan 8, 2009     Don Quixote's   Felton, California
Jan 10, 2009   Hotel Café, Los Angeles, California
Jan 11, 2009     Mama's Hilly Beans, Tehachapi, California
Jan 13 2009    Acoustic Music San Diego  San Diego, California
Jan 14 2009   The Blue Cafe   Long Beach, California
Jan 16 2009     NAMM 2009 Anaheim, California
Elliott also tours in Europe and there are a number of dates posted on his  myspace.com/elliottmurphy.
****
Let us also give a plug for the Humane Society as Elliott also wrote about the importance of responsible ownership and adopting from animal shelters at the Humane Society's Shelter Rock web site. In December the HSUS will be auctioning off an autographed Elliott Murphy fashion tote bag.
And you'll see reflections from all kinds of an array of music folks including another person who collaborated recently with Jann—Annie Haslam.  Heavy D., Carole King, and MUTTS cartoonist Patrick McDonnell are in there, and so is Patti Page, who has updated her "How Much Is That Doggie in The Window" to "(Look at that) Doggie in the Shelter."