Energetic & Inspiring, Spiritual Rez is delivering the goods
Submitted by mike on Tue, 08/24/2010 - 19:42
This 6-piece roots-reggae, rock outfit is packing out clubs on a nightly basis and breaking out brand new material off of their newest release, The Nexus.  Spiritual Rez is quickly becoming the talk of 2010.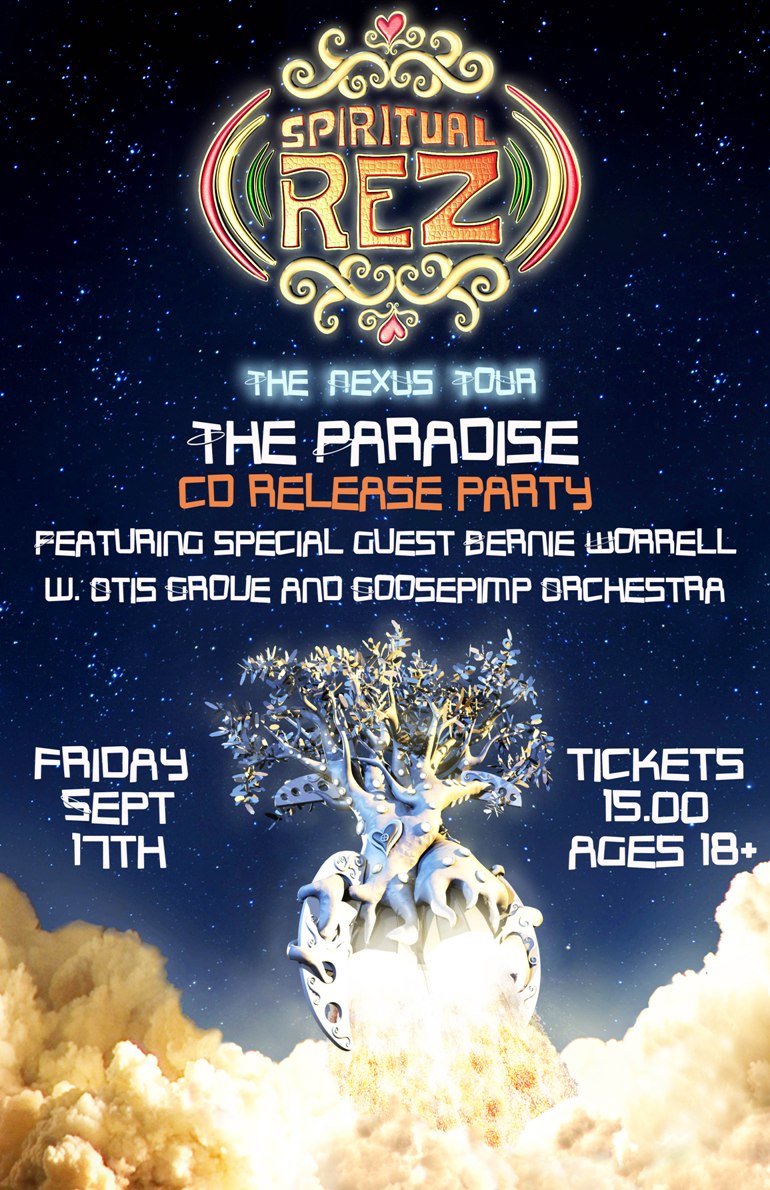 Winners of the 2007 Boston Music Award for Best World Music Act and Alumni of the prestigious Berklee College of Music, the band provides a fresh blend of Reggae, Funk, Afrobeat and Rock to give one of the most energetic live shows around.
The band's newest release, The Nexus, is a winning combination of the group's positive songwriting, energy-filled live performances and their heavily inspired roots-reggae sound. "Alone Again", showcases the group's ability to create infectious grooves mixed with bright horn lines and searing guitar, all while giving a nod to the influences of an earlier, gentler, Wailers sound.  The powerful, "Rollin' Dutches", captures the band's Ska-punk roots with tight changes and quick-lipped lyrics. The albums closing cut,  "More Than I Am", brings everything all together.  The bands positive grasp on life shines through in Toft Willingham and Van Gordon Martin's lyrics as the rest of the group holds it down.  The dueling patterns of guitar and horns are very tasteful and the ending crescendo reels in the listener, leaving them wanting more.
What really shines about The Nexus, is how the band's lively stage performance and organic musicianship is captured in the studio.  The Sweat-inducing, body-shaking grooves that are created every night on tour, are recreated and mixed with expertise.  This allowed the band to formulate, The Nexus, into an emotion filled experience that really punctuates the being of Spiritual Rez.
There's no stopping Spiritual Rez!  After years of touring the country, performing at prestigious events (Bear Creek Music Festival, Camp Bisco and The Lake Eden Arts Festival) and promoting an uplifting mix of music and attitude, the band has been fortunate to share the stage with many of their influences.  These include George Clinton and Parliament Funkadelic, Toots and The Maytals, Steel Pulse and Bernie Worrell (Funkadelic original member, Talking Heads), who has often been a featured member. These experiences have given Spiritual Rez the ability to hone their sound and songwriting, but also share their take on reggae and funk with some of the biggest innovators of those genres.
The Boston-based band has been described by Skipper's Smokehouse (Tampa, FL) as having "the ferocious live energy and bombast of the Red Hot Chili Peppers and PFunk, to their own blending of chill island grooves with raucous urban tribal vibes."
Their live experience continues to leave a trail of worn-out dancers as Spiritual Rez is now recognized as a band with "a higher consciousness of respect and energy through music" and will continue to grow in the hearts of music fans across the globe.
Check out Spiritual Rez with special guest Bernie Worrell on Friday, September 17th, 2010 at The Paradise Rock Club & Lounge.