Colorado favorites and jam band veterans Michael Travis and Jason Hann spearheaded their second headlining performance at Denver's nationally renowned Fillmore Auditorium on Saturday night, bringing their Cirque De Bass along with them. To me, the ability to play the Fillmore and Red Rocks adds up to 2/3rds of the Colorado Triple Crown when it comes to live music. The dance party featured support acts Desert Dwellers, Quixotic Fusion, and the slam duo of Dirtyphonics. If sensory overload is your thing, all of the acts delivered, turning heads with a laser light extravaganza mapped out with heavy bottom-end bass.
The bus was packed on the way to Denver. Stop after stop winter warriors filed on and paid the fare. There was traffic on a Saturday, and the windows were frozen with no visibility. The University of Colorado Buffaloes had upset a perennial basketball powerhouse in the Kansas Jayhawks on a buzzer beating three pointer just hours before, and the court rushing spectacle left the front range commuters inching along ice slicked roads. Did I mention the single digit temperature that dropped faster than the pace of traffic?
A toe-freezing walk from Market Street to the Knew Conscious Gallery was sprinkled with college colors and Santa Clause costumes, both naughty and nice. A media mixer hosted by the fine folks at Tsunami Publicity and marketing, with beer and spirits provided by Breckenridge Brewery, set the tone for the evening. The gallery space was filled with Jay Blakesberg concert photos and electric glowing creations. It
was a fresh setting to interact with local Denver journalists, musicians, and members of audio-visual maestros Quixotic. EOTO's own Jason Hann even made an appearance; taking time to hang out, have a beer, and more than willingly answer any questions. There's a host of creative minds along the Colorado Front Range, and there were quite a few on display at this aesthetically appetizing glimpse into how Denver does it different.
The frosty Colfax strip that includes The Ogden Theatre, The Fillmore Auditorium, and Grateful Dead themed-bar Sancho's Broken Arrow was alive with corduroy, dreadlocks, short skirts and glowsticks. There was a good mix of EDM and jam band fans filtering inside. The roller skating rink turned dance floor glowed under the signature purple lit chandeliers and was soon rumbling with industrial bass.
Quixotic was warming the room with a violin-led march into the strange and surreal. Their violinist and aerial dancer, both out of Kansas City, had given me a verbal glimpse into their psychedelic set earlier in the night, and seeing them carry out the electronic ballet was reminiscent of Beats Antique. They're mixed media in the most creative sense, fusing live and recorded music with a nod to theatrics.
French natives Dirtyphonics brought their raw beats to the table for a set that focused solely on the music. Their head banging bass remixes were nasty and the duo bounced over their computers with each buildup before unleashing a flurry of booty shaking breakdowns. Their most memorable moment came when they sampled the White Stripes' "Seven Nation Army," a song nearly everybody in the crowd recognized judging by the enthusiasm.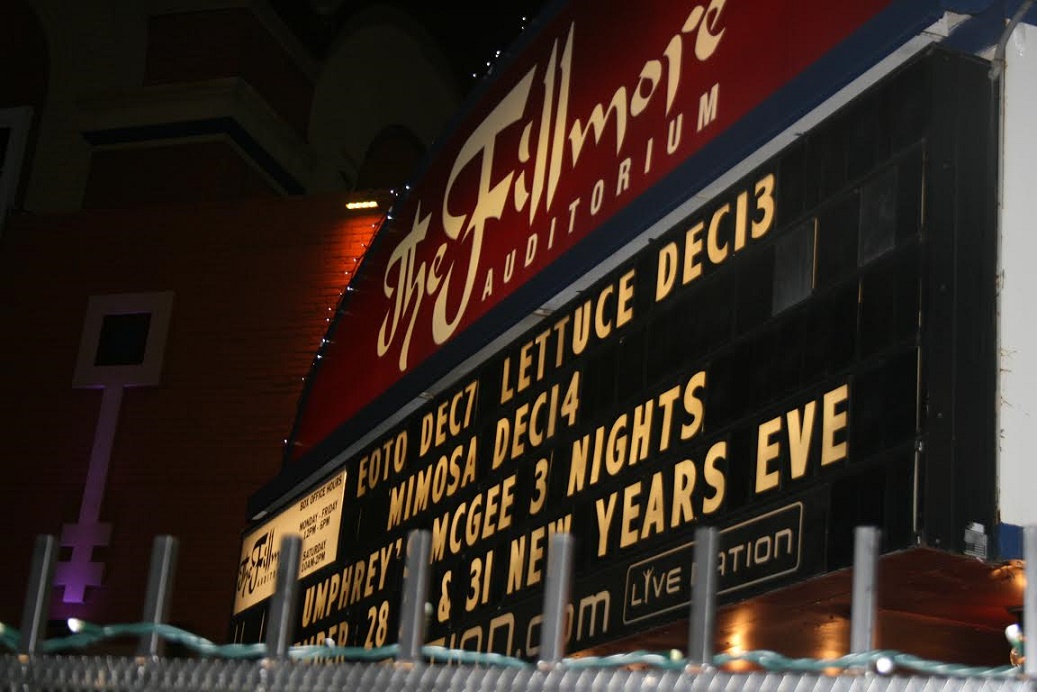 The production crew swiftly assembled EOTO's now well-known lotus flower. With both Michael and Jason playing within the visually interactive set piece and a plethora of lasers soaring over the audience, you'd almost think there was enough going on. Think again. The massive projector screen behind them was set to come alive with fantastical shimmering prisms. EOTO has become as well regarded for their innate sense of blending lights with audio mapping, triggering explosions of charismatic lasers that slither and sway across the room.
If the many branches of EDM aren't your thing, there's still plenty to salivate over at an EOTO show. The fact that the music at each show is created in real-time with no pre-recorded samples keeps things fresh. Travis made sure to call attention to the in-the-moment spontaneity that they approach each show with, and just like that, the lotus flower, lasers, and screen came to life. Since there are no pre-recorded songs to choose from, the images on the lotus flower and backdrop shift with each foray into new audible territory. At one point the flower was thick with large green leaves, and later characterized by a chomping wide mouth with razor sharp teeth.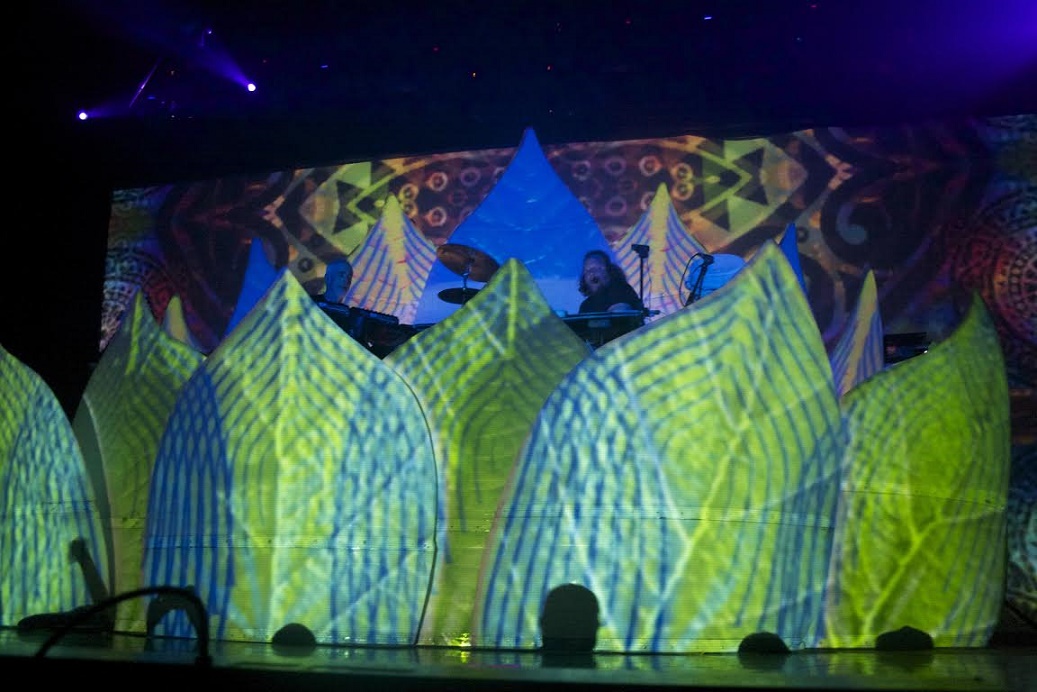 The String Cheese Incident's drummer Michael Travis, and percussionist Jason Hann, had all of their instruments and experimental sounds at their fingertips. Hann plays a modified drum kit, rapping into his voice-morphing headset while Travis plays bass, guitar, and key parts. They loop these sounds through their computers and craft the sort of tracks DJ's produce, yet on the spot. To EOTO, computers are allies, but not everything. The band themselves best explain the wizardry behind it in this video.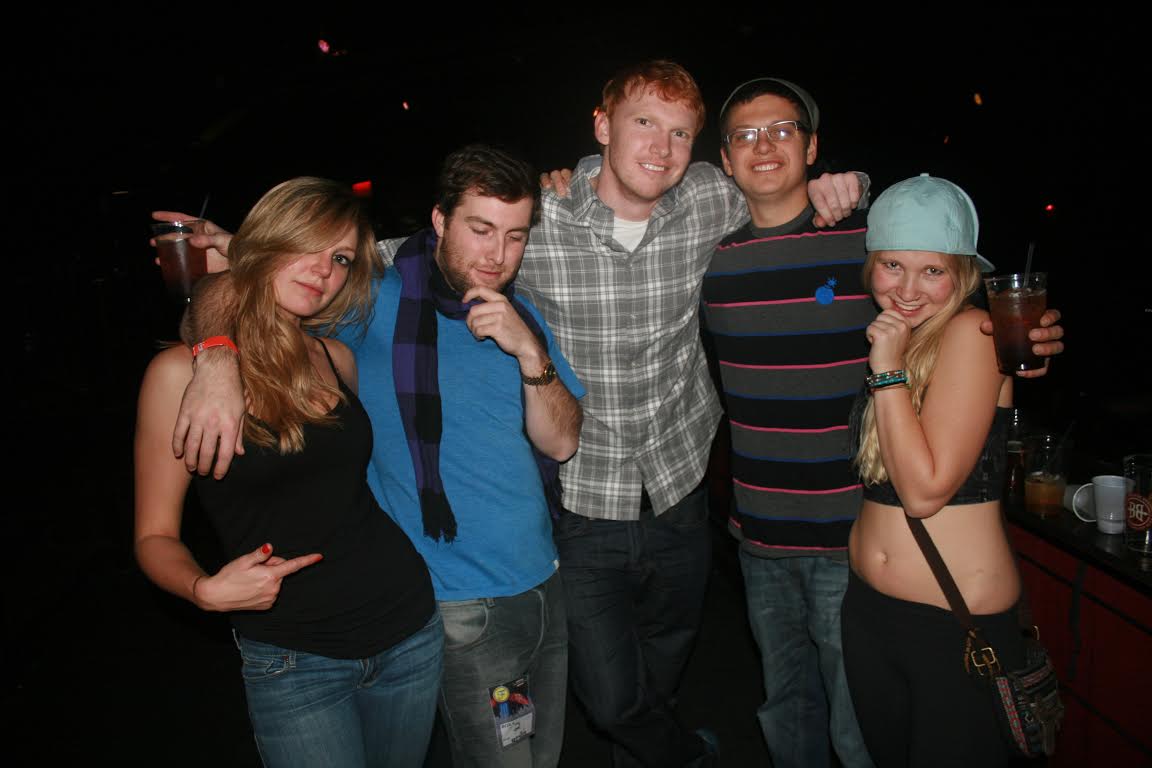 The improvised dubstep that reverberated around the Fillmore was at times up-tempo, and as some areas became a bit more downtrodden, so would the visual environment surrounding them. As the bass wobbled, so did the lasers fanning out across the crowd. The duel mad scientists have emphasized an invigorating concept of one hundred percent in the moment music, and that's what separates their show from the rest.