Euforquestra Celebrates 10 Years with Midwest & Colorado Tour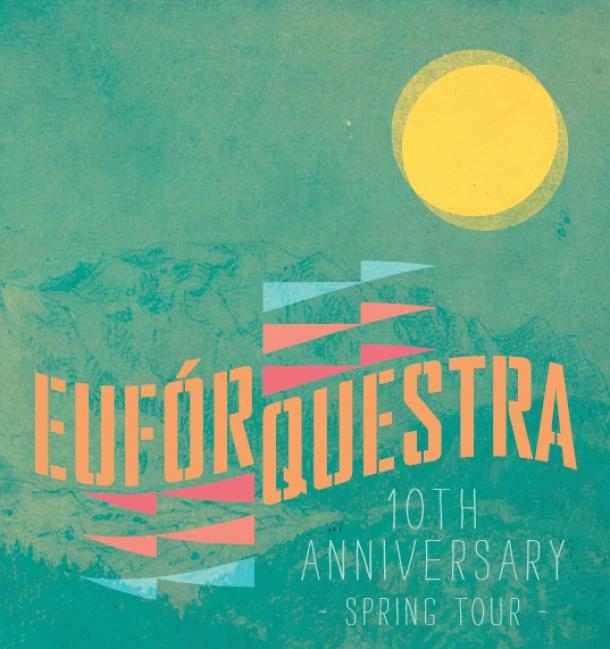 Euforquestra celebrates 10 years of making music and making people dance by returning to the Midwest, where it all began. The band's first show ever took place at The Green Room in Iowa City, IA, on April 20, 2003. On this 10th anniversary, Eufórquestra hits Gabe's in Iowa City on April 19 and Wooly's in Des Moines on April 20, among other Midwest stops, then return to Colorado to join SOJA at The Ogden Theatre in Denver and closing out the spring at Hodi's Half Note in Fort Collins. Before Eufórquestra heads east, they join Dumpstaphunk at The Fox Theatre in Boulder, CO April 11.
Originally from Iowa City, IA, Eufórquestra (pronounced: yoo • FOHR • keh • struh, think Euphoria + Orchestra), relocated to Fort Collins, CO in August 2008 and made a huge splash on the Colorado music scene. Eufórquestra has spread its unique, rhythmic blend of sound nationwide, integrating such genres as Afrobeat, Reggae, Funk, Soukous, Soca, and Dub. Eufórquestra's music is igniting dance floors across the country, with a sound that "explodes, dances and melts in your ear with sheer bliss" (Chris M. Slawecki - AllAboutJazz.com).
In October 2009, the band released their third studio album, Soup, a collection of 11 tracks that captures the band at new heights in terms of songwriting, energy and production. In an effort to spread the album far and wide as an independent artist, the band decided to give the album away for free online at www.euforquestra.com. With nearly 10,000 downloads since the album's release, the word is spreading globally.
With three full length albums, a live album and a relentless tour schedule of over 100 shows per year, Eufórquestra has created a presence on the national scene, performing all over the U.S. at clubs, concert halls, community events, and festivals, such as Wakarusa, Summer Camp, Electric Forest, 80/35 (Des Moines, IA), Sweet Pea Festival (Bozeman, MT), NedFest (Nederland, CO), Camp Barefoot (Bartow, WV) and Iowa City Jazz Festival.  In addition, Eufórquestra hosts their own festival, Camp Euforia, every year in July, just outside of Iowa City, in Lone Tree, IA.
Spring Tour 2012
04.11 Fox Theater | Boulder, CO –w/Dumpstaphunk
04.18 The Slowdown | Omaha, NE –w/Blue Martian Tribe
04.19 Gabe's | Iowa City, IA - 10th Anniversary Party!!
04.20 Wooly's | Des Moines, IA - 10th Anniversary Party!
04.21 Mahoney's Pub | Cedar Rapids, IA
04.24 Redstone Room | Davenport, IA
04.25 The Frequency | Madison, WI
04.26 The Miramar Theatre | Milwaukee, WI
04.27 Abbey Pub | Chicago, IL
04.28 The HuB | Cedar Falls, IA
05.03 Ogden Theatre | Denver, CO
05.04 Hodi's Half Note | Fort Collins, CO
05.24 Festi di Bella Mente | Clarks Grove, MN