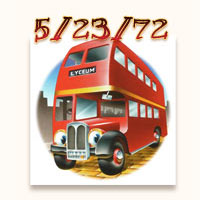 Hop on the double-decker bus for the last but most certainly not the least in the Dead's ongoing breakout series - four magical London shows recorded at the intimate 2,500-seat Lyceum venue.
The band began its final run of shows on the tour in London with a bang, sharing the stage with opening act and good friends the New Riders of the Purple Sage. Just like the previous show in Munich, this show's big second set highlight was a "Dark Star>Morning Dew." The show also featured the first version by the Grateful Dead of "Rockin' Pneumonia" and the "Boogie Woogie Flu."
In typical Europe '72 fashion, if it was "Dark Star" one night, it was "The Other One" the next (usually). And this "Other One" is up with the best of the tour. The second of the tour's two "Rockin' Pneumonias" was played this night, as well as the last-ever Pigpen-sung version of "Lovelight".
The second set jam this night is unique both in terms of the tour and the greater Grateful Dead history, featuring three Garcia-sung songs in a row: "Uncle John's Band>Wharf Rat>Dark Star." All three are top notch, and "Wharf Rat" was quite a rarity on this tour, making 5/25/72 an extra special show.
The last night. Exhausted and ready to go home, the band still brought their A-game and played what many consider to be one of the top two or three shows on the tour. A 19-song first set(!) ended with the usual second set closer "Not Fade Away>GDTRFB>Not Fade Away," and also included a 17-minute "Playing In The Band." The second set is so good that it was immortalized on Side 5 and Side 6 of the Europe '72 album. What that album is missing from this jam, though, is a terrific "Other One" around the "Morning Dew," and the finest (and totally appropriate) "Sing Me Back Home" of the tour.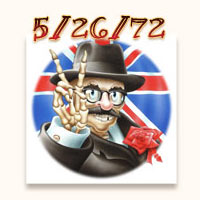 You can find all of the Europe '72 single shows, exclusive limited-edition t-shirts, prints and more in our Europe '72 Shop.