A semi-circle of six acoustic guitars with a microphone in the center shone down on by natural, uncolored stage lights faced the crowd. Show-goers enthusiastically bantered in anticipation and sipped their drinks.
Chicago singer/songwriter and front-man for the modern-day legends Wilco, Jeff Tweedy was about to take the stage for night two of a solo acoustic performance commemorating the 75th anniversary of the Boulder Theater.
Both shows sold out in about three minutes as Tweedy fans know not to dick-around in order to secure a ticket.
After an interesting set by Albuquerque-based Handsome Family, the houselights faded and Tweedy took to the stage. With disheveled hair and the harmonica head gear harness, he came out, selected an axe from his quiver and opened with "Sunken Treasure" off Wilco's 1996 album Being There.
"There's rows and rows of houses, with windows painted blue/With the light from the TV running parallel to you/But there is no sunken treasure, rumored to be/Wrapped inside my ribs in a sea black with ink/I am so out of tune with you, I am so out of tune with you," "Perfect," I thought, although that last line was a lie. Tweedy could not have been more in tune with the entirely seated and attentive Boulder audience.
Next came a "Remember the Mountain Bed," a song penned by Woody Guthrie and later recorded by Wilco and Billy Bragg, followed by "Wait Up," "How to Fight Loneliness," and "I'll Fight."
"Thank you very much," said Tweedy. "I can tell already that you are so much better than last night's audience," he joked.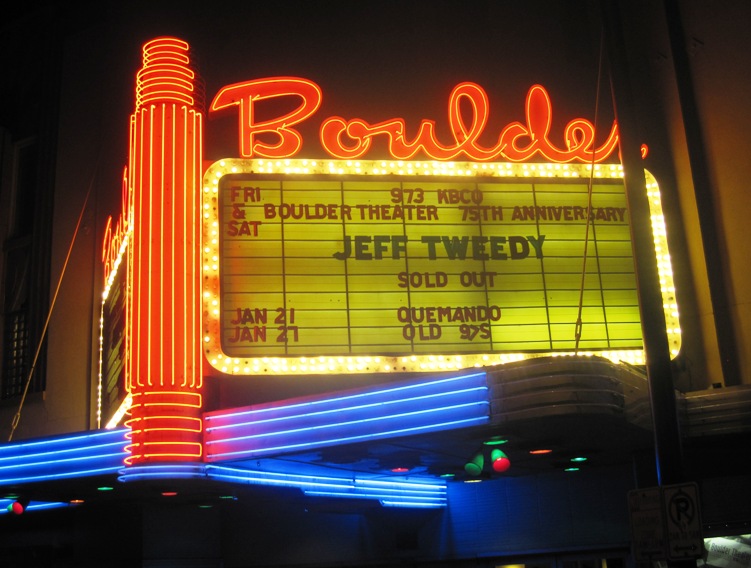 I have seen Wilco live several times, but this was my first solo Tweedy show. It was nice to hear stripped-down versions of some of the Wilco catalog live, as I would imagine a lot of them were originally conceived on acoustic guitar. I've got some of his solo shows on my IPod, but being there, nine rows off the stage, cannot begin to be matched by MP3s. Even without the sonic landscapes that exist when he's playing with his whole band, Tweedy's robust vocals and expert command of his instrument filled the space just the same.
"Springtime comes and the leaves are back on the trees again/Snipers are harder to see my friends/Weeding out the weekends," he sang ("Not For the Season"), and rolled into "You and I," then donned the harmonica for a solid "She's a Jar," followed by "Either Way," and "Summerteeth," clearing up any doubt that Tweedy is one of the most precious masters of lyric and song of our generation.
"Boulder sucks," someone yelled out, provoking the performer.
"It's pretty hard to suck when you have mountains and pot's legal," he offered, "at least if you're having a bad day you can get high and look at the mountains." The beauty of the evening's songs was complimented by the personable humorous exchange between artist and audience.
He continued, "Everyone in Boulder has a dog. I went to the top of Mount Sanitas today," referring to a popular hike in Boulder. "I must have seen 7,000 dogs. They were nice. They were high. Even the dogs in Boulder smoke pot."
The set was rounded out with a pertinent "I Must Be High," followed by three of my all time favorites: "Theologians," "Forget the Flowers," and "Passenger Side."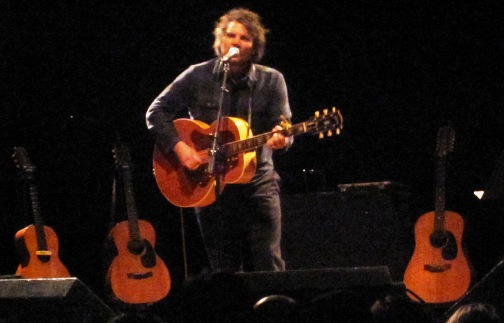 If Tweedy had decided to call it a night and head back to his hotel at this point, I don't think anyone would have had much of a problem with that. However, we were granted the bonus round, and treated to an encore of "Red Eyed and Blue," "I Got You (At the End of the Century)," and just when everything already seemed in it's right place in the universe, a sensational cover of Radiohead's "Fake Plastic Trees," of which Tweedy remarked "I tried," referring to his imitation of Thom Yorke's falsetto vocals.
"Thank you very much, it was a pleasure being here tonight," he concluded, walked ten steps to stage right, and was handed and unwired acoustic guitar by his tech. "Have mercy," I thought giddily, as Tweedy walked past his microphone stand, to the edge of the stage, and treated us to a lullaby of "Dreamer in my Dreams."