Everyone Orchestra FREE Show in Denver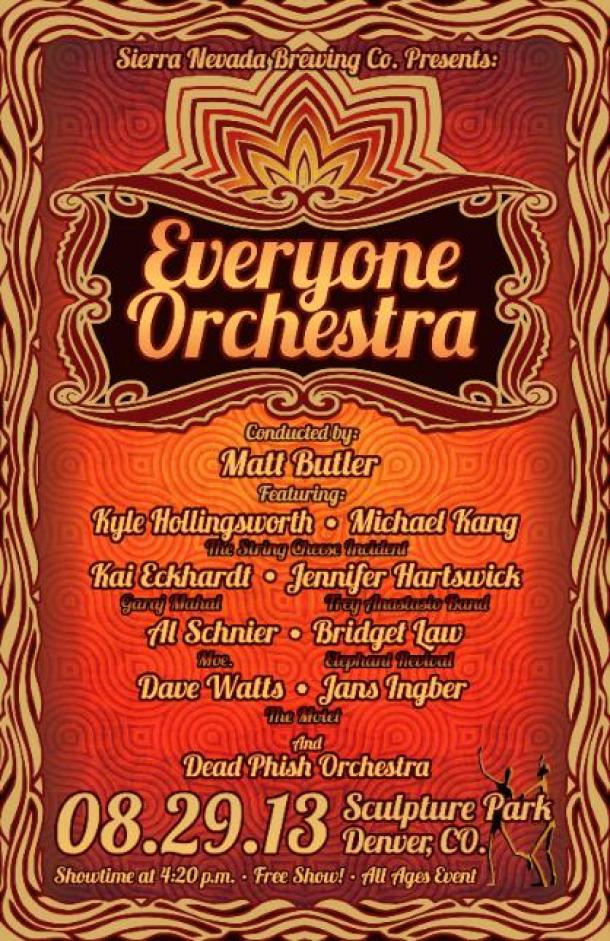 The Everyone Orchestra and Sierra Nevada Brewing Co. are pleased to announce a FREE show in Denver's Sculpture Park on August 29th.   The lineup for this show will feature: Kyle Hollingsworth and Michael Kang (String Cheese Incident), Kai Eckhardt (Garaj Mahal), Jennifer Hartswick (Trey Anastasio Band), Al Schnier (Moe.), Bridget Law (Elephant Revival), Dave Watts and Jans Ingber (The Motet), and as always, conducted by Matt Butler.
The Colorado based Dead Phish Orchestra will open. What better way to kick off 3 days of Phish, than a free show by this stellar lineup!
THE EVERYONE ORCHESTRA conductor/founder Matt Butler has taken its participants, both on stage and off, on improvisational journeys with the most diverse of lineups at festivals, theaters and philanthropic events both nationally and internationally. A laundry list of hundreds of musicians, dancers, singers, guest conductors and community organizations have embraced the experience of EO in single shots of musical adrenaline to the soul. Tuning in to his energy, the band and audience utilize The Conductor as their pivot to the set mood of each passing jam as he communicates with the musicians using hand signs, whiteboard and assorted mime suggestions.