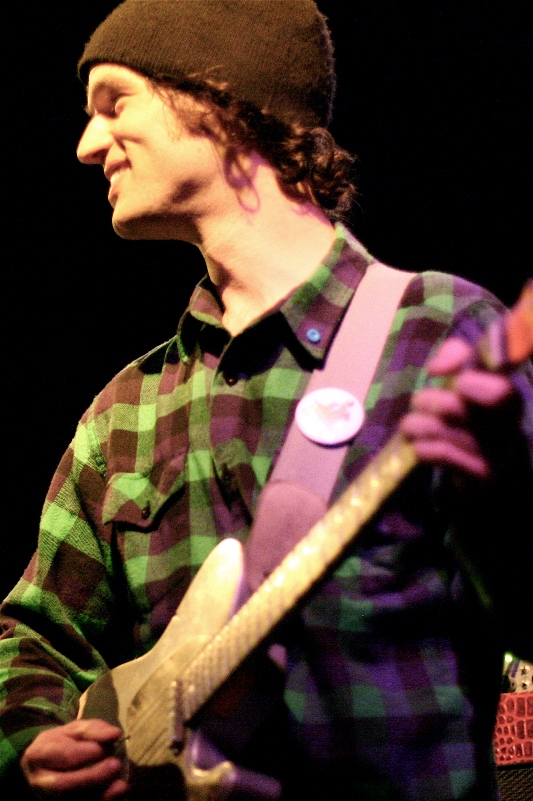 For lovers of atypical instrumental rock derivatives, there may be no sweeter words than Toubab Krewe. What's a Toubab Krewe, you ask? Good question! For starters, Toubab Krewe is a band, five guys who make some of the grooviest music you've ever (or maybe never) heard. The only term that really sticks with any consistency is instrumental, since, as the word implies, they only play instruments sans vocals. Other than that, they are a really tough act to peg. Psychic-Afro-dub-rock comes to mind as a possibility, but somehow even that doesn't do the Toubab Krewe justice.
West African stringed instruments (the kora and kamelengoni) and percussion meld with rock and roll standards, guitar, drums, and bass, hence the "Afro" and "rock" in psychic-Afro-dub-rock. The dub part is a no-brainer; the bass is low, funky, dancy, and dank. The psychic part is a little harder to explain. Emotionally and energetically dynamic, complete with all the ups and downs of an all night party, at times psychedelic, and something of a beautiful mind-fuck, Toubab Krewe is out there, way out there. Theirs is the kind of exceptional music that gets inside your body and mind and sticks. I heard them once, and I was hooked.
The first time was 2 or 3 years ago, at the Festival of the Mabon in Lyons, CO. I bought a CD, listened to it a few hundred times, and never really heard from them again, although I'm told they've been on the move pretty much all the time since then. Last Thursday night, the Toubab Krewe came back to Colorado to play at the B.side Lounge in Boulder. Arrangements were made for an interview, and at around 7:30 I poked my nose in at the B.side to talk with guitarist Drew Heller. He wasn't there, and he wasn't picking up the phone. Fortunately I had the number of the band's tour manager, and he told me to head over to Hapa Sushi, where he was eating with strings man Justin Perkins and percussionist Luke Quaranta. At least I thought he said Hapa Sushi.
Surprise, surprise, the cheapest sushi place in town was packed. And no band neither. It turned out that he'd said Kasa, a newer sushi establishment about 5 blocks in the opposite direction. Two-thirds of the Krewe was there, and after inviting me to stay, Luke and Justin told me, among other things, what it's like to play at the world's most remote music festival. A few minutes into it, my pocket buzzed. It was Drew Heller, the absent guitarist. After Justin, Jake and I were done, I walked back up the street to Sushi Zanmai, where Drew and a guy I would later see working the merch table were just finishing dinner. Over two shots of espresso, Drew and I talked about integrating American lead guitar into West African influenced music, and the road that took Drew and the band to West Africa and back several times to learn first hand the music that inspired them.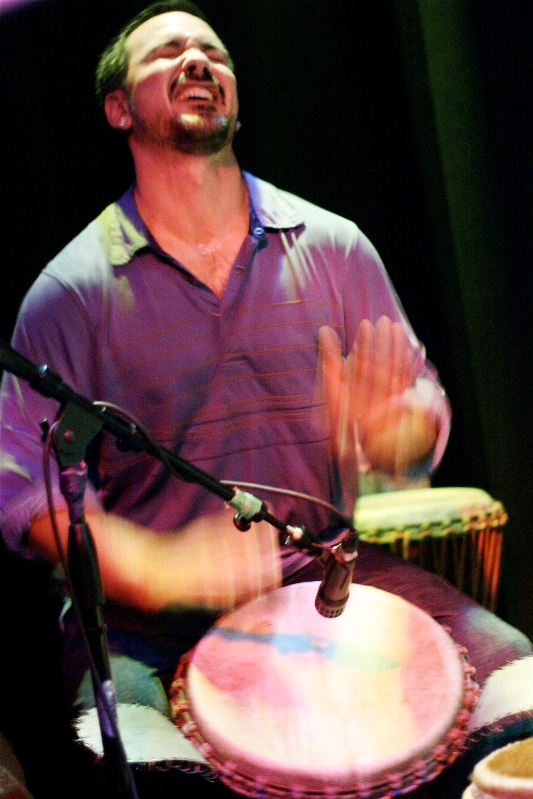 Before I hit the B.Side Lounge, I decided that I too need sushi to fuel my escapades, so I quickly hoofed it up the street to Sushi Tora for mackerel with ginger and spicy salmon rolls. Oh, and miso soup. It was starting to get damn cold outside.
On Thursday night, Ashville, NC and Essakane, Mali fused in Boulder, CO, with a little Southern California, a little Seattle, WA, and a little Havana, Cuba thrown in for spice. Toubab Krewe came on strong, buzzing right out of the box. They played old stuff and new stuff, including a bunch off the new album Live at the Orange Peel, recorded almost a year ago in the Krewe's hometown. This is a band that is best experienced in person, so it's no real surprise that the new album was recorded in the way the Toubab Krewe does best. And man, do they do it good!
The Krewe is a tight-knit group, some of whom have been playing together since childhood, and the continued camaraderie between the band members surely contributes to the on stage synergy. The effect is exciting, a fine-tuned musical organism with all bodily systems functioning in organic synchrony. Nobody misses a beat. Eyes are sometimes open, sometime closed, in the crowd and in the band. It's not really the sort of music you need to actually see with your eyes anyway. Once you're at the venue, visual contact is not important like it is with some bands, and the rich sonic landscape stands completely on its own.
The Toubab Krewe had the crowd hopping, a good time free for all where people you've never met come up to talk to you just because the mood struck them. In the middle of their first set, they got a little slower, more meditative, smooth and creamy even, before revving up again for a towering finish. The guys went off stage for about a half hour before Drew came back out and taped a new setlist to the floor. "Re-write" he said to me, and picked up the guitar (which, incidentally, bore a "Thereminists for Obama" button), while the rest of the band walked on stage. They played another huge set of music, feeding off the rising tide of midnight energy in the room. Dave Watt of Boulder band The Motet came out and banged the hand drums for a song, too.
After another long set, and another rocked up climax, the Toubab Krewe departed once again, but the crowd didn't want to let them go. After a minute or two, they came back out and played an encore, picking right back up on the plateau they'd reached before they left. When the lights and house stereo came on at the end, the crowd was reluctant to leave. But this time, the Toubab Krewe was really gone. I left the back room stage on a clowd, emerging into the B.side proper where the feeble-volumed dance music playing seemed the cruelest letdown ever compared with what I left behind.
Stay tuned to the Grateful Web to read my interviews with Justin Perkins, Luke Quaranta, and Drew Heller, as well as my review of the band's new album.
To see some more pictures, including yours maybe, please visit the gallery.