Free Download From Ben Harper, "Rock N' Roll Is Free"
Submitted by mike on Thu, 03/31/2011 - 19:18
Beginning today, Ben Harper will be giving away a free download of
"Rock N' Roll Is Free"
at his website for a limited time. The track, which was Starbucks' "Pick of the Week" last week, is the first single from his upcoming album, Give Till It's Gone. The commercial single, video and ringtone for "Rock N' Roll Is Free" will be available at all digital retailers beginning April 5
th
. Give Till It's Gone, due out on May 17
th
on Virgin Records, was recently spotlighted in
Rolling Stone's Spring Music Preview
.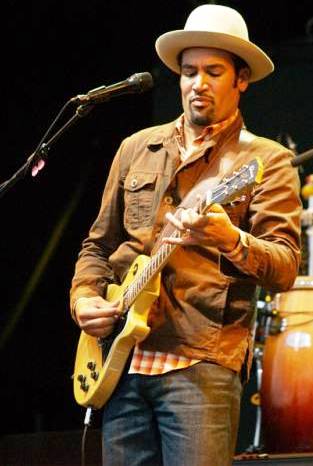 The songs on Give Till It's Gone – Harper's first solo record since 2006's Both Sides of the Gun – are nothing less than a revelation, expressing one man's struggle, confusion and, ultimately, redemption. Harper has never been afraid to dig deep into his emotions for his songs, but there's a sense of maturity and experience on Give Till It's Gone that add new weight to his efforts. Most of the album was recorded at the Los Angeles studio of Jackson Browne, who harmonizes with him on the wistful "Pray That Our Love Sees The Dawn." The album also features Ringo Starr on two tracks. "Spilling Faith" and "Get There From Here" were co- written in the studio with the legendary drummer. The pre-order for Give Till It's Gone is underway now at iTunes.
Harper made his debut in 1994 with Welcome to the Cruel World, which was subsequently certified Gold. In 2005, he received GRAMMY awards for "Best Pop Instrumental Performance" for his single "11th Commandment" and for "Best Traditional Soul Gospel Album" for There Will Be A Light, featuring the Blind Boys of Alabama. Harper formed Fistful of Mercy with Dhani Harrison and Joseph Arthur and the trio released the album As I Call You Down in 2010. He will be playing a mixture of headlining shows and festivals this year, including Lollapalooza Chile this Saturday, April 2nd.
See below for itinerary or visit
www.BenHarper.com
. Additional dates will be announced soon.
Tour Dates
4/2 - Santiago, Chile - Lollapalooza Chile
4/21 - Byron Bay, NSW Australia - Bluesfest
4/22 - Byron Bay, NSW Australia - Bluesfest
6/4 - Ozark, AR - Wakarusa Festival
6/5 - Kansas City, MO - Crossroads
6/6 - Denver, CO - Ogden Theatre  SOLD OUT
6/7 - Denver, CO - Ogden Theatre SOLD OUT
6/12 - Fès, Morocco - Festival de Fès
6/30 - Chicago, IL - Vic
7/2 - Sioux City, OA - Saturday in the Park
7/3 - Milwaukee, WI - Summerfest
7/5 - Toronto, ON - The Sound Academy
7/16 - Aix les Bains, France - Festival Musilac
7/18 - Lucca, Italy - Piazza Napoleone
7/19 - Rome, Italy - Fiesta Ippodromo delle Capannelle
7/20 - Milan, Italy - Arena Civica
7/22 - Nimes, France - Festival de Nimes
7/25 - St. Malo Du Bois - Festival de Poupet
7/28 - Lucerne, Switzerland - Swiss Blues Festival
7/29 - Tarvisio, Italy - Piazza Unita
7/30 - Verona, Italy - Castello Scaligero di Villafranca
8/5 - Avenches, Switzerland - Rock Oz Arènes
8/6 - Colmar, France - Festival Foire aux Vins d'Alsace
8/7 - Dranouter, Belgium - Dranouter Festival