It was an illustrious night to be in the mountains of Bellvue, CO at one of the most beautiful venues in the country, Mishawaka Amphitheatre. How much more perfect could the setting be? It was a full moon on Friday the 13th, and the magic in the air was palpable. Every band loves to play at this venue that was recently reinvented, and moe. came to town on a mission not only to promote and spread the sounds of their new album No Guts No Glory, but they came to kick ass and take names on a heavy dose of playing while in Colorado. As always, there was a fun weekend ahead of single shows, festival appearances, and sits ins at after parties.
The show opened with a song off of the new album called "Downward Facing Dog," written by one of the band's two didactic guitarists, Al Schnier. Most of the moerons (an endearing term for moe fans) were not that pleased with that choice of opening songs, but fans need to understand that these long weekends are marathons, not sprints. After another fairly rare and new song, "Deep This Time," off of Sticks and Stones, the band played "It," written by their other guitar virtuoso Chuck Garvey, which gave the crowd just enough time to let their favors place them in the mystic realm that allowed them to fully enjoy the killer run of songs that were next.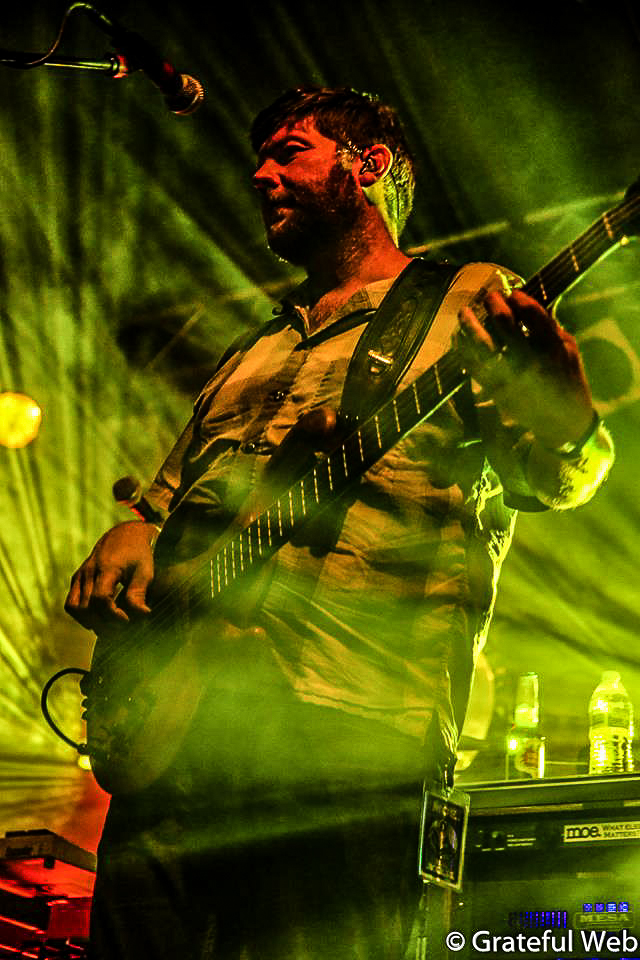 After "So Long," moe. played "Yodelittle > The Bones of Lazarus > Yodelittle," and this commonly sandwiched bread run was definitely one of the highlights of the night for me. "The Bones of Lazarus" always induces deep colored lights with an atmosphere of intensity and darkness, but for some reason, I love it. It is a fairly rare song to catch, and this is a newer version that was altered for their album "What Happened to the La Las." The Frank Zappa esque xylophone led "Zed Naught Z" ended the first set of moe.'s 2014 Colorado run with a zing of progressive rock jam music.
The second stanza opened with "Smoke," which has only been played one other time in Colorado, and it was followed by one of my favorite moe. songs, "Moth." I first started seeing moe in 1996, so hearing "Moth" was a breath of fresh air for me. I love reliving those early east coast jam band memories of seeing them at the TLA in Philadelphia or the Wetlands in NYC. "Opium" and "Darkness" kept up with the Friday the 13th full moon theme of the evening.
The brand new "Same Old Story," which has only been played eight times captivated long time moerons while fairly rare "Runaway Overlude" and "She" concluded a quality unique show. But, the best was yet to come because the encore "Bearsong" was electric. This "woooooo" infested rocker had the crowd dancing hard into the light of the round moon. We sounded like wolves howling at the moon, and we felt like animals on this mountainous special evening full of friendship, dancing, and our earth's magical pagan rooted attributes. This was a great way to start a run into the LoHi Music Festival where moe. headlined and the Everyone Orchestra after party at Cervantes Masterpiece Ballroom with Al Schnier and drummer Vinnie Amico. This is just another example of the top notch live music options that the great state of Colorado provides.