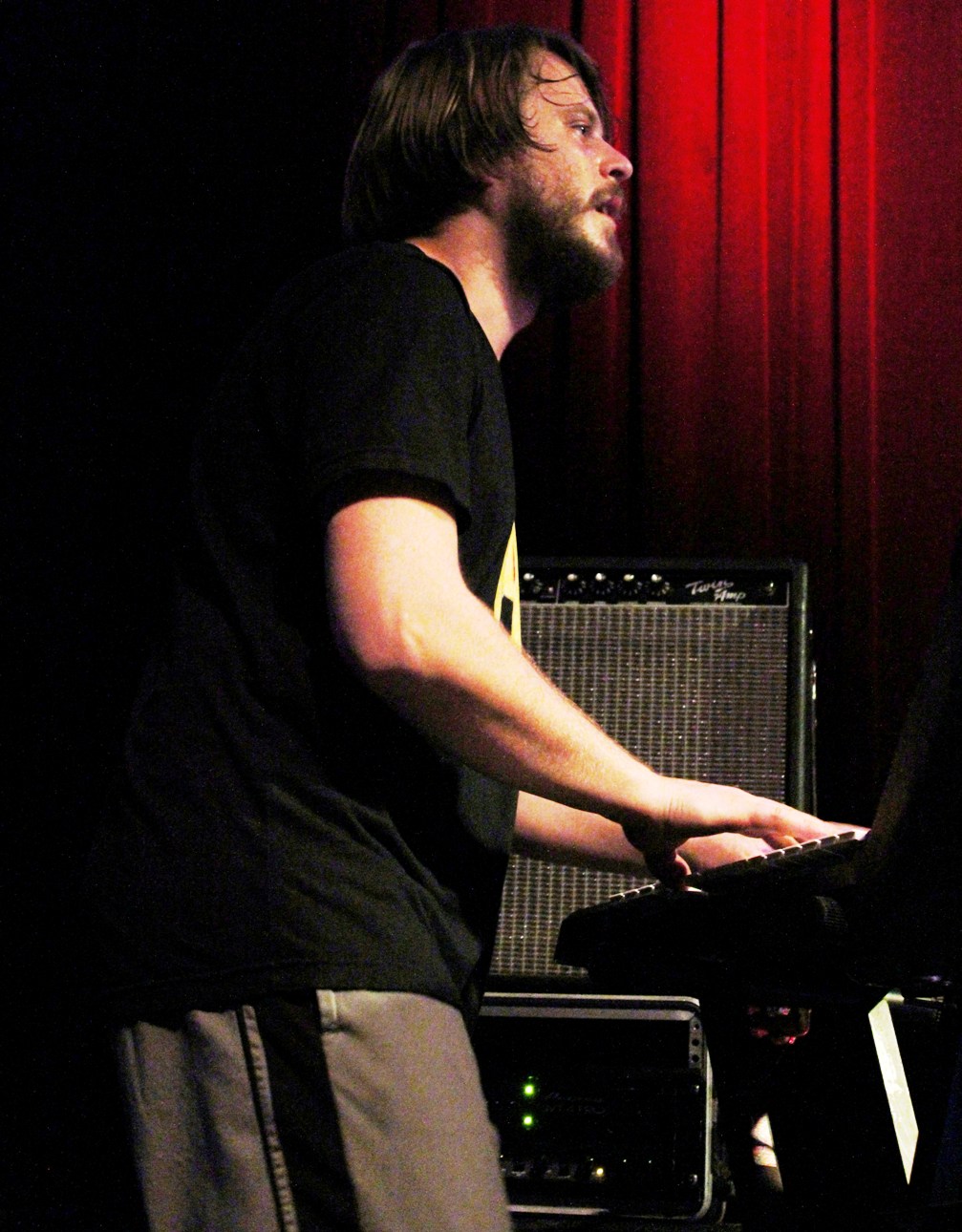 When someone uses the term "fusion" regarding jazz, a spring-loaded thought process proceeds. Maybe it leads to thoughts of French violin composer Jean Luc Ponty's experiments in the late 60s. Perhaps someone would think of the Miles Davis family of music, most directly In A Silent Way or Bitches Brew. Maybe another person would think of the "rock" fusion outlets of the 70s. Jeff Beck, Steely Dan, Yes, or Pat Metheney. Point being, it is usually a time oriented associated attributed to the changing music of the late 1960s into the 1970s. To me, some of the finest musicians in the fusion family emerged in the 1990s. And no, I'm not talking about Phish or the Disco Biscuits. The 1990s saw bluegrass being integrated into jazz-fusion, with bands such as Bela Fleck and the Flecktones and Strength in Numbers. On other ends of the spectrum, the New Orleans Jazz scene was buzzing with never-ending talented collaborations and jam sessions. Happenings that would never tour and you couldn't see elsewhere. Out of this mentality came the ultimate in new-wave fusion, the jam-collaboration turned legitimate band Garage A Trios.
The impromptu 1999 jam that brought together Stanton Moore (drummer of funk out-fit Galactic), Skerik (saxophone extraordinaire), Mike Dillon (Claypool Band Regular, vibes and percussion mad-man), and Charlie Hunter (jazz guitar ace) turned into a full-blown project that challenged and changed the meanings of both "jazz" and "punk". Both styles again come with loaded conceptions, but what Garage A Trios did was take the attitude and energetic drive of punk and applied it to compositional greatness. The band has been solidly touring through the 2000s, playing at the largest festivals to the coolest jazz dives. In 2007, Hunter dropped from the Quartet to focus exclusively on his solo career. To no loss of the band, they quickly picked up the likes of keyboard extraordinaire Marco Benevento who had quite the following through his and Joe Russo's The Duo. Now with two albums under the belt with the Benevento lineup, including the brand new "Always Be Happy, But Stay Evil", the band embarked on a Winter Tour, which stopped in my neck of the woods at Boulder's Fox Theatre.
With most of the college students having traveled to their respective places of origin for "holiday" break, the locals crowd was able to keep it real by filling the hall entirely and focusing in on one of the more unique projects to grace the Fox's small stage. When the band enters onstage they're all smiles and ready to rage. All are wearing white t's with a smiley-face graphic which I later found out was the cover art for their new album.
As the quartet launched into their first song, I realized that other than having owned the band's classic 2005 Outre Mer album for a few years, that not only haven't I seem Garage A Trios live yet, but I really was not familiar with too many of their songs. Nonetheless it didn't seem to make too much of a different as the project was something of a spectacle. The music worked itself out a rhythmically led thrash session between four incredible jazzmen. Clichéd but relevant, Frank Zappa's band and their blustering vibes solo's seemed to inspire the style of vibesman Mike Dillion, who during a few particular songs would shout out incompressible (to me, as an extremely casual fan) phrasings. Ah yes, word jazz has worked its way into their sound as well.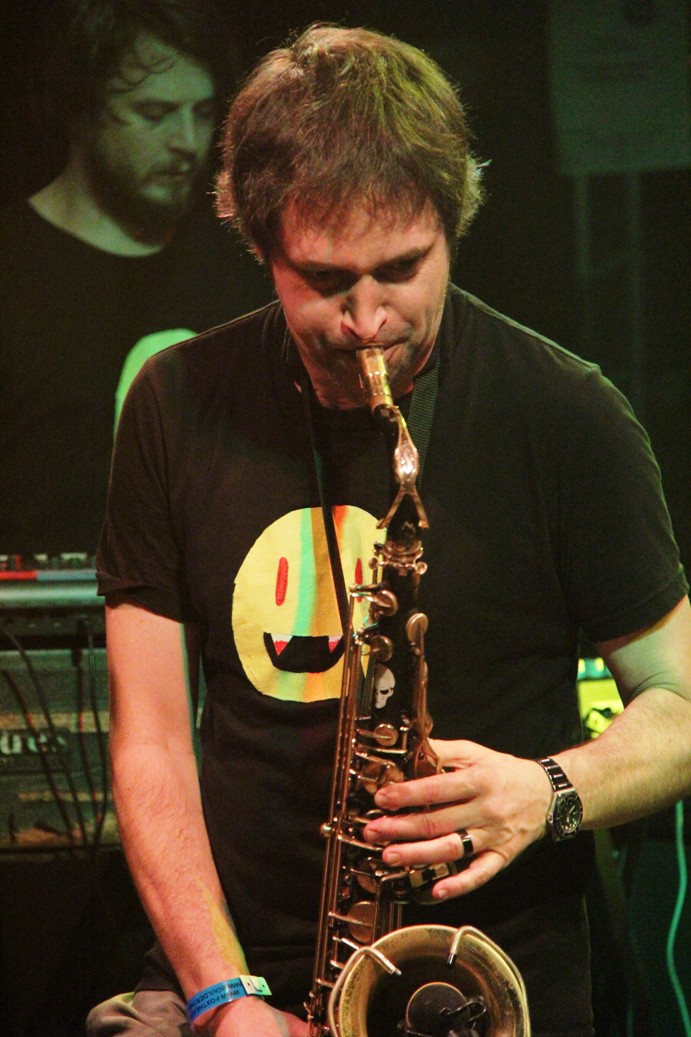 To be honest the only song I did recognize was the title track from the Outre Mer album which they performed extensive instrumental workouts. Not so much a solo off but more of an exchange of musical ideas. Their sound has truly developed well without the presence of a "lead" guitar. And after all, listening back on Charlie Hunter's work with Garage A Trios, he was never playing lead guitar solos. And just like punk is driven by rhythm, so is their band. The audience really seems to dig it too. The dancing seems to be some sort of a head-banging spinner step. Just like any great live jazz band should, they have created a habitat to foster the improvisational spirit.
The quartet played two full sets that night, with a consistently growing Friday night crowd. Stanton Moore's drumming was a driving force for the other three to embrace and challenge. Though these guys have so much background with styles of their own, the collaboration is blissfully disjointed and simply nothing else out there like it exists. Their new album celebrates this sound and if consistent with the material performed that night, would be a great buy for casual or hardcore fan of the band. Garage A Trois played four Colorado dates on their tour. They obviously came to play and bring the spirit of fusion back to live audiences. If you haven't seen them, make it a priority; if you have, keep listening.