The Gaslight Anthem Ogden Theatre, Denver, CO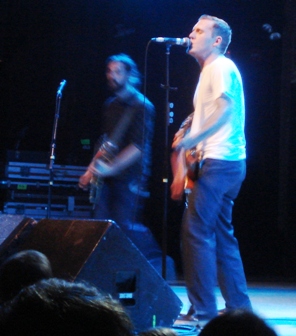 Say hello to the crowd, tell some stories, play a few songs, crack a couple of jokes and say goodnight. The format for a live concert is fairly predictable, even for those who have not attended very many. The Gaslight Anthem's ability to take this simple formula and turn it into something memorable is what separates them from many of the others bands I have seen. The band exuded confidence, charisma and lightheartedness as they tore through their set. It was evident that they thoroughly enjoy playing live together. What impressed me the most was the way they connected with the crowd. They were genuine. I was not just seeing another band go through the motions. This was a band that cared and was real. They laughed and joked around with each other. It was like watching a group of my friends play. It was refreshing to see a band that does not take their fans or popularity for granted.
It is rare that I go to a show and not have any complains. The crowd was electric, the setlist fantastic and the band sounded perfectly gritty. I felt a bit nostalgic as the show reminded me of the hardcore shows of my youth. All in all, The Gaslight Anthem puts on a show that is not to be missed. This is their final tour before the release of their next album, hopefully in early 2010.