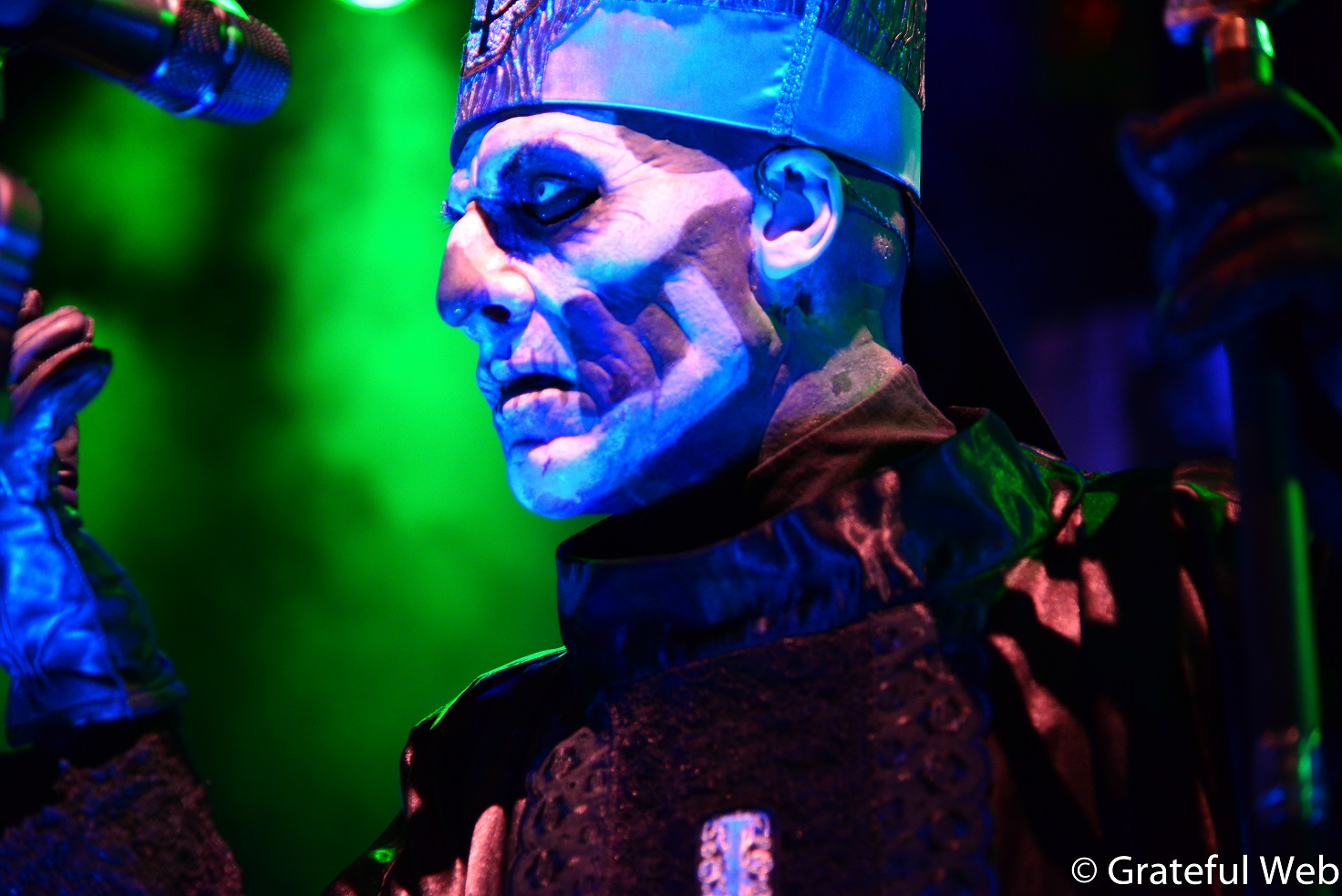 Not only is heavy metal rare to see in Boulder, but Sweden's mysterious and anonymous Ghost is a rarity on the tour circuit in general. What a treat this was! For me, it started almost five years ago when my aptly named friend, Metal Steve from Long Island, NY told me how I have to hear this band Ghost. It was not an easy task. At the time, Pandora and Spotify did not know who they were, and their music was hard to get a hold of. Finally, I found their music and instantly became a fan. Still to this day, many people do not know who they are. I think they like it that way too. All of the members of the band hide their identity under black cloaks, which gives the appearance of a stage full of several Darth Vaders rocking out with a holy aesthetic background behind them that looks like an ancient ritual site. They are the called the Group of Nameless Ghouls. Then, their front man, who fans affectionately call Papa or Papa Emeritus, appears dressed as a demonic Roman Catholic pope. Their names have never been released or leaked, and their shows are wild adventures in great heavy metal psychedelia.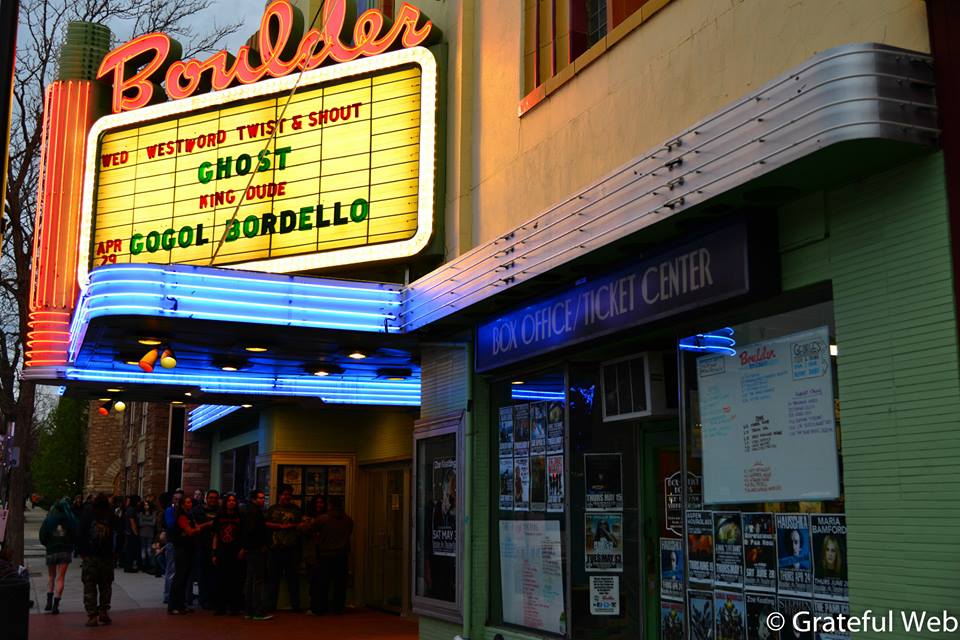 As I pulled up to the venue, I have to say it was nice to see a large mob of metal fans in all black lineup up wrapped around the Boulder Theater. The metal gods were out in peaceful town tonight, and it was awesome! After a nice meal and great service at George's next door, I invited two female friends who have never heard of Ghost inside to see the majesty of their soft sometimes satanic heavy metal, and they loved it. The opener was a dark monotone trio named King Dude out of Seattle, WA. I watched most of the set, and enjoyed the lead singer's Nick Cave/Tom Waits sounding vocals chanting even darker passages then Cave or Waits ever did. He is self-described on his website as a folk singer turned rock n' roll for Lucifer. He debuted a song called "Death Won't Stop Me," which was a heavy ballad type song with lots of flavor. Towards the end of the set, I got a signed copy of a rare Swedish LP of Ghost's Infestissumam, which the band would draw from all night.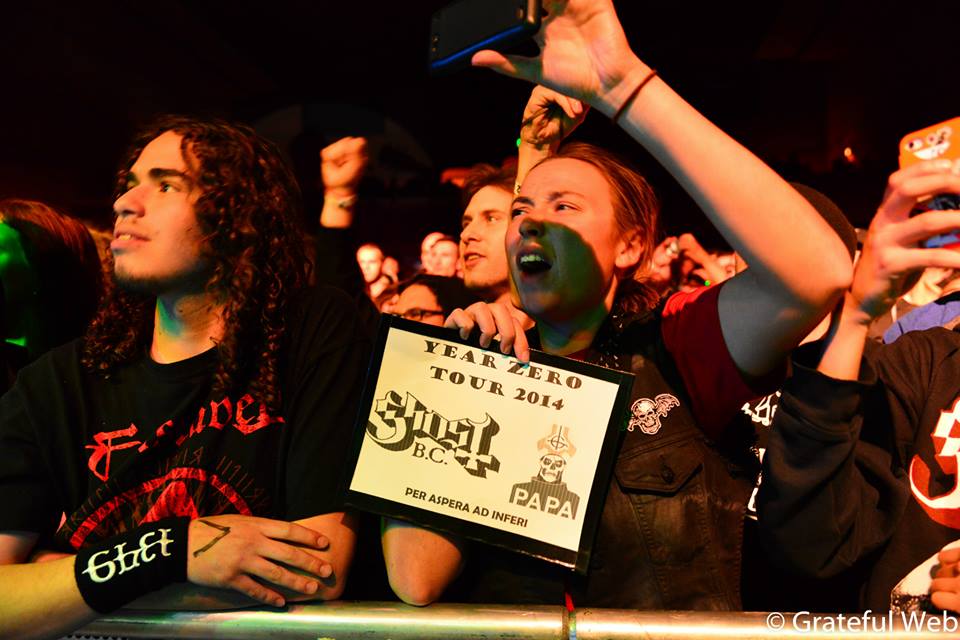 Then it was time to go to church, or something like that. The Jocelyn Pook song "Masked Ball," which some may know from a scene in the Stanley Kubrick movie Eyes Wide Shut is Ghost's introduction song, and the crowd was loud. Suddenly, the Italian prayer was spoken, and we knew they were opening with the first two songs off of Infestissumam. The next songs were "Ritual" and "Prime Mover" off of the Grammy nominated Opus Eponymous. By now, I moved out of the photo pit because of their strict photography rules and the crowd was head banging all around the theater to "Jigolo Har Megiddo" and "Con Clavi Con Dido." Then, the rare "Elizabeth," which if you have a chance to see the video for do so, graced her presence to the stage.
In a surprise move after "Body and Blood" and "Death Knell" came the Beatles cover of "Here Comes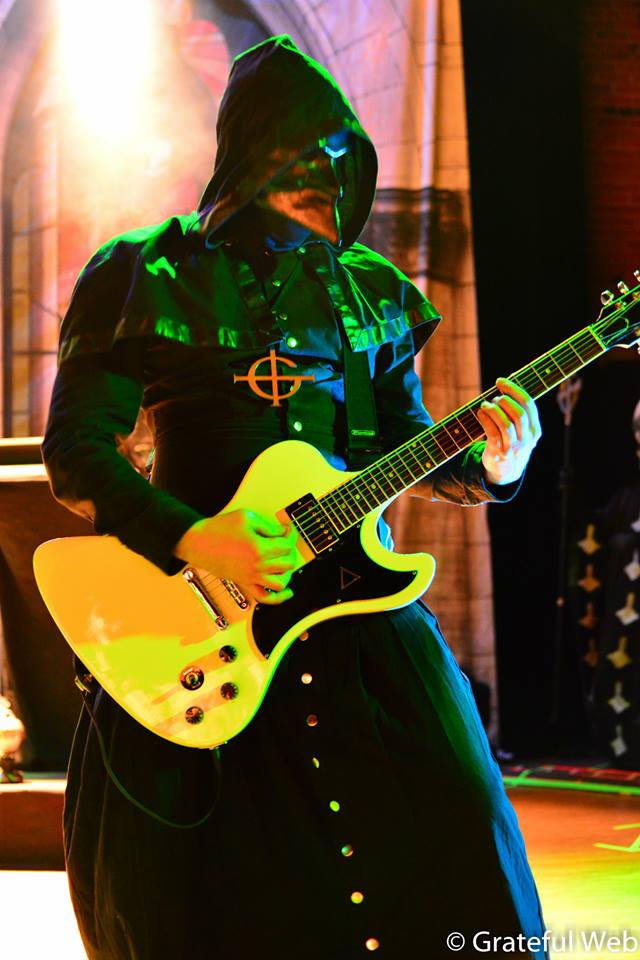 the Sun." It was enlightening and so different from the original, but the essence and light were captured perfectly. Their mix of a 60's psychedelic, a 70's hard rock, and 80's synth metal is such a breath of fresh air for me. It mixes the best combinations of the birth of good metal, which has been sadly fading out. I miss it, and just like a ghost, they bring it back. The very catchy "Depth of Satan's Eyes" and "Stand by Him" were played next. After the keyboard beauty introduction of the powerful "Genesis" and "Year Zero" took us almost to the end as the drunken metal crowd was falling all over us. The crowd was chanting in unison all of the names (most in Latin) of Satan. The girls were jumping up and down, and the power of the Ghost was felt by all. The last song before the encore as a Roky Erickson cover called "If You Have Ghosts," which the band put out an EP of produced by Dave Grohl. The girls I brought to the show, who had no idea who this band was, were singing along to the lyrics of this final song with joy. It was a really fun night, but it was not over yet. The encores were "Ghuleh/Zombie Queen" and "Monstrance Glock." The first encore song is one of my favorites off of the LP I got at the show, and "Monstrance Glock" has a great YouTube video showing a sample of what a Ghost show is really like. We had an amazing night, and I cannot wait until the next tour. We were in the front row nearly the entire show, but I do not think that it will be that easy to see this band in such a small and intimate venue anymore. They are going to grow with every album and every year. Their following is dedicated and multiplying for good reason. They are good! Boulder was left with a shadow of a Ghost, which I hope comes back soon. This band is a must see.